As the kids grow older, our summer breakfast routine has become more of a fend for yourself meal, especially with a teenager who likes to sleep well past the a.m. setting on her alarm clock. Sundays, though, still tend to be the day we gather around the table to leisurely enjoy our first meal of the day, regardless of what hour the clock dictates.
I had this memory, or lack of memory, creep in my mind again as I measured the ingredients for these Blueberry Waffles yesterday morning. I woke with a bit of that exhausted feeling at my core, feeling weighed down with the knowledge that six years ago on that day he was still alive. Thinking about that led me to think about the last meal I made for him. My memory is a blank slate when I try to recall. It's been this way since that day.
I can tell you our dinner the night before. I can recall what I bought at the farmers' market on that last Saturday he was alive. I can tell you about the chocolate blackout doughnuts I bought at Doughnut Plant, also that day before.
Two things that've haunted me these last six years are 1) did I kiss him goodbye before leaving to go buy groceries, the last time I saw him alive?, and 2) what did I cook my husband for the very last meal he ever ate? The answers remain a mystery.
Stirring the batter together for these Blueberry Waffles, I wondered if maybe I made waffles since they were his favorite. And so, as I grabbed a handful of blueberries, and let them roll off my fingertips into the bowl, it felt fitting that on this particular Sunday waffles were on the menu.
He would've liked these waffles, and the fact that they're dairy-free wouldn't have mattered. Michael was such a pleasure to cook for, and appreciated hearty fare, as well as lightened up versions of our family favorites. I've veered away from cow's milk a lot these past few years. I've never been a milk drinker, and both girls seem to have a mild sensitivity to it, so when the opportunity to swap in a dairy-free alternative arises, I gladly accept it.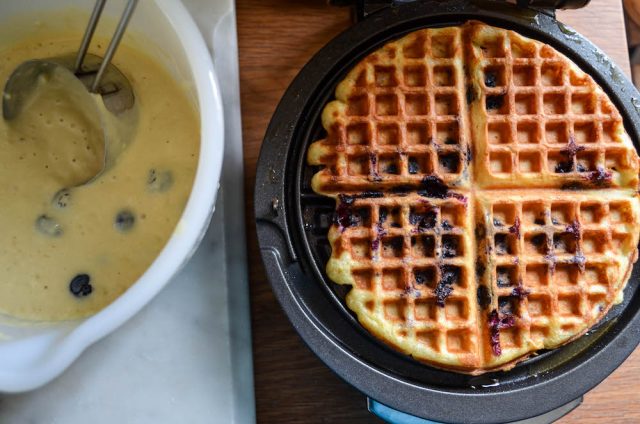 If using dairy isn't a big deal for you, then go ahead and use an equal amount of cow's milk. The 1/2 cup of oil can be replaced with 8 tablespoons of melted butter, should you choose to do that, too. If, like my girls, the idea of blueberries in waffles irks any of your family members, then keep half the batter plain, and spoon the rest into a separate bowl, and you'll only need one handful of blueberries, instead of two. I'm quite sure the camps would've been evenly divided here, with Michael and I loving these Blueberry Waffles, and the kids sticking to plain ones.
I laid in bed, listening to the birds outside the window after my alarm went off this morning. Grey, cold, and dark for an August morning, after a restless night's sleep, but somehow I felt lighter and refreshed. I unwrapped my yoga mat from the carrier hanging on my clothing rack, his carrier, the one he took to work to do lunchtime yoga when he could breakaway. The last nub of a palo santo stick glowed, filling each breath with an air reminiscent of days spent in church, as I meditated for the first time in months. 
Later on, as I set about dressing for the day, I found myself quietly singing Kenny Roger's The Gambler. And I knew he was there, reminding me I can do this, the living part of life. Some days existing is all I can muster, but today, living feels right. "You never count your money when you're sitting at the table…" How often do we realize the beautiful moments when they're happening, or is it only after the dealing is done that we reflect and appreciate? It's the ebb and flow of life—"every hand's a winner, and every hand's a loser". If we break even, and have as many good moments as bad ones, then maybe we're really winners after all.
Eight Years Ago Fried Green Tomatoes, Peach Raspberry Tart, and Trutas.
Seven Years Ago Freezer Preserved Tomatoes, Cantaloupe Cooler, Peach Blueberry Cobbler Cake, Pickled Jalapeno Watermelon Rind, and Ginger Soy Marinated Flank Steak.
Six Years Ago 60-minute Chicken Stock, Cherry Slushies, and Perfect Pancakes.
Five Years Ago Crispy Baked Eggplant, Homemade Corn Broth, and Smoky Watermelon Gazpacho.
Four Years Ago Easy Peach Jam, Peach Allspice Muffins, Lemon Blueberry Scones, and Day 742.
Three Years Ago Minty S'mores Milkshakes, Cantaloupe Sorbet, Crispy Buttermilk Fried Chicken, and A Clean Slate.
Two Years Ago Roasted Beet Greens, Seriously Delicious Ribs, and Homemade Vegan Ricotta.
One Year Ago No Cook Tomato Basil Sauce, Crispy Baked Kale Chips, Zucchini Oatcakes, Sweet Butter Pastry Crust, Peach Blueberry Tart, Quick Pickles, and Pork Fried Rice Salad.
This recipe is now part of my new site, Simmering. Join thousands of other subscribers now for only $5/month or $30/year (that's six months free!)
SaveSave