Small Batch Cinnamon Buns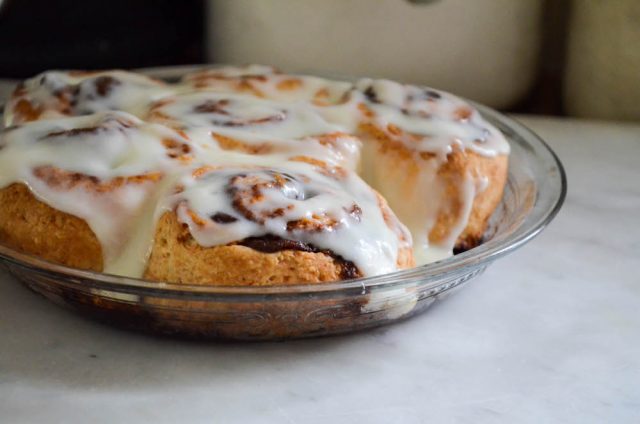 It's been on my mind a while now to scale down my recipe for cinnamon buns. Much as I love leftovers, and making use of them, some things are just meant to be eaten fresh, the day they're made. I feel strongly about this in the case of cinnamon buns, and this Small Batch Cinnamon Bun recipe fits the bill.
It felt fitting to tackle scaling down this recipe yesterday, finally accepting that our family has a much smaller appetite with only three people. It's only taken six years for that to truly kick in. Back when I lived in Brooklyn, my cooking routines stayed pretty much the same, being so close to friends that were all too happy to join us for dinner, or accept a tray of food.
My neighbor loves being the recipient of such care packages now, but one couple can only eat so much. So, less waste and smaller portions start with creating smaller recipe yields.  This Small Batch Cinnamon Bun recipe makes just six cinnamon buns. Just enough to have leftovers to nibble in the afternoon, but not so much that it ends up hugging the trash can by evening's end.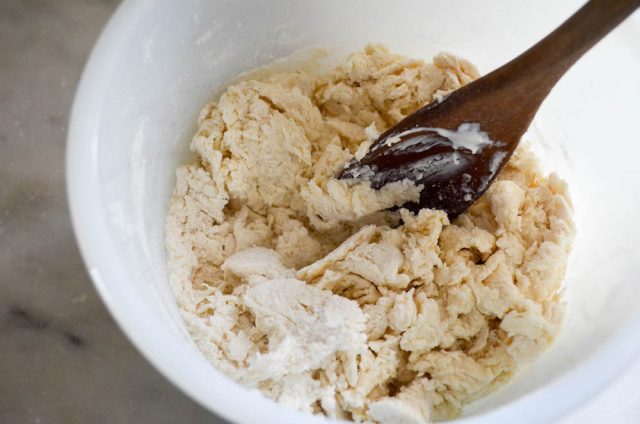 Scaling down my original recipe wasn't really a big deal, but a reminder of why cooking deserves a place front and center in schools, public and private. So much of cooking is about math and science. This is also a good case (again) for using a digital scale, and baking by weight. Grams are easily divisible, even when they require a simple rounding up. Cups are trickier, since we're shackled with measurements in 1/4-cup or 1/3-cup increments. Listing cups with a combination of tablespoons (i.e. 1 cup plus 2 tablespoons) is not the norm, and rather frowned upon in American recipe writing.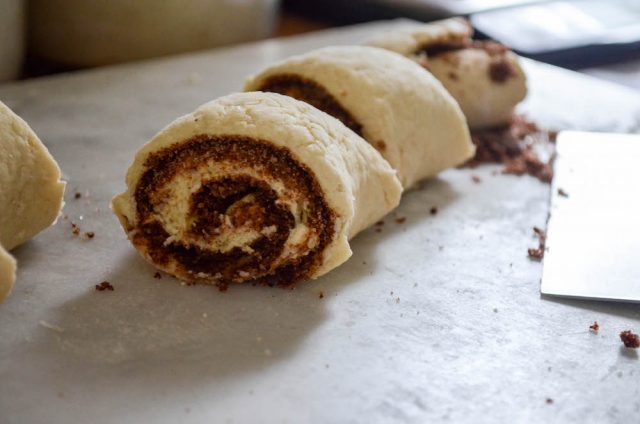 I made another change to in the process of scaling down my original recipe into these Small Batch Cinnamon Buns. Finding a buttermilk I like has proved challenging since one of our local grocery stores closed. Rather than drive 35 minutes into Kingston, I decided to use yogurt in place of the buttermilk. You know what? I kind of like these cinnamon buns better. They're tender but not too delicate, meaning the yogurt gives it a bit more structure than buttermilk, but they both have an acidity so I didn't have to tinker with the other ingredients to balance out the chemical reactions that occur in baking.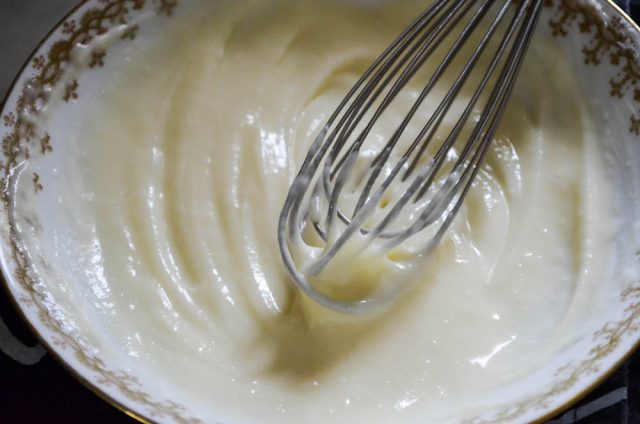 The lucky child that rises from bed first gets to choose their cinnamon bun first, and you know what that means? It's fine by me that Virginia took the usually coveted center bun, you know the one where all that icing pools in the middle. Much as I'm enamored with the dance of how the thick icing streams off the end of the whisk onto the hot-from-the-oven buns, I much prefer an end piece with just enough icing to appreciate without feeling overwhelmed by a sugar rush. You can even choose to skip the icing, and eat them plain, or serve the icing on the side as a dipping "sauce".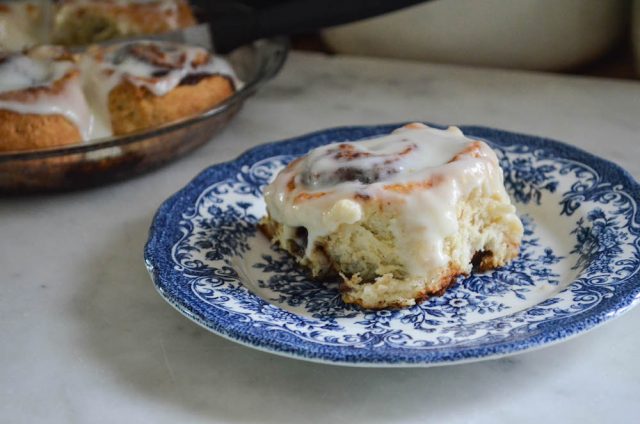 Eight Years Ago Fried Green Tomatoes, Peach Raspberry Tart, and Trutas.
Seven Years Ago Freezer Preserved Tomatoes, Cantaloupe Cooler, Peach Blueberry Cobbler Cake, Pickled Jalapeno Watermelon Rind, and Ginger Soy Marinated Flank Steak.
Six Years Ago 60-minute Chicken Stock, Cherry Slushies, and Perfect Pancakes.
Five Years Ago Crispy Baked Eggplant, Homemade Corn Broth, and Smoky Watermelon Gazpacho.
Four Years Ago Easy Peach Jam, Peach Allspice Muffins, Lemon Blueberry Scones, and Day 742.
Three Years Ago Minty S'mores Milkshakes, Cantaloupe Sorbet, Crispy Buttermilk Fried Chicken, and A Clean Slate.
Two Years Ago Roasted Beet Greens, Seriously Delicious Ribs, and Homemade Vegan Ricotta.
One Year Ago No Cook Tomato Basil Sauce, Crispy Baked Kale Chips, Zucchini Oatcakes, Sweet Butter Pastry Crust, Peach Blueberry Tart, Quick Pickles, and Pork Fried Rice Salad.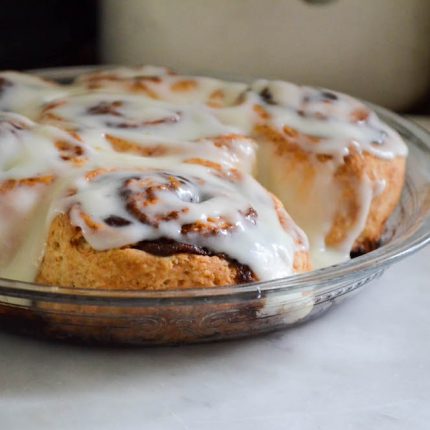 Small Batch Cinnamon Buns
Ingredients
Filling

1/3

cup

packed

65 grams brown sugar

¼

cup

50 grams granulatedt natural cane sugar

1 ½

teaspoons

6 grams cinnamon

¼

teaspoon

2 grams fine sea salt

1

tablespoons

14 grams butter, melted

Dough

½

cup

115 grams plain yogurt

4

tablespoons

56 grams butter, melted

1 ¼

cups

187 grams flour, plus more for rolling out dough

2

tablespoons

25 grams granulated natural cane sugar

1

teaspoon

5 grams baking powder

¼

teaspoon

1 grams baking soda

¼

teaspoon

2 grams fine sea salt

Icing

1

ounce

28 grams cream cheese, softened

4

teaspoons

24 grams yogurt

1/3

cup

40 grams Confectioner's sugar
Instructions
Preheat oven to 425ºF. Combine filling ingredients in a small bowl and stir with a fork until blended; set aside.

To make the dough, whisk together the yogurt and 2 tablespoons of the melted butter in a small bowl.

Add the flour, sugar, baking powder, baking soda and salt to a medium bowl; whisk to blend.

Pour the yogurt mixture over the dry ingredients. Stir together with a wooden spoon until it forms a scraggly-looking dough. Knead a few times until it becomes smooth.

On a lightly floured surface, gently press the dough into a 12-inch by 8-inch rectangle (you can use a rolling pin if you feel more comfortable). Sprinkle the cinnamon-sugar filling over the dough, leaving a 1/4-inch border. Gently pat the filling into the dough with your fingertips.

Roll the dough into a log starting from the longest (12-inch) side nearest you. Pinch ends closed. Cut the rolled log into six equal pieces.

Using a pastry brush, coat the bottom and sides of an 8-inch round baking pan with 1 tablespoon of the melted butter. Arrange the cut rolls in the pan, and press down with your hand to flatten slightly. There will be spaces—don't worry, the rolls spread as they cook filling in the gaps. Brush the tops with the remaining melted butter.

Bake for 18 minutes, or until deep golden brown and filling is bubbling from the top. Let cool in the pan on a wire rack for five minutes.

Meanwhile, to make the icing, use a fork to mash the cream cheese and confectioners' sugar together into a paste. Stir in the yogurt until it forms a smooth icing. Drizzle over cinnamon rolls and serve immediately.
SaveSave
SaveSave
SaveSave