I woke up craving Cauliflower Crust Pizza earlier this week for some inexplicable reason. I mean, who wakes up thinking about such a thing? Chocolate cake, sure. Regular pizza, why not? But cauliflower crust pizza? Rather than try to get to to the root of whatever odd dream led to this urge, I decided to flip through Tia Mowry's Whole New You cookbook, and use the best cauliflower crust recipe I know.
I can say that with such confidence because I spent a good deal of time weeding through a lot of unsuccessful attempts before arriving on the one that went into Tia's cookbook. And that's when it also dawned on me that just about one year ago Whole New You, was published.
It was such a pleasure to be a part of that team, and a genuine joy to help bring the recipes to life for her cookbook. So, what better way to celebrate her book birthday than with one of my favorite recipes from it. Truthfully, I use the word favorites liberally here because I've got a crush on quite a few of the ones I developed for her project. I loved the way working on Tia's book made me conscious to the kinds of sugars, and amounts I use in my own everyday habits.
The knowledge I gained working on Whole New You became especially useful a year ago when I decided to take some drastic measures in my diet, in an effort to isolate some things that weren't feeling right in my own body. That's why you'll find a lot of refined sugar-free and dairy-free recipes in my archives.
This Cauliflower Crust Pizza is inherently dairy-free, as we used dairy-free cheese alternatives in developing the recipe. I'm still inclined to use almond milk in a lot of my baking, but when it comes pizza, cow's milk mozzarella is something I'm fond of, and that's what I used in making this recipe earlier in the week, so rest assured the recipe works with both types of cheese.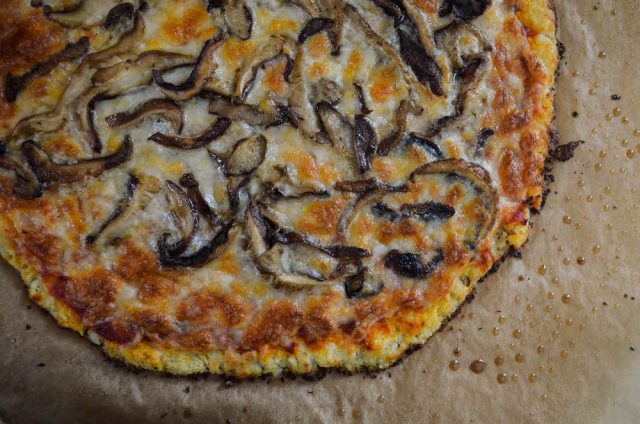 Use what works for you. I'd be curious to know if anyone tries this with Miyoko's vegan mozzarella. I bought it a few months ago, and while I wasn't fond of it for eating raw, it melted beautifully on toast, and think it would be great for pizza.
I'm sharing the recipe as we developed it for the book, topped with tomatoes and fresh basil, a classic margherita pizza. When I made the crust recently, I opted for some sauteed shiitake mushrooms instead. You can use whatever toppings you like, just bear in mind that while this crust is sturdier than many cauliflower crusts out there, it does still have its limits. If you want to load it up with meatballs or sausage, be prepared to need a fork and knife to eat it. Lighter toppings like these thinly sliced mushrooms or tomatoes ensure you can eat it by the slice sans utensils, provided you give it a few minutes to cool and firm up.
One last thought to share. This is truly an easy recipe, in terms of the technique. There are no master knife skills required, and the ingredients are very accessible. Time is a matter to keep in mind, though, and the process of preparing the cauliflower can feel tedious even to the most experienced cooks. After all, time is a rare thing these days. Is it really worth using it to make a cauliflower crust when they're readily available in grocery stores now?
For me the answer is definitively yes. By making it myself I know there are no crazy fillers or binders, but then again, I don't need to adhere to a gluten-free diet. Perhaps if that was my everyday life, I'd need to take some shortcuts to make my cooking life feel more manageable. I recently did an Instagram stories making this pizza, so if you want to see how it's done before attempting, go check it out—it's saved in the stories when you click on my profile there. Happy pizza making! xx-Jennie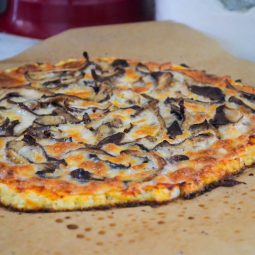 Tomato & Basil Cauliflower Pizza
Instructions
One small head of cauliflower

/4 cup mozzarella cheese

tablespoons Pecorino cheese

Cooking spray

/4 cup Marinara Sauce (recipe

here

)

plum tomato, very thinly sliced

fresh basil leaves

Fill a 4-quart pot with water. Bring to a boil over high heat.

Meanwhile, cut the florets only off of the head of cauliflower (save the stalks for another use). Add the florettes to the bowl of a food processor. Pulse until they look like grains of couscous. Alternately, you can do this using the smallest holes on a box grater.

Salt the boiling water, and add the cauliflower grains. Cook for 2 minutes, just until tender. Using a fine sieve, drain the cauliflower. Let it sit in the strainer to cool for 20 minutes.

Meanwhile, adjust the oven rack to the lowest position. Place a pizza stone or steel on the rack, if you have one. Preheat the oven to 425°F.

Transfer the cauliflower to a clean kitchen towel. Roll the towel up, and squeeze out as much water from it as possible (you'll be surprised how much actually drains out).

In a medium bowl, combine the cauliflower, 1/4 cup of mozzarella, and the Pecorino cheese. Stir with a fork until well mixed.

Line a pizza pan with a sheet of parchment paper. Grease the paper with cooking spray. Gather the cauliflower mixture into a ball and place on the center of the parchment paper. Press out into a 10-inch circle, making sure there are no holes in the crust. Bake for 15 minutes, until golden around the edges.

Remove the pan from the oven. Spread the sauce over the crust, leaving a 1/2-inch border. Sprinkle the remaining 1/2 cup of mozzarella cheese over the sauce. Top with the tomato slices. Slide the parchment with the pizza onto the stone in oven, and bake for 12 to 15 minutes more, until the cheese is melted and the crust is well browned. Arrange the basil on top, and serve immediately.
SaveSave
SaveSave
SaveSave
SaveSave