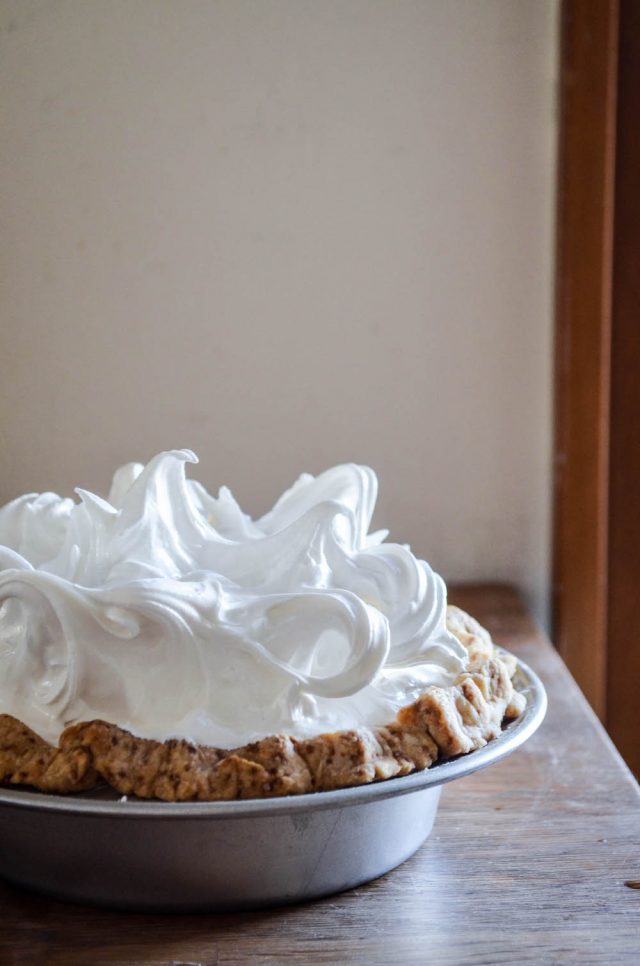 I know, this has been a gang buster week of posting. Hopefully I've not overstayed my welcome in your inbox, especially since I understand the annoyed feeling of too many emails. It's just that my recipe files are bursting at the seams with so many I've been meaning to share, some tucked away for more than a year, and the ones this week felt particularly timely with the Passover and Easter holidays this weekend, so I couldn't help myself.
Jump straight to the recipe for Swiss Meringue
I had this moment today while driving home from Great Barrington in the Berkshires. Yellow Submarine came on the radio, and suddenly everything leading up to tonight, hosting my first real seder became clear. You see, that used to be our family song. I'm quite sure I've mentioned this here before. One day, in a land that seems faraway, back in our old Brooklyn apartment, Yellow Submarine came on. Michael grabbed a tambourine from the basket of instruments we kept near his amp, and began dancing around the coffee table like a silly marching band leader. Isabella followed suit, Virginia waddled along behind her, and next thing I heard Michael call, "Mama, come join us!"
From that day on, no matter what was going on, we'd drop everything, and go into formation when Yellow Submarine came on the radio. In the beginning, the song was a hot poker piercing my heart. The girls and I would be frozen in silence, and time, if we heard it. We no longer stop and dance, but we're also no longer saddened by it. From the first chord, you can see the sparkle enter our eyes, and a smile curl up the corners of our mouth.
Use this Swiss Meringue to make this Lemon Meringue Pie
I've been reading through quite a few haggadahs this week, trying to decide which one would be the best way to ease into our first true seder. The importance of the haggadah is not necessarily in which one you read (some families piece meal, and create their own) because at the core the purpose of all the rituals behind the Passover seder is to retell the story of Exodus from Egypt by way of reliving it in a sense. This annual reminder is a passing of the torch to the younger generation, and I imagine a necessary reminder for even adults not to take the past for granted, and to be all the more thankful for the present-day.
The leader of the seder is the keeper of the story, the person tasked with the responsibility to own it, retell it, spark discussion about it. I've been very nervous about this all week, feeling like a fish out of water but knowing deep down how much I both wanted to and needed to do this, for the girls and for myself.
When Yellow Submarine came on the radio today, sparking those memories of our little family, unaware of the future to come, it occurred to me that I've been leading my own ritual ceremonies every day for the last 2,425 days. I've been the keeper of memories for our family, the keeper of Michael's story, our story, to ensure it survives generations to come. The days of dancing carefree around the coffee table together may be gone, but the feeling of the joy had in those moments comes back to life with every retelling of it. I think about one day, far off, doing that silly dance with my grandchildren, telling them about their grandpa.
And while it sounds quite contrary, maybe even frivolous, to compare this to the story of Exodus, grief enslaves your emotions, and being able to find thankfulness in the past to balance out the sorrow of the present is both freeing and cause for celebration.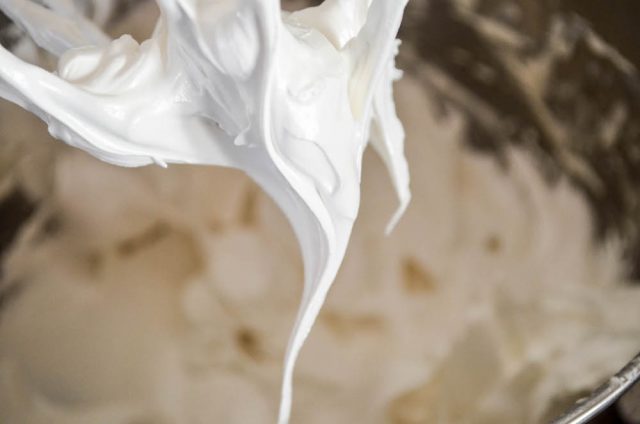 I know my mother is more than a little confused as to why her Catholic daughter has embraced Judaism in this passionate way, and it wasn't until today that I fully understood it for myself. Deciding to dive deep into Passover this year is also a part of retelling Michael's story, and his grandparents, and their parents, and so forth. Telling his story is a comforting and empowering reminder of love, fortitude, strength, and devotion.
I must admit, I feel a little silly having gotten so off track with my Swiss Meringue here. The reason it inspired the thoughts above is because it's a component for tonight's dessert at our seder. Swiss Meringue is a chameleon, doing double duty as crisp, personal-sized pavlovas, or a thick, pillowy mashmallow topping for lemon meringue pie (that recipe is really what this is all leading up to, by the way). I'm serving the pavlovas with some lemon curd for dessert tonight, topped with whipped cream (we're having salmon, so no worries about mixing dairy and meat at dinner). I'll try to pop back in, and update the post with photos of those soon.
In the meantime, enjoy the recipe for this Swiss Meringue, go make some lemon curd, and get ready for the lemon meringue pie recipe coming tomorrow, just in time for you to enjoy on Easter if you're celebrating this Sunday.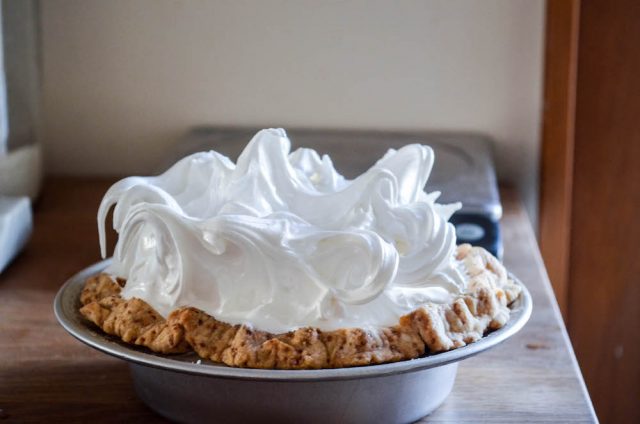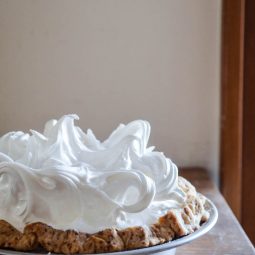 Swiss Meringue
Ingredients
½

cup

125 grams egg whites (from 4 large eggs)

¾

cup

150 grams granulated natural cane sugar

½

teaspoon

lemon juice
Instructions
Set up a double boiler, with a pot that can snugly fit the bowl of a stand mixer.

Combine the egg whites and sugar in the stand mixer bowl. Stir to mix.

Set the bowl over the pot with boiling water. Using a rubber spatula, stir constantly until the sugar is completely dissolved into the egg whites, and they reach 160ºF (use an instant read thermometer to test).

Affix the bowl to the stand mixer set with the whisk attachment. Add the lemon juice. Starting on low, and gradually increasing the speed to high, beat the whites until it forms a glossy meringue with stiff peaks that cling to the spatula without slipping off, 6 to 8 minutes.

At this point you can use the meringue to top pie, baked Alaska, and toast with a torch, or pipe onto a parchment lined baking sheet to bake in a 200ºF oven. The exact time for them to dry out depends on the size. Medium, button-like meringues will take 75 to 90 minutes. Individual, pavlova-sized meringues will take 1 ½ to 2 hours. Once dried out, turn the oven off, leave the door ajar, and let meringues rest inside until completely cooled.
SaveSave
SaveSave
SaveSave
SaveSave
SaveSave