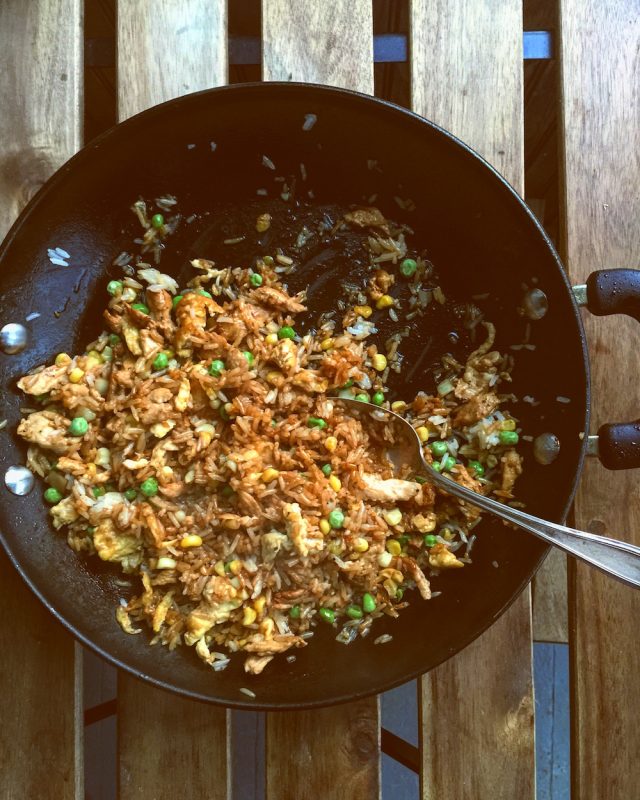 One of these days I'll get around to sharing a stir-fry noodle recipe. Yes, I know the photo above is of fried rice, but I'm thinking of it because I made it for dinner two nights in a row, and it always results in happy eaters, regardless of the crowd I'm feeding. That fried rice is from lunch I packed for the girls last week. I should add it to my kitchen chalkboard notes, where I keep a running list of recipes to test for the blog.
This week I plan to shoot recipes for my Creamy Peanut Butter Frosting and a Milk Frosting, the more traditional choice for red velvet cake, but it's really what I use to make my Devil Dog Cakes at Grazin' up in Hudson. I also have the English Muffin novel to write up—a variation with three different recipes! And then there's this couronne I made a few weeks ago that I want to share with all of you, too.
I've been doing a bit of cooking on Instagram the last two weeks, using their stories feature, so if IG is your thing, then look for me over there. I'd love to figure out getting back on Facebook Live, too, but that really feels like a two person operation to man the camera.
Alas, none of that has anything to do with this week's meal plan—just me "talking" aloud, I suppose. Last night I made a batch of wontons. We ate a third of them for dinner, and the rest got flash frozen to serve as quick cooking lunches for school. Their optional school lunch service begins this week. We signed up for two days a week, so I can take a break from packing them on Mondays & Fridays. We'll still need to send in snacks, though, and I've been playing around with variations on the cereal bars I made a few weeks ago.
I made a batch of my All-Purpose Dough on Friday morning, and that will serve possibly as lunch for today, in the form of pizza, and likely a fresh loaf of bread on Monday. Whatever dough I don't use by Tuesday will go into ziptop bags & frozen for future use. You can even use it to make these garlic knots.
Rosh Hashanah is this week, so I'll be making one of these two cakes, and thinking brisket or pot roast for dinner on Wednesday or Thursday night. Taking time to anchor the girls in what way I can to remind them of their Jewish heritage is very important to me, even if that means just slowing down a bit to celebrate family and memories since I've never taken part in services for the high holidays.
Okay, I've a few errands to take care of, then hoping to just relax a bit with the newspaper, and watch this movie today. Below is a list of recipes/things that are on my "to make" list this week. What is everyone else cooking? Please feel free to share links & ideas in the comments. I  hope everyone's Sunday is a peaceful one. xo-Jennie
Vegetable Wontons (this recipe but I added 4 ounces ground pork to make the kids happy!)
Pork Tonkatsu (I pretty much use this recipe & technique, but swap in thinly pounded pork cutlets for the eggplant slices. I alternate between baking them and frying them—sometimes you just have to cave to the craving of fried anything.)
Peanut Butter Cereal Bars (this recipe, but swap in 1/4 cup peanut butter for the oil, and omit the dried cranberries. I'm still playing with this, but wanted to share the tweak for now. Some mini chips would be fun, too, except my youngest doesn't like them in her granola bars.)
Marcella's Sauce (recipe is here. Speaking of Marcella, have you ever listened to this Food 52 podcast with Judith Jones? Interesting perspective on Marcella…)
Marley Spoon (so excited to know I can go on auto-pilot for two nights this week. Here's the weekly menu—I chose the cauliflower steaks & shrimp scampi for our two meals this week.)
***
SaveSaveSaveSave
SaveSaveSaveSaveSaveSaveSaveSave