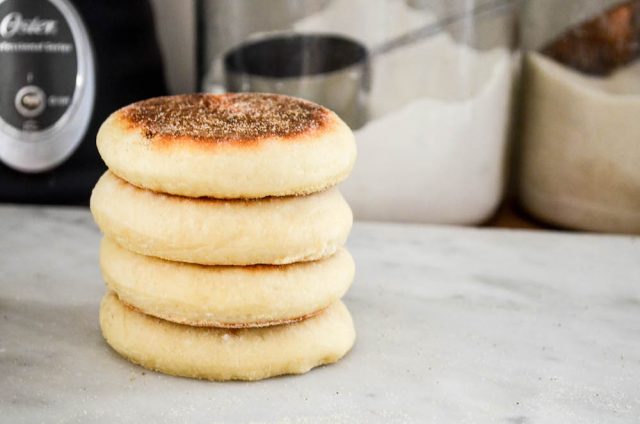 I've wanted to make homemade English muffins ever since I first tasted a freshly baked one five years ago during a trip to Paris. If you're ever near the farmers' market on Boulevard Raspail on a Sunday morning, you must go.
While a plane to Paris always feels like a good idea, making them at home was a lot less expensive, especially once I learned you don't need those gimmicky rings they sell in just about every kitchen supply store. Perhaps some recipes are wet & require them, but not this one.
A few weeks ago I fell into the habit of drifting off to sleep with Paul Hollywood. Okay, so maybe we snuggled via my iPad, and truthfully, Sue is my real crush on the GBBO…but, ever since he made these English Muffins, I've been thinking naughty thoughts about all the nooks & crannies. Brushing them with salted butter, slathering them with some of my homemade raspberry violet jam.
I finally got into the kitchen a few weeks to give Homemade English Muffins a go at home.
They were spot on, a winning recipe, and incredibly easy to follow. Nothing fussy, no special tools required, just patience for the dough to rise, and then rest again after the muffins are pressed out using an ordinary, if not rather large cookie/biscuit cutter. I had this already, but if you don't, you can improvise. Use a can opener to remove the top & bottom lids from a can of water chestnuts, tuna fish, or other can of a similar shape, and presto—instant cookie cutter, and a great way to upcycle.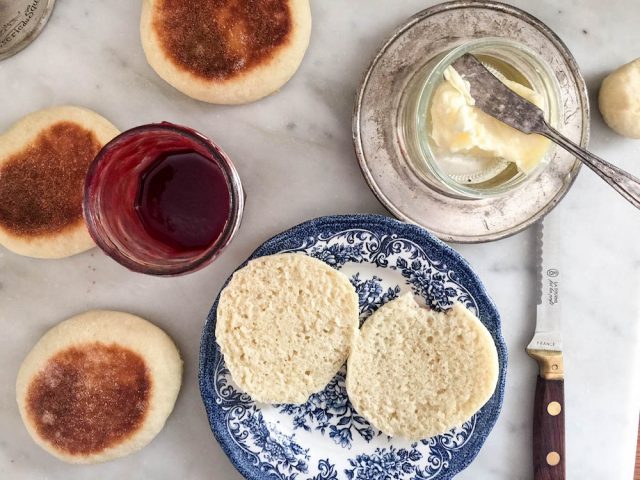 I've since made two other versions, spin offs of this recipe. One is a Whole Wheat English Muffin, and the other delves deeper into whole grains, with the addition of buckwheat flour. They were all winners in my book, but of course my girls first love is this white flour version. I'll be sure to share the others soon.
The recipe for the English Muffins is pretty straight-forward.
The only note I want to make is cooking them. Be patient here. Don't go fiddling with them to see if there done; trust your instincts a bit. And be sure to only flip them once for proper cooking, and browning. A cast iron skillet is non-negotiable, I think. I guess for some people that might feel like a special piece of equipment—I have three, so it's a standard part of my cookware. They're pretty inexpensive these days, and I promise you'll find lots of uses for it down the road, should you choose to buy one.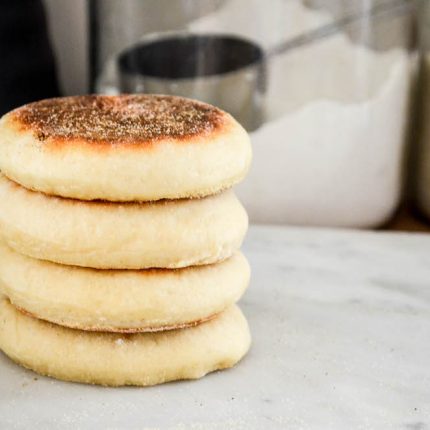 Homemade English Muffins
Recipe
originally from Paul Hollywood, the Great British Bakery Off
Ingredients
2

cups

300grams all purpose flour, plus extra for kneading & rolling out

2

teaspoons

6grams active dry yeast

1

teapsoon

6grams sea salt

1

tablespoon

15grams granulated natural cane sugar

1

tablespoon

15grams softened butter, cut into small pieces

1

medium to large egg

lightly beaten

¾

cup

170ml milk, warmed slightly

Oil or cooking spray

for greasing the bowl

Semolina or polenta

for rolling & dusting pan
Instructions
Add the flour, yeast, salt, sugar, butter, egg, and milk to a deep bowl. Using your fingertips, stir to combine, then knead it a few times until it comes together into a shaggy dough.

Dust a counter with flour. Drop the dough onto the counter, and knead until it forms a smooth dough—this takes about 10 minutes.

Coat a deep bowl with oil or cooking spray. Place the dough in the bowl, and cover tightly. Set in a warm spot until doubled in volume, about 60 to 75 minutes.

Dust a counter with more flour and some semolina. Roll the dough out to ¾ to 1-inch thickness (2 to 3 cm). Use a 3-inch (8-cm) ring to cut out rounds of dough. You should get 6 to 8 pieces depending on how thick you roll it. It's okay to re-roll the scraps once.

Dust a sheet pan with semolina. Place the cut out muffins on the pan, and cover with plastic film. Let sit in a warm spot for 30 minutes, until they've puffed up.

About 5 minutes before the proofing is done, heat a 10-inch (25-cm) cast iron skillet over the lowest heat setting until the pan is hot. Place 3 to 4 muffins in the pan. Cook for 5 to 6 minutes, until puffed up, and nicely browned on the bottom. Flip, and cook for 5 to 6 minutes more. Transfer to a wire rack to cool.

Repeat with the remaining muffins, keeping a closer eye—the pan will be quite hot, and might only need 4 to 5 minutes per side with each successive batch.
SaveSave
SaveSave
SaveSaveSaveSave
SaveSave
SaveSave