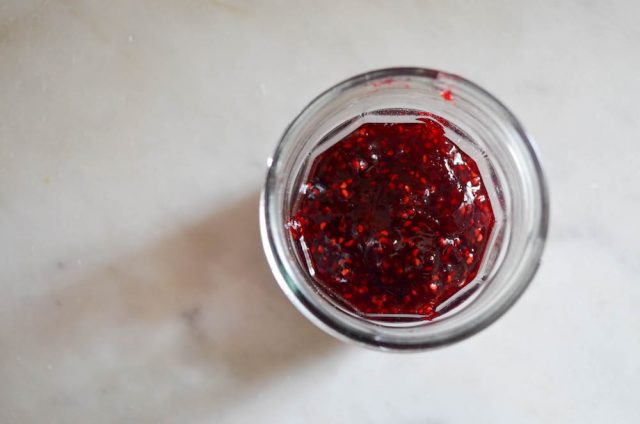 So many thoughts and feelings tucked inside this little pot of Raspberry Violet Jam. I don't know where to begin, really. Is it because the raspberries were hand picked from my very own garden? Perhaps it's the splash of violet syrup, made from violet's plucked from the grass behind my house, the first sign of spring back in late April.
Or maybe it's because this Saturday is the fifth anniversary since my first trip to Paris, a trip we were supposed to take as a family, but instead I packed up our girls, and fulfilled a promise he'd made to Isabella he could no longer keep himself. It was on that trip where I first learned the magic possible when combining raspberries and violets together.
I also learned so much about myself during that time in Paris. Most of my discovery since Michael's death has been understanding who I am as an adult on my own. That sounds crazy, I know. I was so young when we met, only 21, and he was 35. He'd already lived quite a full life by that point, and was ready to settle down in a way. Not the whole marriage and kid thing, even though that is the path life propelled us on.
It's just that he'd traveled beyond the borders of the tri-state area, read more books, listened to more music, seen so many live shows (I'd only seen Bette Midler with my mom at Radio City Music Hall). Michael had 14 more years of living on me, and that left an indelible mark, shaping the adult I grew into. Who was I without him? That is what I had to figure out. I needed to understand it was okay to admit things like I hate the Sex Pistols, and I love 80s music (hey, that was my generation, Mikey).
So, that first visit to Paris was more than just a trip. It was a journey I've been on ever since, figuring out how to be Jennifer without Michael.
One of my first stops when we arrived was a visit to Pierre Hermé, where I picked up a jar of Christine Ferber's Raspberry Violet Jam. It was like tasting jam for the very first time, the subtle fragrance of violet combined with sweet raspberries when I opened the jar was intoxicating. Never could I have imagined years later, I'd be making it in my own house tucked away in the Catskills.
Ferber's jam spills from the jar with a smooth, silky texture. I've made it with such precision in the past, cooking it just until it's set enough to have some structure, but still rather runny. Her jam is also seedless, and I've strained mine, too, on some occasions.
I decided to dispense with the fussiness this year, and make this jam my own way because I like the way the seeds pop when I eat them jam slathered on baguette. The straining of the seeds also defines the texture, so while mine is still a looser set, it's more a crushed velvet texture than a slippery silk.
One step I don't skip is skimming the foam from the top of the jam as it cooks. This ensures a lovely, jewel-like jam, whereas not spooning that foam off could result in a cloudy jam (that's how mine looked in the early days of jam making, 10 years ago). I spoon the foam into a small bowl. Once it cools, you'll notice a liquid settles underneath the foam—you'll want to save that liquid. It's makes a wonderful homemade raspberry violet soda when mixed with seltzer. You can also swap it in for simple syrup in cocktail recipes for a flavorful twist. I should also mention that if you don't have violet syrup, this is a wonderful straight up raspberry jam, too, so you can proceed with the recipes sans the syrup.
The apple peels & lemon rind get discarded once the jam is thickened. They're place in this jam is to provide a pectin boost, something naturally occurring in the peels and white pith of the lemon rind. I tend to set mine on this ceramic spoon rest that sits faithfully next to the stove, while I take care of spooning the jam into jars . The spoon rest was his, from long before we met. It sits by my stove, a reminder that he's still with me everyday in this simple, if not silly, way. I guard that spoon rest so carefully, worried of the day when it will break, knowing it'll reduce me to tears. I mean, it's just a spoon rest, and yet it's so much more. Kind of like this jam.
This recipe is now part of my new site, Simmering. It can be found here.
SaveSave
SaveSaveSaveSave
SaveSave
SaveSave
SaveSave
SaveSave