Even after 20 years of cooking professionally, I'm still humbled the way one small tweak to a recipe transforms it into a whole new experience. I suppose it's good that I still feel this way. It keeps me fresh, and open to new ideas, big and small.
I'd forgotten I bought a few stalks of rhubarb last week, intending to make this simple rhubarb cake again, and came across them while rummaging through the crisper bin in the fridge. It was a Sunday night, and my plan was to bake something that benefited from an overnight rest, so I could bring it to our school's Book Fair cafe.
I'd already decided to double the scaled down version I shared here recently, in effect making the cake full-size, as intended, in Classic German Baking. Halfway through, something left me feeling like the cake needed some oomph, it being meant for a Monday morning, and all. Then I remembered someone on Instagram called my attention to Luisa's comment in the headnote that the cake is also lovely with her streusel topping (essentially what we Americans call crumb topping).
I decided to use my buttery crumb topping to cover the cake. It looks like a lot, much the way all that rhubarb piled on top of the batter seems inconceivable. As the cake rises, though, the once jammy rhubarb topping, is now nestled between a thick layer of buttery crumb topping and delicate-tasting, yet sturdy slice of cake.
Utter surprise is the best way to describe my first bite. That simple rhubarb cake, while still incredibly easy to assemble, becomes a rather sophisticated breakfast or pleasantly, humble dessert. A generous coating of powdered sugar is non-negotiable in my opinion.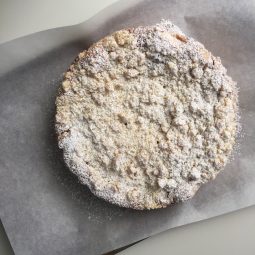 Rhubarb Crumb Cake
Ingredients
One batch Buttery Crumb Topping recipe here

6

stalks

500 grams rhubarb, chopped into 1/2-inch pieces

1

cup

+ 3 tablespoons

235 grams granulated natural sugar

7

tablespoons

100 grams butter, softened

2

eggs

Freshly grated zest of 1/2 lemon

½

teaspoon

vanilla

1 ½

cups

190 grams flour

2

teaspoons

10 grams baking powder

Thick pinch of salt

¼

cup

60 ml milk

Confectioner's sugar

for serving (optional, but not really IMO)
Instructions
Preheat the oven to 350ºF. Line a 10-inch cake tin with parchment long enough to cover up the sides to the top of the pan.

Prepare the crumb topping, and set it aside in the fridge until ready to use.

Add the rhubarb to a small bowl, and toss with 3 tablespoons (35 grams) of sugar.

In a separate small bowl, add the butter and beat until creamy, 30 seconds. Add the remaining sugar (200 grams), and beat until light and fluffy, 2 to 3 minutes.

Add the egg, lemon zest, and vanilla, Beat until fluffy and well mixed, 1 minute.

Add the flour, baking powder, salt, and milk. Beat on low until just mixed, then increase speed to high for 15 seconds.

Scrape the batter into the prepared pan. Evenly spread the rhubarb on top. It'll seem like too much—don't worry. Sprinkle the crumb topping over the rhubarb. Again, this will feel like an overwhelming amount of crumb. It all comes out beautifully once baked!

Bake for 1 hour, until a skewer inserted in the center comes out clean of batter (there might be some sticky rhubarb-like jam on it). Let the cake cool completely, preferably all day, or overnight. Dust generously with confectioner's sugar before serving.
SaveSaveSaveSave
SaveSave