Strawberry Rhubarb Crumb Cake
Hugging the tight curves of Ohayo Mountain Road, clutching the steering wheel to navigate the twists and turns, is my favorite approach in and out of Woodstock. I think of Bob Dylan and Van Morrison, both of whom had homes there decades ago. Most of Morrison's Tupelo Honey album was written in Woodstock, making living here feel extra special at moments since the title track was my song with Michael.
Today I found myself thinking of my mom while doing that drive. We've this routine of Sunday afternoon calls around 3:00pm. I've missed them the last couple of weeks, and playing catch up later in the evening, but it's not the same as taking some leisurely time on a quiet Sunday afternoon to chat with her.
Just as I was getting ready to ask Siri to call her so I could say a quick hello (safety first, so I wear my ear piece to talk), I'll Always Love My Mama by The Intruders came on the radio. Windows down, volume turned up high, warm spring air filling the car, I imagined my mama sitting there next to me.
No place is perfect to live, and there are certainly perks to living up here (fresh air, my garden, the kids' swing in the backyard, not dealing with alternate side of the street parking), but there's still much I miss about living in the city. Being closer to see my mom is one of them. A big one of them.
After the song ended, I called her, told her what I just shared above about my car ride home. I could see the smile in her laugh even though I was 120 miles away. For a couple of years now we both dreamed about her buying the house a few doors down the road from me—it's been for sale since just after I bought mine. Crazy to think next month will be five years. It seems like forever, and just yesterday at the same time.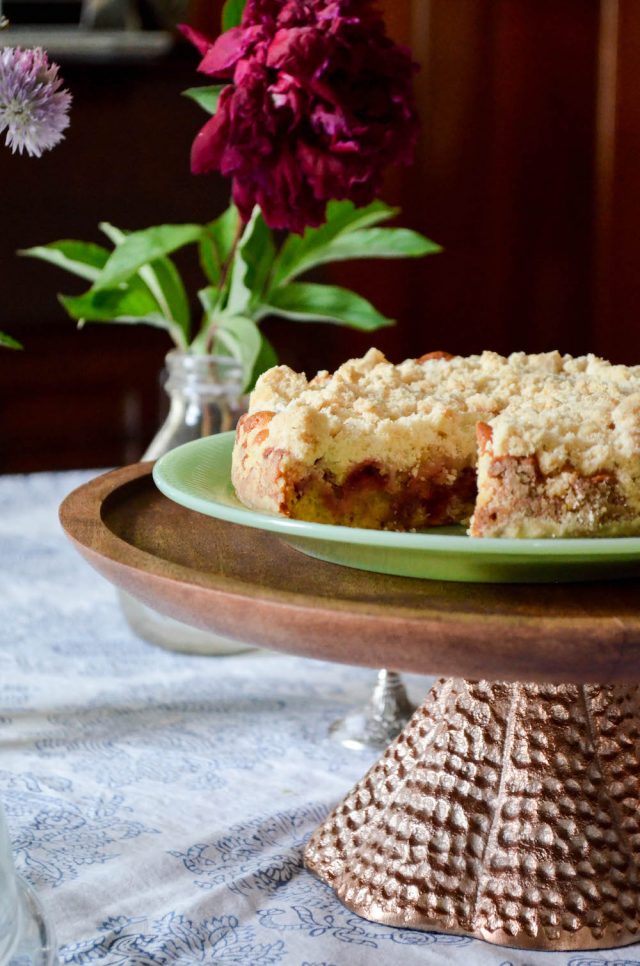 Such close proximity would've no doubt posed challenges, and I certainly don't intend to be a country girl for the rest of this lifetime. Still, it would've been nice to have her closer to soak up these last few years before Isabella leaves for college. The house finally sold a week ago, and now when I pass by, watching someone else make it their own, it's a reminder of what could've been.
My mother said something else will come along. We'll see. Perhaps she's right. Regardless, dreaming is sometimes all we have to keep us going, so we'll keep doing just that.
I fell down a little rabbit hole of thoughts here, none of which has to do with this Strawberry Rhubarb Crumb Cake. The recipe is a bit of a cheat, a little modification to this Rhubarb Crumb Cake recipe. Strawberries are finally coming in here. The weather has me all off balance, as a cool front has set in, so turning my attention to making jam is going to take focus.
Strawberry season only last two to three weeks at best, so I can't dawdle too much. The first few containers of berries made their way into these popsicles, a small batch of filling to use for hand pies, and I replaced one stalk of rhubarb from this recipe with 10 to 12 smallish-sized strawberries, chopped up. The girls loved it, as did I, so I thought it was worth mentioning here in case anyone else is feeling inspired to bake with strawberries and rhubarb right now.
Hugs, and wishes for a peace-filled weekend. xo-Jennie