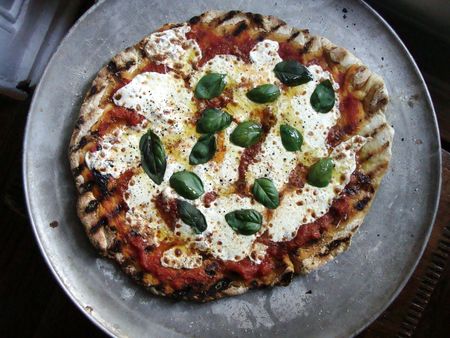 My relationship with homemade ice cream is a love-hate one. Part of it has to do with the incessant hum of the ice cream machine. If you've never made it before, imagine a power drill going non-stop for 20 minutes.
Yet, here I sit, trying to concentrate and string words together as it whirs in the background. There weren't originally plans to make ice cream today, but you know what they say about drastic times. I was at the Time Warner Center staring at a shiny new refrigerator Vanessa Williams unveiled for Samsung when I saw I missed a call from Mikey.
Then came a text—his mother had fallen at home and he was rushing to catch the express bus to the Bronx. It felt like the worst case scenario we'd planning for, traveling in midday traffic to the Northeast Bronx. She'd apparently taken a fall while City Meals on Wheels was making their daily delivery. When EMS came she refused to go to the hospital. When the social worker tried calling, there was no answer. This went on for 20 minutes until they called Mikey, him being their only child and their emergency contact.
All the alarms were for naught. Halfway into his bus ride, the social worker called to say his mother was okay. She'd gone to the basement of their building right after the incident to finish the laundry. While we prepped ourselves for the worst, she was folding clothing.
There's more to this story, but as I typed the words, I realized it is not mine to tell. This is Mikey's story, and my role is the one I've been playing for the last 16 years. I'm here to be his best friend and confidant. I'm here for him to lean on. To help carry the weight when it becomes unbearable.
To hold him in my arms, stroke his head and say it will be okay.
We will be okay.
My Bronx boy and this here Brooklyn girl, we're made of strong stuff.
Knowing he'd need a big hug on coming home today, I also decided to brighten his evening with that chocolate chess pie I mentioned last time. While it was in the oven, I decided to make some deep chocolate frozen yogurt with toffee bits and a peanut butter ribbon—just in case we need heavy artillery to combat the swirling emotions.
I hate the sound of that damn ice cream maker, but I love him more. Twenty minutes of that headache inducing motor were worth it. The frozen yogurt tastes amazing. An intense chocolate flavor only valrhona cocoa can deliver, studded with milk chocolate covered bits of toffee and swirls of creamy peanut butter. I'll share the recipe soon.
The pizza you see above is for another love in my life—my mom.
As I thought all the worst thoughts before we found out Mikey's mom was fine, I started thinking of my own mom and how we've been trying to get together for weeks now. She's on her way down as I write, and we're going to surprise the girls at school pick up.
I'm surprising her with homemade pizza. I was going to just order a pie tonight, but wanted something more special for the woman who has always been my biggest fan. For her I will turn my oven to 500 degrees on this sultry first day of summer.
And that is why I cook.
The nourishment and cost-saving reality are often an afterthought. It's really about giving a piece of myself to the people I love most in this world.