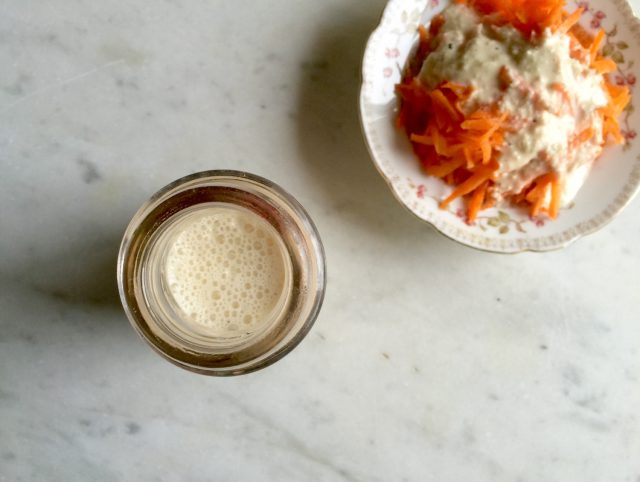 On one of my trips to Paris a few years ago, I went to the legendary Bouillon CHARTIER in the 9 ème. The charm in this 120 year old Parisian brasserie isn't necessarily in the food. It's all rather solid, but haute cuisine, it is not. The menu is more French country comfort, with quite agreeable prices, especially in a city as pricey as Paris. Waiters write your order on a the white paper lined tables, and when you're ready for the check, they whip out a pen and do the math there in front of you.
On my first visit I ordered a carrot salad side dish. I wasn't expecting much for just 1 € (euro), but the price is exactly what made me so curious that I had to order it. The carrots were simple, shredded, and, my guess is, very lightly blanched, a technique where they're cooked every so briefly in boiling water, then plunged into an ice bath to stop the cooking process. The secret was in the dressing ladled over them. Had I fully embraced the American perception of excess and gluttony, I would've ordered a side. In a glass, to drink.
Banish whatever notions you have of creamy French dressing (that is if you grew up dousing your salad with the bright orange stuff in a bottle, as I did). At that price, I doubt CHARTIER makes the dressing themselves; there are more shortcuts taken in French restaurants (as in France, the country) than you might imagine, but that's another article for another magazine.
This dressing infiltrated my dreams, so it was only natural that once I got back to Brooklyn it was time to recreate it in my own kitchen. It's pretty assertive when first made. The onions tame a bit, and lose their fierceness, marrying into a more mellow, sweeter version of themselves the next day, and the day after that one. I'm missing Paris a lot these days. Until I can get back there, I'll let my fork lead the way.
More Recipes From In Jennie's Kitchen
Eight Years Ago: Everyday Bread
Seven Years Ago: Chocolate Olive Oil Cupcakes
Six Years Ago: Strawberry Rhubarb Crumble
Five Years Ago: Simple Twist of Fate
Four Years Ago: The Sunny Side of Life
Three Years Ago: Strawberry Blood Orange Jam
Two Years Ago: Peanut Butter & Banana Smoothie
One Year Ago: Fried Chicken Bites
This recipe is now part of my new site, Simmering. It can be found by searching the archives
here
.