I started a new job this week, and on the train ride home it occurred to me that making the decision to take this position is the first time I've truly put my own professional desires first since my belly was swollen with a life incubating inside my body. Yes, 16 years.
I'm trying to wrap my head around where that time went, and it feels quite inconceivable. In many ways I fell into the trap I was determined to run from, finding my life on a path I never wanted. Oh, how the ideas of our youth soften with the wisdom of age and experience, and more often circumstance.
Falling in love with motherhood and marriage took me by surprise. I had a career the whole time, but once I became a mother my whole perspective changed, as did my priorities. Focus shifted towards how I could mold my career in a way that allowed me to also live up to my own ideal of motherhood. I never once thought about how to make motherhood and marriage work with my career.
Today is a work from home day. Three days a week I get a much-needed NYC infusion, and twice a week I can enjoy slow summer mornings, tending to the garden before switching gears to work from home.
I wake at 5:00am most mornings for good reason. Michael used to often say I accomplished more before he woke than he got done in an entire day.
This morning, though, was a bit lazier than usual, for me at least. I had to pass on my stretching and meditation to tackle the pile of clean clothing that's been piling up on my grandmother's cedar chest. She passed away just before (or was it after?) I was born, so never met her, but hear she was an amazing baker.
In my bedroom sits her cedar chest, and up in the attic her old Singer sewing machine which I used often until just a few years ago when I treated myself to a newer one. I made my high school graduation dress on that sewing machine, and when I had to take my first business trip away from Isabella, I stayed up most of the night sewing her a dress to wear so she could literally wrap herself in my love while I was gone.
After dropping Isabella off at work, I perused the garden to see how everything is doing (go take a peek at the garden update in my IG Story). Delighted to say the roses I planted last year are thriving. Seems the third deer repellent I bought recently is really working (unless I just jinxed it!).
And to my delight, Virginia wanted to make me breakfast today. I had asked her to go out to eat for a mommy daughter date, but she said, "Mama, let me make you eggs. Please?" How could I say no?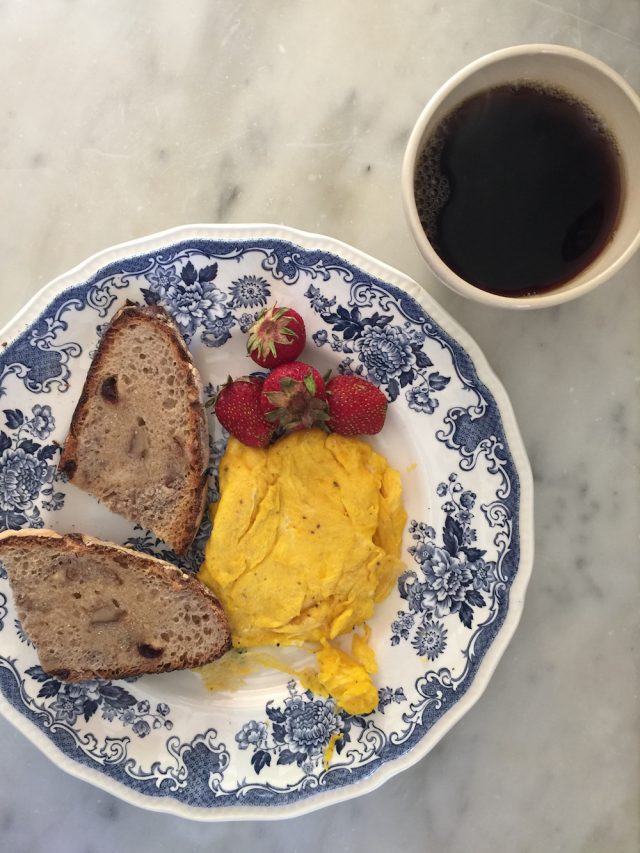 There's much more I want to share, including some new recipes, but my focus this week has been on getting used to a new schedule and routines, including a rather long commute. It's all good, though. This new job is exactly the opportunity I've been searching for to use my love of cooking, and vast professional experience to do something meaningful. But, I must confess something.
I feel happier and more peaceful than I've felt in a long time. Just writing this makes me nervous, as though it might tempt the fates. Perhaps the universe has fallen asleep on the job, unaware of this happiness? It's a foolish notion, I know. I never thought being happy would frighten me so much, but I shall push those thoughts from my mind, and focus on how I feel right now rather than how I'll feel if it all crumbles.
SaveSave
SaveSave
SaveSave