Homemade Soft Pretzels (much easier than you think!)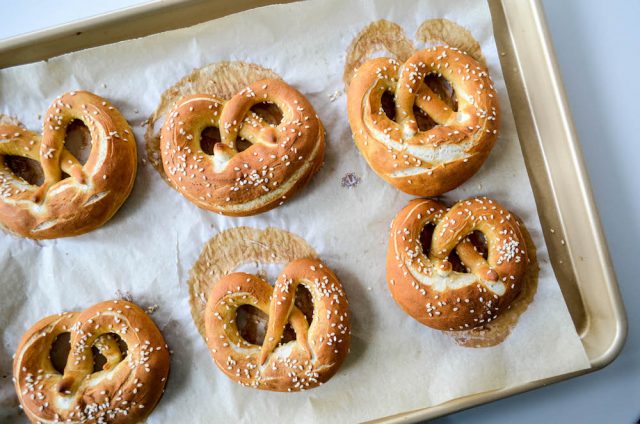 My routine the last two years has been to wake on Sunday mornings, set about making breakfast, then before washing the dishes, calling to reserve three pretzels at the local bakery. When Bread Alone first began baking pretzels at their Boiceville location, the par (amount baked) was small, a way of experimenting to see if they would be a hit with customers. Calling ahead was crucial to ensure the 18 minutes drive wouldn't be for naught, especially for those who wanted to sleep in a bit on the one day a week they made them.
I should step back a moment, and say to those who don't know that I have any undying love for soft pretzels. I remember being a a little girl, up way too late on a cold December night in 1977, walking past FAO Schwartz with my parents, outfitted with a Raggedy Ann doll as tall as the building, and my father bought me a charcoal-scented, soft pretzel from a corner street cart.
We had also either just come out of, or were going to see The Hobbit, the original animated movie. The movie scared the daylights out of me, but the pretzel was my precious that evening. For all I know, perhaps that's where the great love affair with soft, warm, squidgy pretzels began.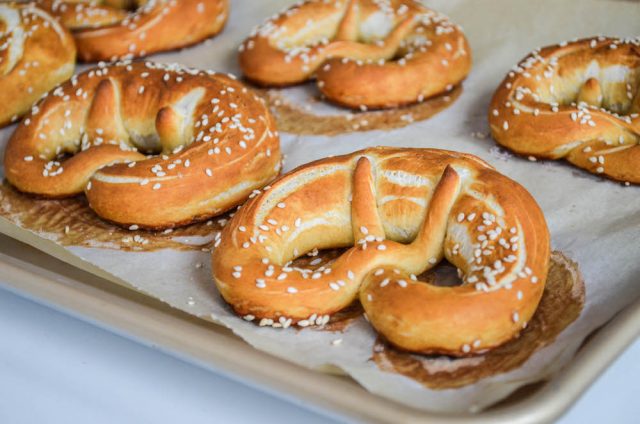 I miss that New York City. So much of my childhood is gone. Some call it progress— I've stronger, less polite opinions about it all.
The wood-fired pretzels at Bread Alone were a far cry from the one I had that evening 41 years ago (yikes), and yet quite wonderful in their own right. And also quite pricey at $4.50 a piece. Most days they were great, but on some days they'd be too hard, over baked.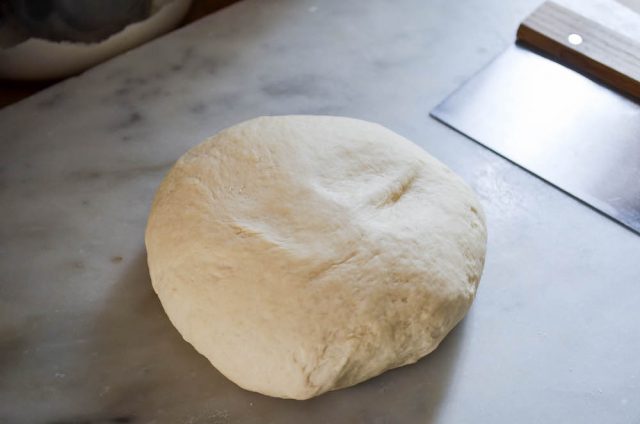 Making homemade soft pretzels has been on my wish list for years. I guess I was waiting for the right recipe to come along to inspire me. After developing recipes for so long, you can get a sense from just reading them to know if they'll really achieve what you're craving. Most seemed overly fussy, used too much butter, or worse went the Auntie Anne's route of dipping in copious amounts of butter. I confess to enjoying a few of those on road trips. They're not something I'd want to eat regularly.
A few weeks ago I remembered Luisa Weiss has a recipe for homemade soft pretzels in Class German Baking. They're called Brezeln, and the recipe is on page 194. The dough comes together easily. One note I want to share is what you're looking for during the kneading process. The directions read "knead 8 to 10 minutes", but visual & tactile cues are so important when you're working with bread-like doughs.
The dough will start out dimply, wrinkled, and somewhat sticky. Below are photos to show what it looks like after 2 minutes, 4 minutes, and lastly 8 minutes of kneading. You'll notice it transforms into a smooth, soft dough.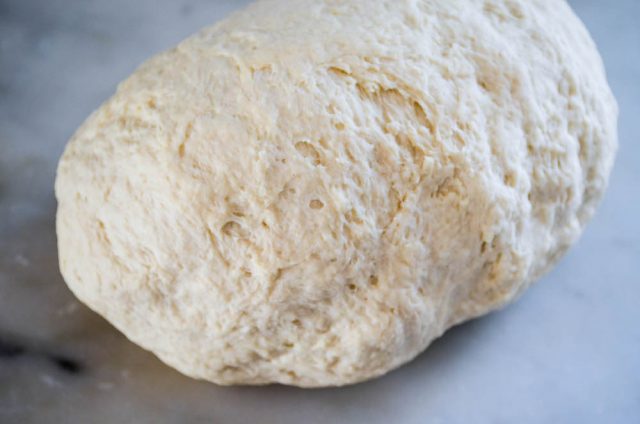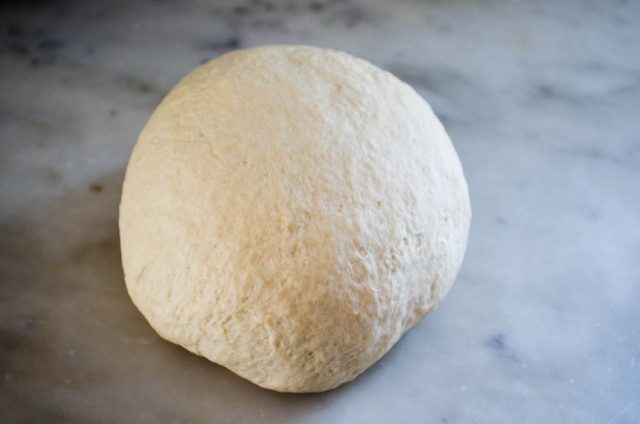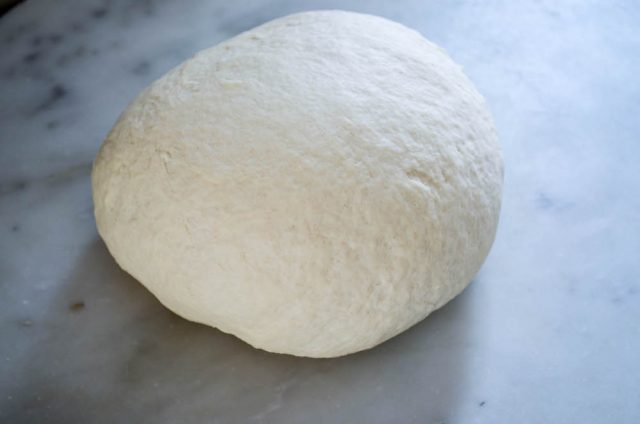 Another thing to know about the recipe—it's spot on, incredibly easy, and while it calls for food-grade lye, I want to assure that amazing, slightly crackly on the outside, spongy soft on the inside pretzels can be achieved with one of two tricks to cheat the necessity of food-grade lye, generally used when making soft pretzels. I should mention that food-grade lye is easily obtainable online if you're a purist. When the opportunity allows, I like to make do with what I have on hand at home.
Should you be like me, or just prefer to use a more common kitchen ingredient, you can dip your shaped, proofed pretzels in a solution of 2 cups very hot (but not boiling) water mixed with 60 grams (about 3 tablespoons) baking soda or 2 cups very hot water mixed with 48 grams baking soda + 1 tablespoon barley malt (this is step 5 in Luisa's recipe).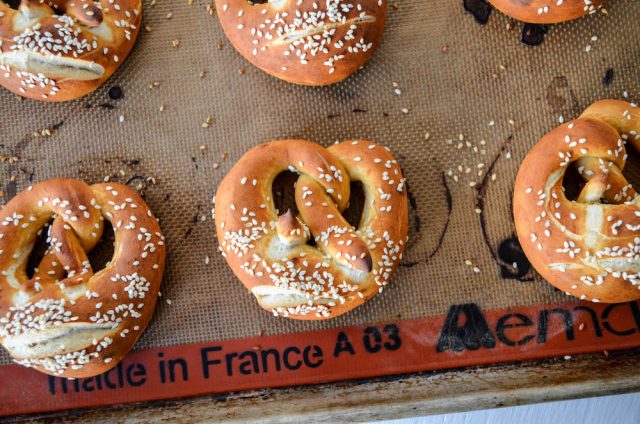 If you don't have a copy of Classic German Baking (but really you should because it is one of my all-time favorite cookbooks), Luisa shared a recipe for soft German pretzels on her blog six years ago. It looks very similar to the one in her cookbook, and the no-lye trick I mention above would apply, too. I tend to only keep salted butter in the fridge, so if that's the case for you, just decrease the salt when you make your pretzels (I used 1/2 teaspoon less).
Last note before I leave you to dream of these warm, soft pretzels. I posted a video on my Instagram stories a week or two ago, showing how to shape them. Once you get the hang of it, it's super easy. That video doesn't show the twist you'll see in the center of some pretzel photos here, but don't fret. They still come out looking lovely (and of course, taste amazing). Below are step-by-step photos for reference.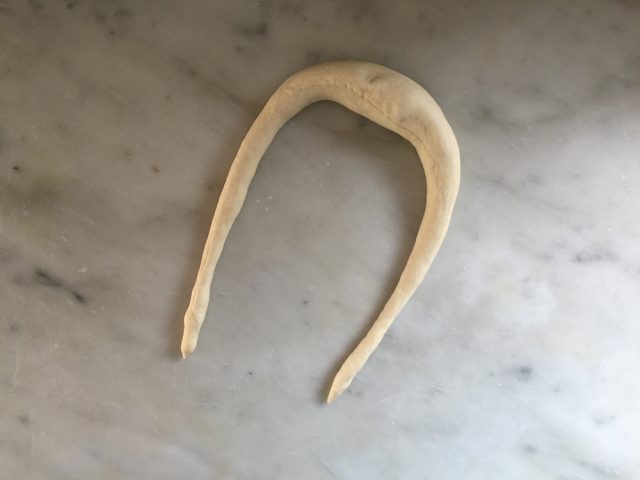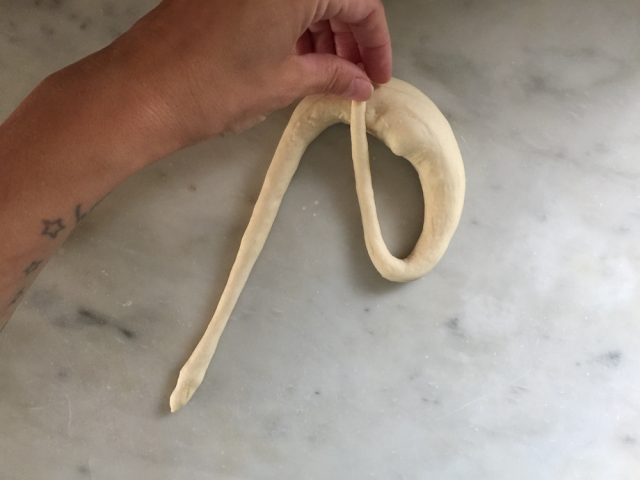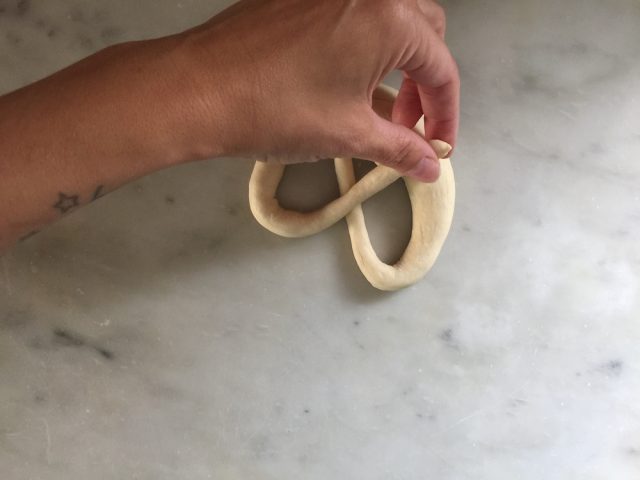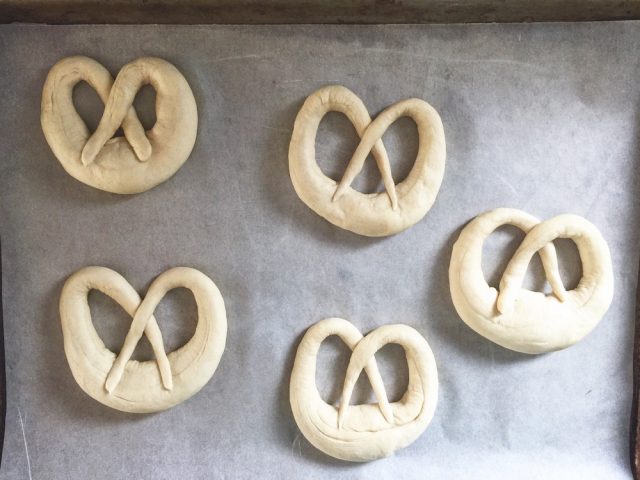 Watch the video here on how to shape these homemade soft pretzels
SaveSave
SaveSave
SaveSave
SaveSave
SaveSave