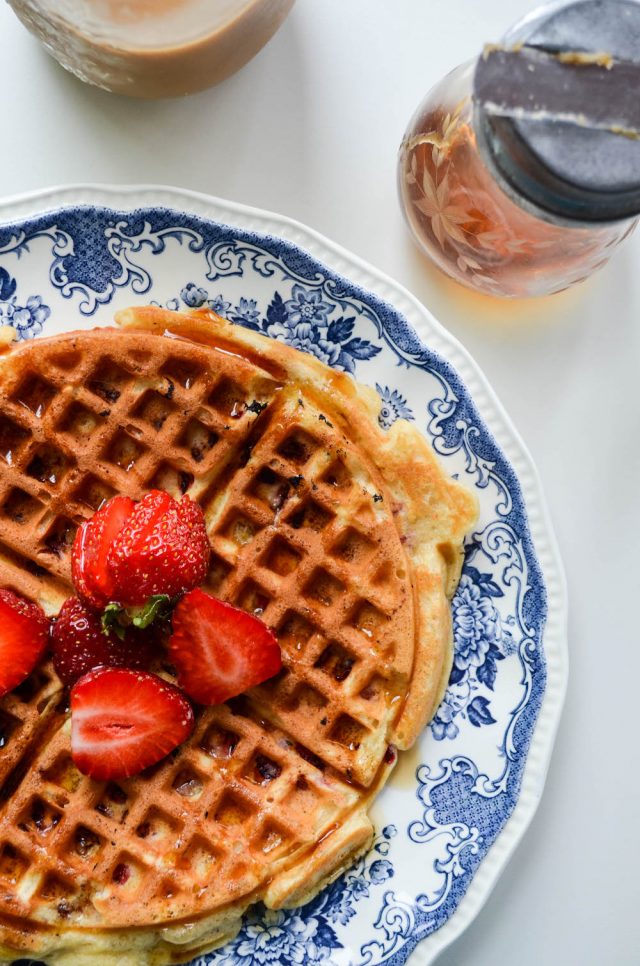 Strawberries are finally here. I lost hope that I'd find any when I went out in search of them yesterday, knowing the season is slow going here thanks to a longer than usual winter. My favorite stand had none, the back up stand a few miles away didn't get any delivered from the main farm, and so I figured next weekend. Summer could only play hide and seek for so long before strawberries would find their way into my kitchen.
Lucky for me, an unexpected detour by another farmstand, this one closer to my house actually, rewarded me with two quarts of fresh-picked, not-too-sweet but not-too-tart strawberries. I ate a few out of hand, then set the rest on the counter, figuring I'd bake something with them later that evening.
Five hours later (no joke), I emerged from the garden, a few minutes past nine p.m., feeling as if a truck had run me down. Gardening is not for the weak. For anyone who questions the price at the farmers' market, my advice is go tend a tiny garden, and you'll surely gain an appreciation for the hard work involved in making it a profitable living on a larger scale.
Next month marks five years since I bought this little house. I'm still wet behind the ears in so many respects when it comes to home ownership, and the same goes for gardening. So much left to learn. When I think of how my garden has grown these last four years, I owe it all to my friend Diane who gave me the best advice ever. She and Todd are gardening geniuses.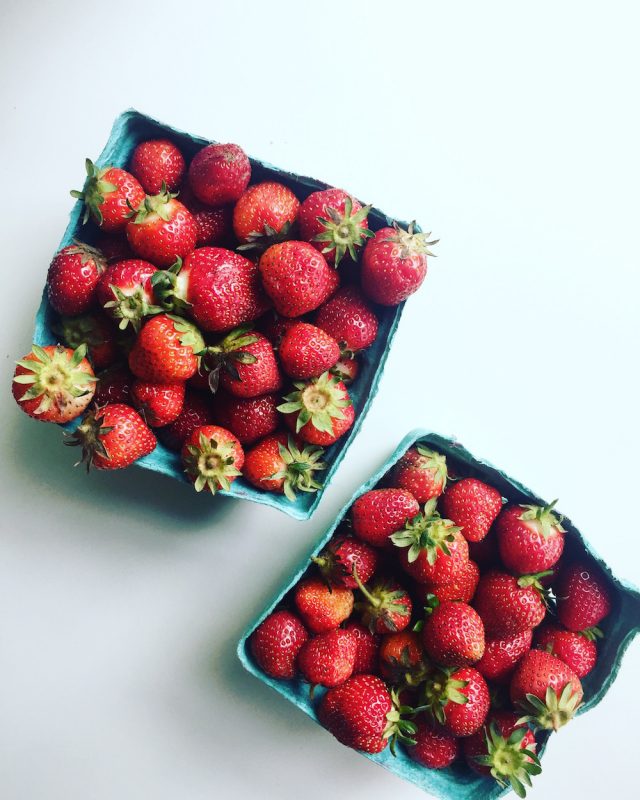 When I bought the house and described what was already in the garden at the time, she said live with it, and start off small, letting trial and error show me what works, and what doesn't in my climate. And so, with that advice, I did nothing beyond watering the existing plantings the first summer, and putting in two blueberry bushes.
My teeny parcel of land, just over a 1/4 acre, already had raspberry bushes, a quince tree, and some older, established rose bushes. There's an old apple tree in the back, too. It produces fruit every other year, and sadly, the apples aren't that great for eating, so whatever falls goes to the deer and other wildlife.
Oh, there's a mulberry tree, too. I didn't discover that until a year or two after owning the house.
Over the last four years, I've built the garden up substantially, and learned so much along the way. Raspberry bushes will slowly take over everything, so tough love is required. Initial instinct, and perhaps berry-loving greed, tempts you to let it grow. In an effort to help other parts of the garden flourish, though, it must be maintained, and reigned in. A good cutting back after the first harvest also produces a nice early to mid-fall bumper crop.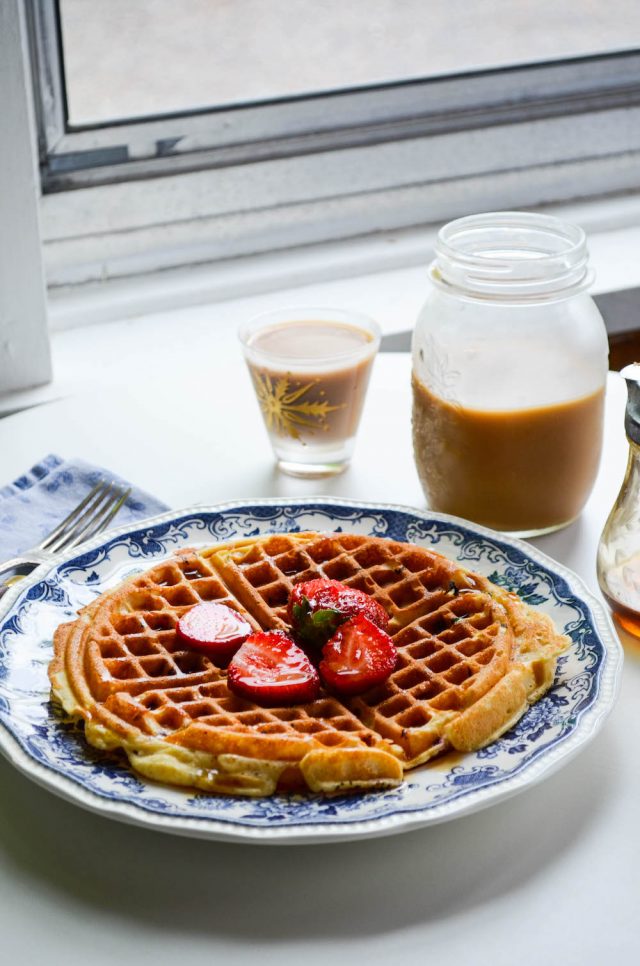 Two years ago, I added two more blueberry bushes. It's important to add differing varieties so they can pollinate each other properly. The first year all four bushes fruited beautifully, and last year, the newer ones did nothing. They looked a little thin leaf-wise, too, and I wondered if they were dying. I'm so glad I didn't pull them.
It turns out like a lot of fruit bearing trees, these particularly blueberry bushes only fruit every other year because right now it's full of immature berries. Now it's a matter of waiting, watering, and hoping the netting covering them successfully keeps out the birds and deer (as well as a new organic spray I bought to deter the critters).
Over time, I've also learned to maximize my small space. While the house sits on 1/4 acre of land, the garden is really just along the perimeter of the house. And there's no fencing, so creative ways to protect against deer is challenging, pushing you to think strategically when plotting out the garden. Deer may look cute, but they're aggressive creatures with an endless appetite, especially for my younger rose bushes.
There's a new organic spray and granules I'm using this year which is made of bovine blood. Safe for plants and edibles, but obviously not vegan friendly. How I organize the garden is imperative, too. Many creatures, including deer do not like certain scents, so any vegetable plantings go behind a barrier of herbs, including French lavender, basil, cilantro, rosemary, lemon verbena, and chamomile.
I've grown fennel the last two years with great success, so doubled up this year with eight fennel plants. Kale was a new comer to the garden last year, and it did well, so I put in a few more this year. A few new additions this year include horseradish (I'm really excited for this one), celery, and summer squash, which truthfully, I meant to buy green zucchini. Oh, well. I'm not a huge summer squash fan, but am at least hoping to get blossoms to fill with ricotta, and fry. And who knows. Maybe growing summer squash might make me into a fan of it, too?
The herb garden is at an all time high this year with 20 varieties of herbs! There's the usual suspects that wintered over—mint, lemon thyme, lemon balm, sage, Greek oregano, golden oregano, chives, and tarragon (this last one was a surprise!). We had a weird winter here, though, so things that normally winter over didn't make it, which meant buying new English thyme and rosemary.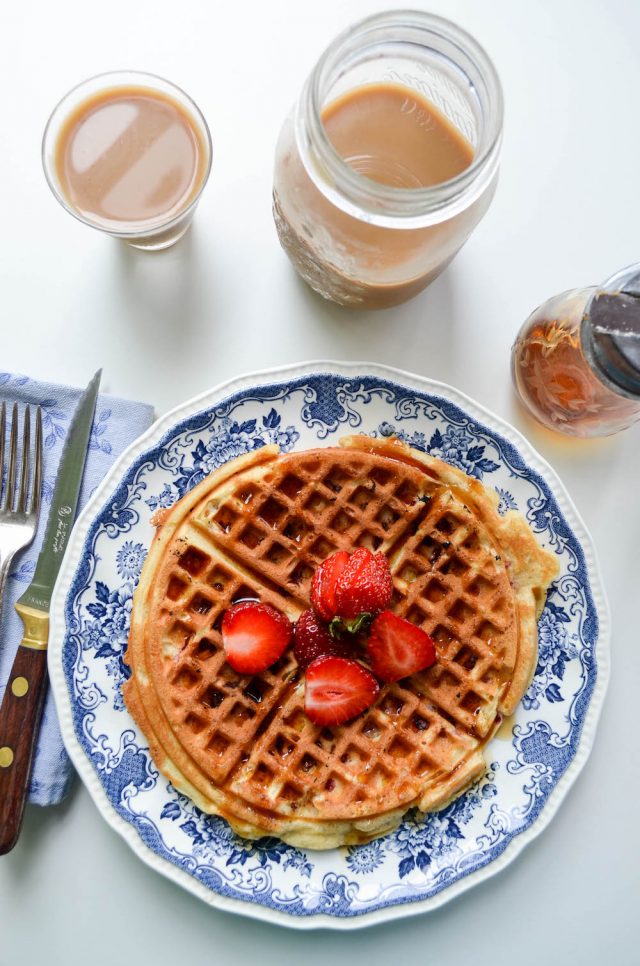 The remaining annual herbs include old friends like parsley, lemon verbena, chamomile, basil, and cilantro, plus new herbs to the garden: horehound, stevia, Thai basil, holy basil, and lemongrass.
Now that you've got the garden update, let's talk about these Strawberry Waffles. I forgot that's where we started at the beginning, and got sidetracked. Sorry! I've got big plans for the remaining strawberries sitting on my counter. Hoping for popsicles, and maybe strawberry cupcakes.
First up, though, were waffles. I tweaked this recipe, making a half batch, which yields a small serving of four waffles. It was a perfect batch for our small family of three. Feel free to double up if you want. Rather than just toss chopped strawberries in the batter, I let them macerate for a few minutes with a smidge of sugar and lemon zest to coax them into becoming little bursts of a jammy filling with each bite.
Hope your Sunday is a peaceful one, and the week ahead treats you kind. xo-Jennie
This recipe is now part of my new site, Simmering. It can be found here.
Posts are free for everyone to read. Recipes are for paid subscribers only.
SaveSave
SaveSave
SaveSave
SaveSave
SaveSave
SaveSave
SaveSave