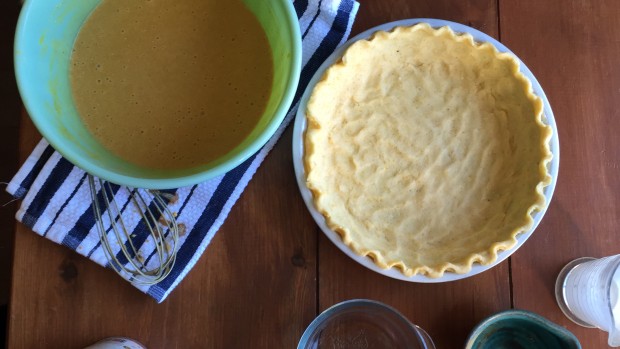 Every morning I wake up, and promise myself I'll get to bed early that night. And yet, here I am, almost midnight, talking about pie crusts. It's a pressing subject this time of year. Literally. I know, the kids today use that word all wrong, but this is no joke. Tuck the rolling pin away, and let your fingertips do all the work to press the crust into the pan.
I've been hesitant to try this method for years now. I love rolling pie dough. Of course that only blossomed into deep affection once I developed a crust that didn't result in tears. After years of working on creating a foolproof crust, would I have to abandon my tried and true recipe to use a new technique? The answer is no, thankfully.
The only tweak I made to my Foolproof Pie Crust is that I swapped in granulated maple sugar. It's such a small amount, so don't worry. Use what you have on hand. Here's a quick video to show you how easy it is to use this no-roll pie crust method. So, I say put the kids on pie duty while you tackle the more challenging work to get the Thanksgiving meal on the table.
I'll be back some time today, or first thing Wednesday with my new pumpkin pie recipe. If you're not a fan of evaporated milk, or forget to buy it (as I often do!), you'll want this recipe in your repertoire. The recipe also uses maple sugar, so it's refined sugar-free. A nice option for a lighter dessert choice after enjoying the big feast.
Okay, time for some shuteye, folks. See you on the flip side.
Get my recipe for Foolproof Pie Crust here.