White Wine Cookies to Make a Wish On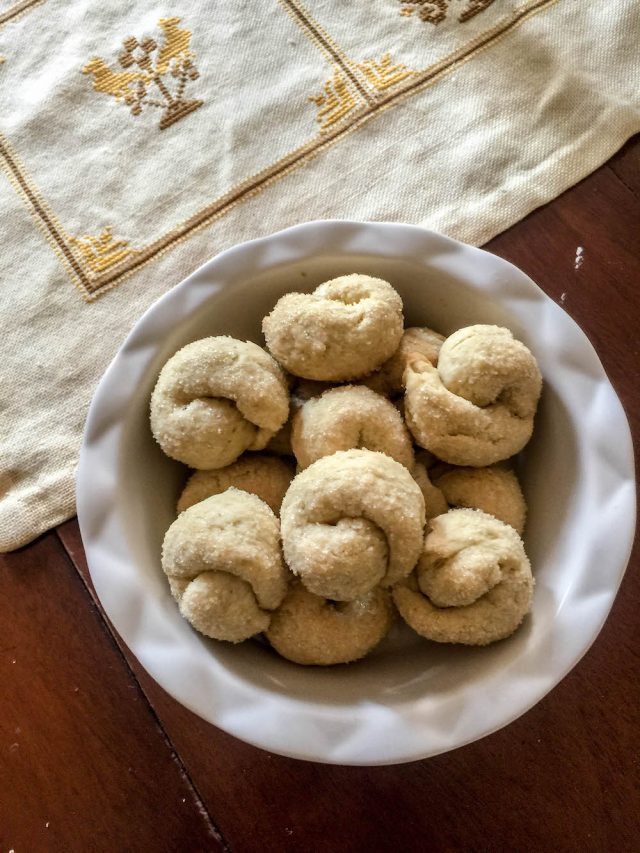 I still wish on the first star I see at night. Michael used to tease me for such child's play.
The ability to continue dreaming, wishing, hoping at a point where life has had enough time to wear me down is something for which I'm thankful. I have a feeling Matthew finds this quality endearing, though I've never asked.
I'm a pragmatic person, more inclined to take calculated risks than leaps of faith.
Except when it comes to love.
Risk is inevitable when emotions are involved. And because humans are at their most vulnerable when in love the risks become even more difficult to calculate.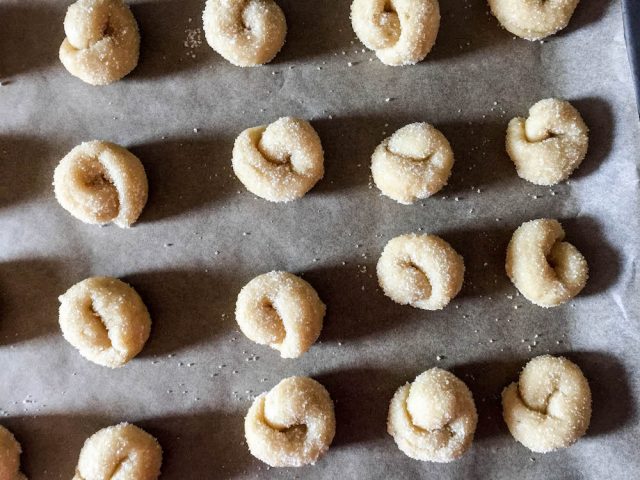 My mind careened down this rabbit hole while looking for photos of these white wine biscuits. I first made them at Matthew's just over a year ago. Life is vastly different from our first year together. My schedule wasn't as intense as it is now. I had more time to spend at his place.
The moment I walked into his apartment I felt at home. Everything about his home made me feel he knew me before he ever knew I existed. The preference for dark wood over light. An appreciation for well worn antiques that told stories a more modern piece of furniture had yet to experience. A calming, peaceful energy that clung to every corner I turned.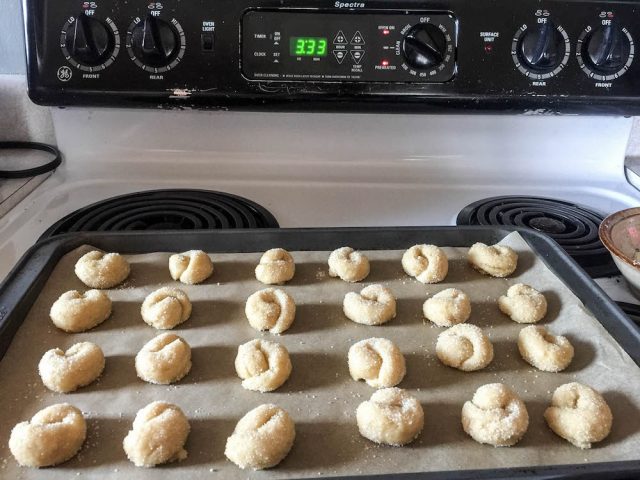 And we had the same sofa. Same exact one. What are the odds of that happening?
Two years, plus a few months, later it's clear we're both people who live life with intention. Choices are purposeful, thoughtful. Sometimes I wonder, perhaps, too much thought happens. It's easy to get caught up in the need to plan but I find that can also squelch spontaneity and the ability to steal pockets of time we thought non-existent.
I leapt a lot after Michael died, wanting to be anywhere but here, in the life I was thrust into unexpectedly. On reflection, I intentionally chose the moving target approach, unbeknownst to me at the time.
Life, and the inevitable price we pay for being human—death, couldn't possibly catch up with me if I outran it. Or so I thought.
But if I were to keep running—if I were to run, even now, when it sometimes feels impossible to be so far from the person I want to build a life, I know I'd be cheating myself, not death. So, I choose the calculated risk even when by all calculations it leaves me worried time will run out before the stars align the way I wish them to every night.
One day last March I found myself craving these simple Italian biscuits. They're a thrifty way to use up those extra few sips of wine, requiring just 1/4 cup. I prefer them with white wine, but red would work fine, too. I'm sure rosé would even work.
The recipe makes a small amount, only 16 cookies. Feel free to double the ingredients if you want more. And if, like me, you notice the oven clock is at 3:33 (or 4:44, 5:55, etc.), make a wish. You never know what the universe will ricochet back your way.
Favorites from last year, and beyond
What Does Good Quality Butter Mean Exactly?
Pane Toscano: The Best Tasting Bread is Missing a Key Ingredient
Rosemary Rise, The Best Coffee Drink Ever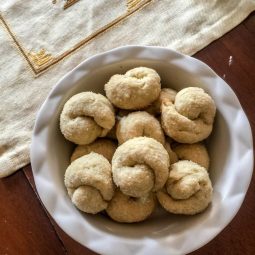 White Wine Cookies (ciambelline al vino)
Ingredients
¼

cup

50 grams granulated sugar, plus more for finishing

¼

cup

tk grams extra virgin olive oil, preferably a fruity varietal

¼

cup

60 ml white wine

1/8

teaspoon

vanilla extract

1½

cups

210 grams flour

¾

teaspoon

4 grams baking powder

Pinch

of salt
Instructions
Add the sugar, oil, wine, and vanilla to a deep bowl. Whisk to blend.

Using a wooden spoon, stir in half of the flour, and all of the baking powder and salt. Gradually stir in more flour until just mixed in. Knead by hand a few times until it comes together into smooth dough. Cover the dough loosely with a towel, and let it rest for 5 minutes.

Preheat the oven to 350º F (180ºC). Line a sheet pan with parchment paper. Pour some sugar into a small bowl.

Pinch off thumb-sized pieces of dough. They'll look like misshapen bits of dough, and that's okay. Alternately, you can roll the pieces of dough into TK-inch ropes, and join the tips to make a circle.

Dip the cookies in the bowl of sugar to lightly coat them. Place the cookies 1-inch apart (they won't spread much) on the prepared pan. Bake until golden, 25 minutes. Transfer to a wire rack to cool completely. Store in a tin, in a cool, dry spot for up to 2 weeks.