Roasted Butternut Squash Soup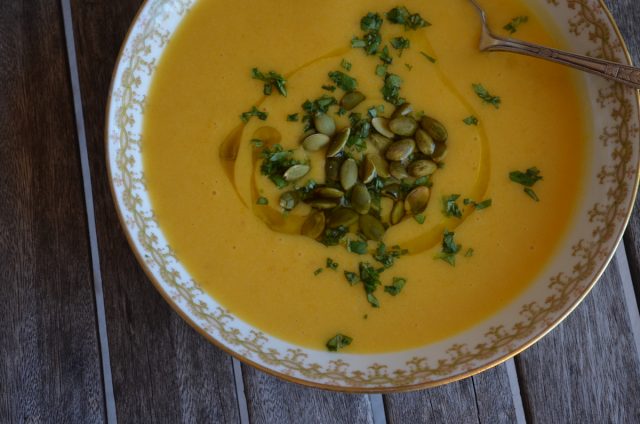 I realize the temperatures might not feel like soup weather just yet, for some of you, at least. As for me, I love eating soup year-round. And obviously, temperatures do not determine when I crank the oven up, since there are pies and cakes to be baked even on the hottest summer days. If you're not quite ready for soup, then go ahead and bookmark or pin this recipe for Roasted Butternut Squash Soup—it's one you don't want to miss.
Growing up in an Italian-American family made for some interesting Thanksgiving eating. Before you lose your head over me chatting about Thanksgiving before fall has even officially begun, it's important to know the backstory on this recipe.
We'd start every meal with baked ziti. Yes, it was epic, chasing cheesy, carb-laden pasta with a roasted turkey. I wouldn't trade those memories, or meals, for a million bucks, but pre-turkey pasta is something I shed from my holiday menu once I began hosting Thanksgiving.
This Roasted Butternut Squash Soup is a much better way to begin the meal.
The velvety texture is achieved by giving it a whizz in the blender, so it's dairy-free, too. I really love the way the sweet, earthiness of the butternut squash pairs with the tropical notes of the coconut milk.
Much as I find chopping vegetables to be a therapeutic endeavor, prepping butternut squash is one of my least favorite things. Peeling the skin, seeding the squash, cutting it up—all such a tedious affair, and not the best use of my time. I feel awful for admitting this, especially since we're heading into peak butternut squash season. Thanks heavens for those super convenient, already cut-up packs sold in the produce aisle. Obviously, do as you wish.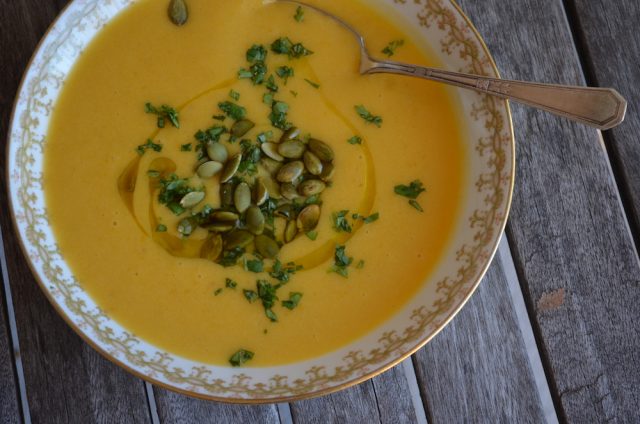 Roasting the squash reveals a dramatically different result than if you were to just sauté it on the stovetop. The real surprise here comes from the addition of fresh lime. Just a bit squeezed over the soup before serving brightens up the entire bowl. Both decisions, to roast the squash and use lime, are the difference between a simple homemade soup, and a soup worthy of a spot on a fine-dining menu. If you can't find butternut squash, go ahead and use pumpkin, delicate, or even acorn squash. This would indeed be perfect to include in any Thanksgiving menu, but by all means, don't wait that long to make it!
Seven Years Ago: Creamy Homemade Ricotta
Six Years Ago: Carrot "Fettuccine" with Lemon Thyme Butter Sauce
Five Years Ago: Homemade Chocolate Snaps
Four Years Ago: Blackberry Soda
Three Years Ago: Postcard from Paris
Two Years Ago: Crispy Buttermilk Fried Chicken
One Year Ago: Six Ways to Savor Peaches
This recipe is now in my Thanksgiving E-book, and can be found my new site, Simmering. Click
here
.