A few weeks ago I awoke to my little one rustling around in bed. Mother's instinct told me it wasn't just normal sleep aerobics, of which she is a gold medalist. I turned on the light, looked over, and the poor kid was pale. Waking up to a kiddo with an unsettled stomach at 4:00am isn't exactly the way to start the day.
We live in a rural area, so that means the nearest place to get ginger ale before dawn was 30 minutes away. And, frankly, I'm not even sure that gas station is open 24/7. So, I did the next logical thing, and made my own (I always have copious amounts of fresh ginger in the house). That's how this recipe for Homemade Ginger Ale came to be.
As I grated the ginger, I imagined Mikey laughing in an "I love my crazy girl" way. I'd been meaning to try my hand ay homemade ginger ale for some time. A few years back, I used this syrup to make homemade cream soda, and it was amazing. The idea of making a homeremedy that would sooth my little one's upset tummy was the perfect excuse, even if it meant making it at 4:30am.
Making homemade ginger ale is incredibly easy. You just need fresh ginger, sugar, and water.
Powdered ginger will not do here, so add some fresh ginger root to your grocery list if you don't have any at the moment. My microplane is perfect for grating it, and try to get the freshest ginger possible. It'll pack more punch, and will be less fibrous (which can make it hard to grate). I'm currently hoarding a stockpile of fresh picked ginger in the freezer that I bought from the farm stand. I can't think of a more delightful treat that really fresh ginger root.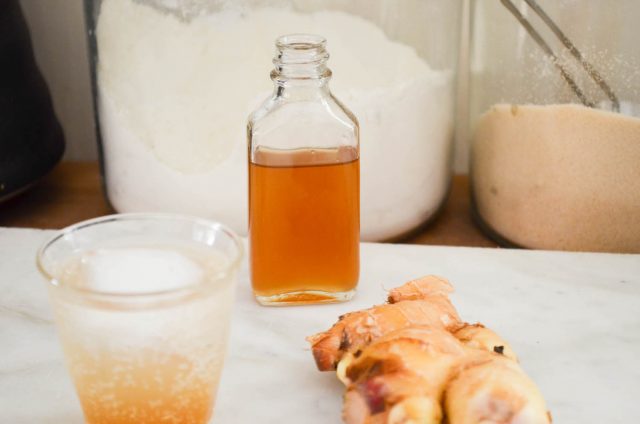 I decided to share this recipe today, figuring that some of you (or someone you know) might've over indulged during the Thanksgiving holiday. I know, such a thing seems impossible at the time, but then there you are a few hours later, wishing you had exercised will power. Been there, done that. But really, if you love ginger ale, you also know it's a year round treat, and I'm sure this homemade ginger ale will become a staple in your house. Hope everyone had a peaceful Thanksgiving. -xoxo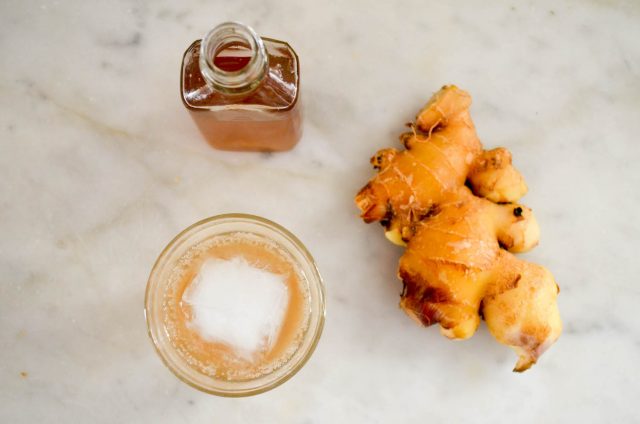 Some ideas for those Thanksgiving leftovers
Potato Focaccia (perfect way to use mashed potatoes)
Pulled Pork Poutine (swap in turkey for the pork)
Turkey Pot Pie (a Mikey favorite)
Smashed Brown Potatoes (weekend brunch!)
Pulled Pork & Cabbage Salad (again, swap in turkey here)
Homemade Ginger Ale
Ingredients
3/4

cup

150 grams granulated natural cane sugar

2/3

cup

150 grams water

4-

inch

10-cm fresh ginger root, no need to peel
Instructions
Add the sugar and water to a small pot. Grate the ginger, peel and all, into the pot (a microplane works best).

Place the pot over high heat, and bring to a boil. Let cook at a rolling boil for 2 minutes.

Remove from the heat, and add vanilla, if using. Set the pot aside, and let the ginger continue to steep for at least 2 hours. Cooled syrup should be stored in a covered jar in the fridge.

To use the syrup, You can either pour the ginger syrup through a sieve each time you want to make soda, or you can strain it all at once after the initial steep. The longer the ginger sits in the syrup, the stronger your ginger flavor will be.

To make ginger ale, fill a glass with ice cubes. Add seltzer, and as much ginger syrup as you like to reach the right level of strength.