No Bake Pumpkin Cream Pie
I love everything about pumpkin pie, from the baking to the eating of it. It's one of the easiest pies you'll ever make—except for this No Bake Pumpkin Cream Pie. Forget the fear and fuss of a pastry crust. Ginger snaps make for an easy cookie crust. The filling sets up in just 30 minutes, so you can even make this pie the morning of, and let it chill while the turkey is roasting on Thanksgiving morning.
Is it really possible I just referenced Thanksgiving? I know, it feels too soon, but the truth is it's only six weeks away. How is it that fall swoops in, and steals time faster than ever? I guess that's just how it goes this time of year.
But, here's the thing about this No Bake Pumpkin Cream Pie recipe. You don't want to wait until Thanksgiving to make it, and you're certainly going to want to enjoy it more than once a year. I didn't think my love of pumpkin pie could run any deeper, and this little recipe popped into my mind.
Now it'll be hard a choice between my traditional pumpkin pie recipe and this No Bake Pumpkin Cream Pie.
I originally created this recipe for Simple Scratch Cooking, so it might look familiar to some of you. Since I'm at a more mindful eating place in my life, I'm eager to work on a dairy-free version, which I think is totally possible. Perhaps coconut cream for the whipped cream) We shall see, once I find time to go tinker with it in the kitchen. I also want to mention that I'm running a special sale through the end of October on select issues of Simple Scratch Cooking (only $2.99!). Click here to see the issues, and order them.
More Pumpkin Inspired Recipes at In Jennie's Kitchen
Some more pumpkin inspiration from my friends at Food Network's Fall Fest.
The Lemon Bowl: Healthy Pumpkin Bread
Foodtastic Mom: Pumpkin Shepherd's Pie
Creative Culinary: Pumpkin Spice Muffins with Molasses Walnut Crumble
Dishin & Dishes: Overnight Pumpkin French Toast
The Mom 100: Pasta Shells with Pumpkin in a Creamy, Cheesy Sauce
Devour: Give 'Em Pumpkin to Talk About with 4 Instagram-Ready Desserts
The Fed Up Foodie: Pumpkin Gnocchi Soup
A Mind "Full" Mom: 5 Must-Try Pumpkin Recipes That Are Not Pie
Elephants and the Coconut Trees: Eggless Pumpkin Pie
Taste with the Eyes: Fabulous Fall Dessert: Pumpkin Ricotta Wonton Ravioli
Mom Loves Baking: Pumpkin Chocolate Swirl Bundt Cake
Pinch My Salt: Buttermilk Pumpkin Spice Bread
Swing Eats: Pumpkin Whoopie Pies with Molasses Marshmallows (GF)
Hey Grill Hey: How to Grill Pumpkin
FN Dish: 6 Surprising Ways to Use Canned Pumpkin for More Than Pie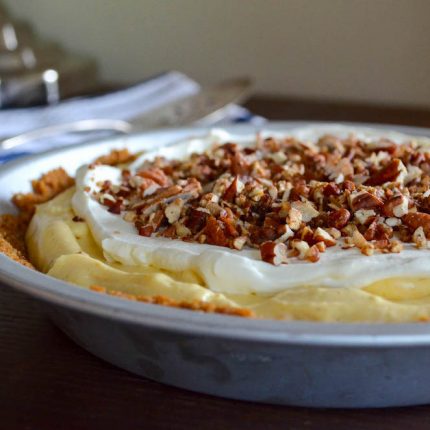 No Bake Pumpkin Cream Pie
No time to make the crust, or just want to save a few extra minutes? Skip that step, and go straight to filling. Fold in all of the whipped cream, instead of just half, to turn it into a velvety pumpkin mousse. Store it in a tightly covered container for up to 2 days. Serve with additional whipped cream, if you like, and toasted pecans.
Ingredients
6

ounces

168 grams ginger snaps

4

tablespoons

56 grams butter, melted

1

cup

heavy cream

8

ounces

224 grams cream cheese, softened

1

cup

120 grams confectioner's sugar

1/2

cup

130 grams pumpkin puree

1

teaspoon

freshly squeezed lemon juice

1/4

teaspoon

ground cinnamon

1/4

teaspoon

ground ginger

1/8

teaspoon

ground cloves

Pinch

of sea salt

11/2

ounces

42 grams pecans, toasted & chopped
Instructions
Add the cookies to a food processor. Pulse into fine crumbs. In a small bowl, combine the melted butter and cookie crumbs. Stir with a fork until well mixed.

Press the cookie mixture into the bottom and up the sides of a 9-inch (22 cm) pie pan (regular, not deep dish). Place in the fridge to set while you make the filling.

Add the heavy cream to a deep bowl, and beat on high until it forms stiff peaks; set aside. Divide the whipped cream in half; set aside.

Add the cream cheese to a deep bowl. Beat on medium speed until light and fluffy. Reduce speed to low and gradually beat in the confectioner's sugar. Add the pumpkin puree, lemon juice, and spices. Increase speed to medium and beat until all ingredients are combined and filling is smooth.

Fold in half of the whipped cream into the filling mixture. Spoon the filling into prepared pie pan, spreading it to the edges. Spread the remaining whipped cream on top, leaving a 1/2-inch (1.25 cm) border. Sprinkle the pecans on top. Place the pie in the fridge to chill and firm up, about 30 minutes. The pie may be prepared, and stored in the fridge covered, the night before serving.