jerusha's pumpkin cookies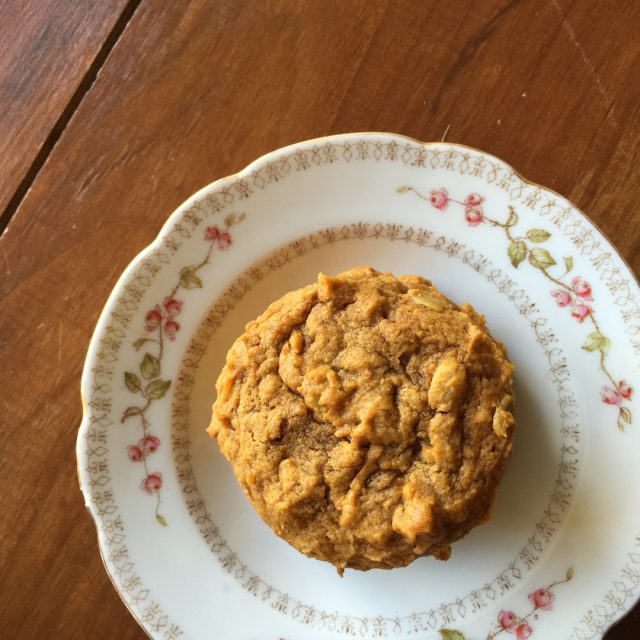 My mind drifted to our old apartment, the one back in Brooklyn, while driving Virginia to school today. Sometimes I feel like a stranger peeking into someone else's life when I visit these old memories. I recognize the girl in them, but can't quite connect to her anymore. Funny, how life can feel so short, and so long at the same time.
In a recent Esquire interview, Patti Smith said she's on Life Four. I often feel that way, too. I remember telling a friend that my life doesn't feel like chapters, all part of the same story of Me. My childhood, my years with Mikey, my life as a newly minted widow, and my life now—they all feel like separate stories.
Speaking of Patti, I can't believe that this time tomorrow I'll be on my way to NYC to see her at The Beacon with an old friend. Tomorrow, November 10th, marks the 40th anniversary of the release of Horses. I had the chance to take Isabella to her book signing in D.C. last month. Such a powerful moment to have her meet her, and walk off stage with Isabella whispering to me, "Mommy, she's so beautiful".
Much like the way my mind wanders, so do my words. The real reason I popped in today is to share a recipe for the best pumpkin cookies I've ever tasted. I didn't really expect to be so wowed by them. Not because I didn't trust the high praise Virginia gave when she first tasted them. It's just…they're pumpkin cookies. How exciting can a pumpkin cookie really be?
Her violin teacher baked a batch, and brought them in for her students at Woodstock Day School right around this time last year. I forgot what I was testing a few weeks ago, but it left me with a half can of pumpkin puree sitting in the fridge. I remembered how much Virginia loved those cookies, and luckily still had the recipe Jerusha sent in my email (sometimes clutter comes in handy!).
Later that evening, Virginia put on her apron, and mostly made the cookies on her own. So, there's that too—the best pumpkin cookies ever, and so easy a seven year old can make them.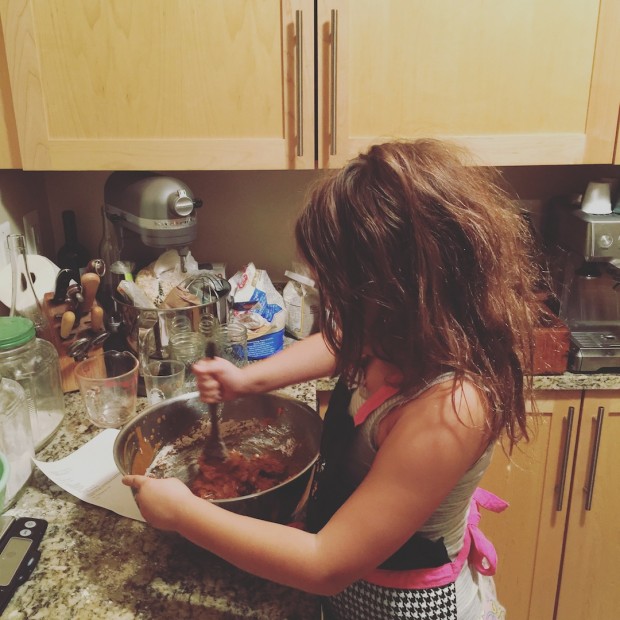 The ingredients sound pretty basic, but don't be fooled. These soft, chewy cookies burst with all those flavors you expect from a fall cookie. Perhaps it's the magic of tasting my first treat baked by my little girl. Maybe Jerusha's email had a helping of good vibes as a secret attachment. Or maybe, and this is more likely the case, the secret is, as my guy says—it's love. Love is the secret ingredient. Always.
Here's to my Life Four.
Six Years Ago: Golden Ricotta Pumpkin Fritters
Five Years Ago: Crisp Chocolate Chip Cookies
Four Years Ago: Chocolate Chess Pie
Three Years Ago: Coconut Custard Pie
Two Years Ago: How to Measure Flour
One Year Ago: Homemade Bagels
Jerusha's Pumpkin Cookies
makes 30 cookies
Music Pairing: Patti Smith Live in Stockholm 1976 (full concert & interview)
Lots of notes to share. Rather than bog you down with them up front, I've included them at the end of the recipe. Please give them a look before baking.
1 cup oil (I used grape seed oil)
1 egg (I used large, at room temperature)
1 cup pumpkin puree
1/2 cup brown sugar
1/2 cup granulated cane sugar
2 cups flour (I used whole wheat pastry flour)
1 cup old fashioned oats (not quick cooking)
1 teaspoon baking soda
1 teaspoon cinnamon
1/2 teaspoon salt
1 cup chocolate chips (optional)
Preheat the oven to 350F. Line two baking sheets (I used 11-inch by 17-inch pans) with parchment paper; set aside.
Beat oil, egg, pumpkin, and sugars with a whisk, until well blended. Add the flour, oats, baking soda, cinnamon, and salt. Stir with a wooden spoon or spatula until just mixed, and there are no visible signs of flour.
Spoon 1 1/2 tablespoons of dough, about 2-inch apart, onto the prepared pans (I was able to fit 15 on each tray). Bake for 10 minutes, until the edges and center look set. They won't be golden, so you're really looking to see that the dough isn't raw in the center, without the cookies being overcooked.
Transfer cookies to a wire rack to cool.
Eat. Smile. Repeat.
Baking Notes:
I know, there are no metric measurements here! I considered weighing out the ingredients since the original recipe was only volume measurements. Instead, I wanted to just be in the moment with Virginia, and tuck away my work hat for the evening. One thing I think it's important to note is that I used the scoop & sweep method for measuring out my flour, which results in a heavier amount (150 grams per cup) than spooning & sweeping.
The original recipe called for butter or oil. I used grape seed oil to keep these cookies dairy-free. You can try using coconut sugar in place of the cane sugar to keep them refined sugar-free, too. If you want to use butter, it would be two (2) sticks, softened. Let me know how they taste if you do, please.
I didn't use the chocolate chips. I do wonder how toffee or butterscotch chips would taste.
If you want to put your own spin on these, I bet mashed sweet potatoes world work nicely. Must add that idea to my To Do list.
The original recipe didn't note what size spoon to use for the cookies, or a total yield. I used my OXO medium cookie scoop which measures 1 1/2 tablespoons. It made 30 cookies, and they baked up perfectly.
Last note, I swear. The cookies do not spread much, and I prefer a flat cookie. If you do, too, then press them gently with the bottom of a glass to flatten slightly before baking.