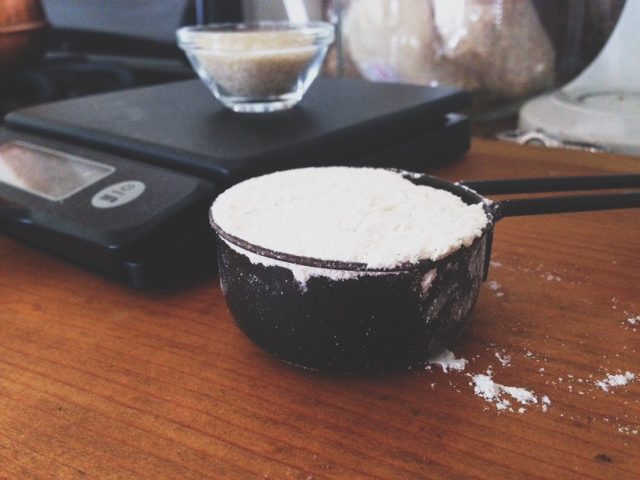 It hit me in the middle of the day yesterday with an odd feeling of surprise. I'm talking about November. It seemed to tip toe in, and I appreciate the calm greeting. I hope it brings more peace than October. The leaves are defiantly clinging to the trees here upstate, showing off their shades of red, orange and gold with the fanfare of a peacock. I know how they feel, in a way. Letting go isn't easy. Paying attention to the season changes is an important reminder that life is about loss and renewal; it's a never ending cycle.
As we settle in for what is perhaps the busiest baking season, I wanted to share something that's been on my mind for a while now. I'm going to geek out here for a moment, but please stick with me. I promise it'll make for a better baking experience the next couple of months, in fact for the rest of your life.
Every time I measure out some flour, I wonder to myself "do more people scoop and sweep" or "spoon and sweep"? In the first method, you dip your measuring cup into the flour, scoop it out, and use an offset spatula, or the back of a butter knife, to sweep away the excess flour (this is called "leveling" your flour). The latter method is when you use a spoon to pour flour into a measuring cup, and then level it off. The last way to measure flour, the one that is most accurate and how pastry chefs work, is to simply weigh them on a scale. This is the way I prefer to bake, and why all my recipes also include metric measurements.
Using measuring cups poses problems because not all sets are created equal. I have three different sets, and they all record a different weight when I take the contents and check them on my scale. The same goes for spoon measurements—one tablespoon can vary widely.
The other problem with using a device, other than a scale, to measure flour lies in the scoop and sweep vs. spoon and sweep methods. Scooping flour into a measuring cup results in a heavier yield (more flour) compared to spooning it in (where you get less flour). Keep in mind that all measuring cups are not created equal, and the difference can be 25 grams (1/6 cup) or more for all-purpose white flour. This is but one reason baking recipes can go from fun to failure.
I don't want to scare you out of the kitchen. My whole career is based on the exact opposite premise. I want everyone to love cooking, and baking, as much as I do. The kitchen is my happy place, and I want it to be yours, too. So, how do we get past this measurement conundrum? Well, my short answer, the easiest answer, is go buy a scale.  If you're still not convinced, or are working with a recipe that doesn't have metric measurements, as is the case with many American cookbooks, then read the first few introductory chapters to see if the author mentions their measuring method (scoop and sweep, or spoon and sweep). I want to stick a fork in my eye that I forgot to mention this very important note in my own cookbook.
For years, I used to spoon and sweep. As time went on, and I observed more people in their home kitchens, I realized I was outnumbered by the scoop and sweepers of the world. If you're using my recipes pre-2010, then be prepared to spoon and sweep. The last few years, I've gone to the dark side, and become a scooper, but above all I'm a metric gal. In fact, when I develop new recipes, I always work in metric first, and then convert them to the U.S. system.
Is it just me, or all of you doing mental lunges, with an 80s-esque aerobic "scoop and sweep" and "spoon and sweep" soundtrack in your head? I think it's time I step away from the measuring cups, and go enjoy the rest of this brisk autumn day while there are still some leaves to enjoy.
Music Pairing: Turn! Turn! Turn! by The Byrds