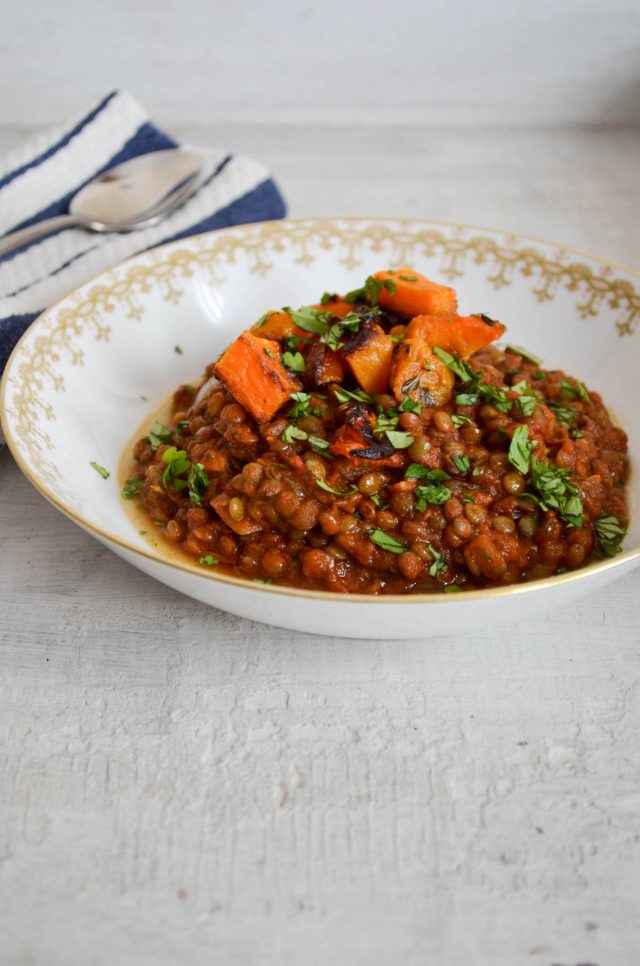 My kids love my usual chili, and I'm a little shy to admit that it's not my usual from scratch cooking. Instead, it's more a can of this, and jar of that, unless I have homemade salsa (the jarred kind) and leftover cooked beans (that happens 50% of the time). One thing for certain, unless it's peak corn season—the corn is always frozen, and that's a perfectly fine ingredient in my book. That chili is the total opposite of this French Lentil Chili.
It's not to say this French Lentil Chili is complicated. Nothing could be further from the truth.
The main difference is this chili is one I love because lentils are my bean of choice. The fact that they're quick cooking is a big bonus, too. The whole chili comes together in about an hour, and it's a great heat and eat meal, so put up a pot on the weekend, and you've got an easy weeknight dinner.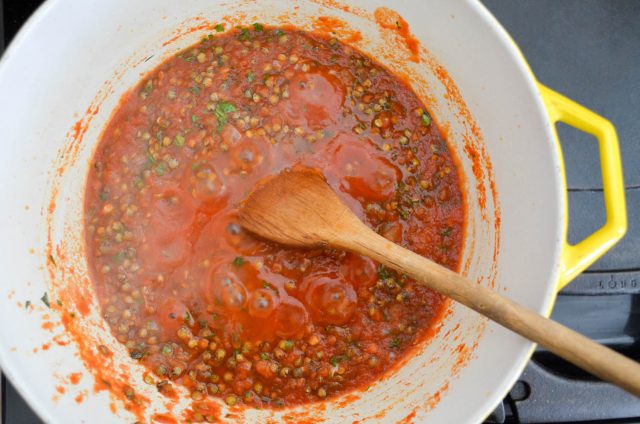 French lentils, instead of red or green lentils, are always my lentil of choice. They have character, and maintain their shape when cooked, even if you overcook them a bit (hey, it happens to the best of us). I had homemade jarred tomato puree, so that was a nice touch here, but any plain, unseasoned tomato puree will work fine.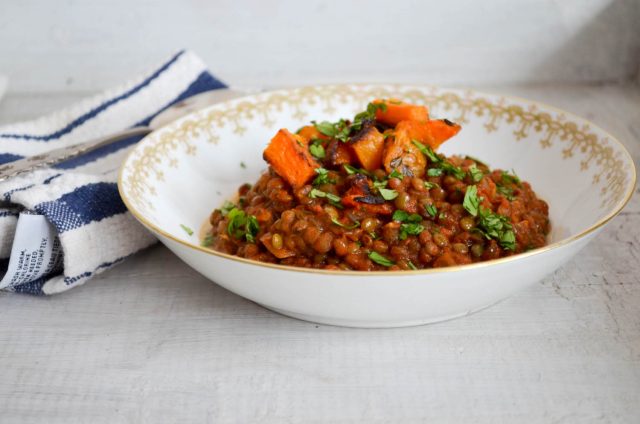 I like to serve this topped with roasted butternut squash (recipe coming soon!). You can serve it over rice, quinoa, or just as-is. My kids would revolt if I served chili without shredded cheddar cheese. I skipped it on mine, but I'll let you decide for yourself, so skip it, add it, use a different cheese altogether. That's the beauty of cooking at home. You're the boss in the kitchen.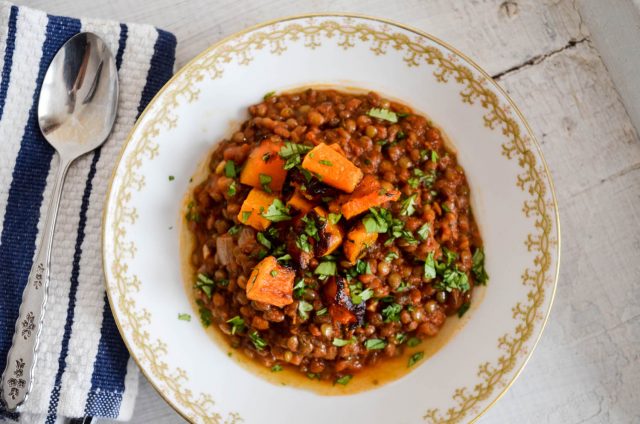 Seven Years Ago: Vegetable Fried Rice
Six Years Ago: 10-Minute Lentil Soup
Five Years Ago: Chocolate Snaps
Four Years Ago: Brown Butter Pumpkin Seed Cookies
Three Years Ago: Apple Breakfast Bars
Two Years Ago: Turmeric Tea
One Year Ago: Wilted Kale Salad
Some more chili inspiration from my friends at Food Network's Fall Fest.
Creative Culinary: Chipotle Chile is the BEST Ever!
The Fed Up Foodie: Tortilla and Beans
The Mom 100: Game-Day Ground Beef Chili
Healthy Eats: 5 Turkey Chilis That Put Beef Out to Pasture
A Mind "Full" Mom: Wine and Mustard Braised Chili
Foodtastic Mom: Slow Cooker Chili Verde
Hey Grill Hey: Smokin' Hot Chili
Mom Loves Baking: Quick and Easy Chili
Taste with the Eyes: Korean Chili con Carne with Red Beans and Kimchi
Elephants and the Coconut Trees: Best Vegetarian Chili with 9 Beans
Devour: Warm Up Chilly Days with Genius Chili-and-Chip Combinations
In Jennie's Kitchen: French Lentil Chili
Swing Eats: Cincinnati Chili
FN Dish: 6 Next-Level Ways to Do Up a Batch of Chili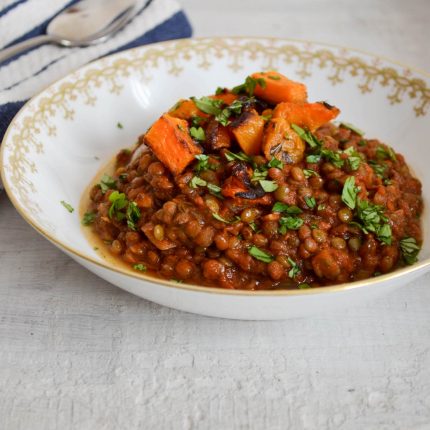 French Lentil Chili
Be sure to pick through your lentils, and discard any pebbles or damaged ones. I like using French lentils because they retain their shape, and have a heartier flavor than green and red lentils. Stirring in a little red wine vinaigrette at the end pulls all the flavors together, and adds a layer of brightness to the chili. You can swap in balsamic vinegar if you like.
Ingredients
Extra virgin olive oil

Small yellow onion

chopped

Garlic clove

chopped fine

2

tablespoons

concentrated tomato paste

14

ounce

jar tomato puree

1

cup

195 grams French lentils

1

teaspoon

sea salt

plus more to taste

1 ½

teaspoons

paprika

1

teaspoon

ground cumin

5

sprigs fresh thyme

leaves only (discard stems)

Handful fresh cilantro

chopped

2

tablespoons

Vinaigrette Dressing recipe here
Instructions
Add a swirl of oil to a heavy bottomed 4-quart pan or pot. Heat over medium flame until shimmering.

Add the onions, and sauté until golden and slightly tender. Add the garlic, tomato paste, and tomato puree. Give it a good stir. Stir in the lentils, salt, paprika, cumin, thyme, and half the cilantro. Add 1 cup of water, and bring to a boil over medium-high.

Reduce to a simmer, and cook, stirring occasionally, until the lentils are tender, about an hour, adding more water (1/4 cup at a time), as needed. The cooking time and amount of water will vary depending on the age of the lentils (i.e. how much they need to be hydrated).

To serve, stir the vinaigrette into the pot. Ladle the chili into deep bowls. Garnish with remaining cilantro, and enjoy!
SaveSave