I like to say I'm opinionated, and not just judgey, but who are we kidding? I'm a New Yorker. Perhaps even worse (or is it best); I'm a Brooklyn gal, through and through. We judge, regardless of what we say, and sometimes without any sensibility to our conclusions. And so that is why my visit to Teaism in D.C. about a month ago was such a pleasant surprise. I grubbed a ride into the city with my guy, and was delivered door to door from suburbia to Dupont Circle. When he first suggested it as a good place to settle in with free WiFi to escape the noise of construction currently going on at our building, I shrugged my nose. You know that kind of shrug where it pushes your eyeglasses way above your eyebrows.
I'd come to the conclusion that I wouldn't like the place just based on the name. It didn't sound appealing, even though I understood the play on words going on with it. Well, later that morning I enjoyed my size seven shoe with a side of some pretty awesome French Toast & Orange Butter. It sounds basic, I know. And for all intents and purposes, it was, but it was prepared so perfectly. Nice, crisp edges, golden brown, and that butter elevated the whole thing to spectacular. Now, if you're an experienced cook, you already know making compound butters is incredibly easy. And if you're new to this whole notion of mixing flavors into softened butter, then listen up—this is a trick you want to use for every brunch or breakfast you host. The wow factor tops the charts, and will ensure your place as a domestic diva.
Teaism must've mixed in orange juice (fresh or boxed, I don't know) because there was no sign of zest in their butter; just a vibrant orange flavor. I prefer to save the juice for drinking, or eating the sections, and maximize every part of the orange, using the zest to make this butter. While you can certainly just straight up mix the zest and butter, I decided to bring a little bit of my childhood into the recipe. My mom used to make cinnamon sugar butter for us to spread on toast as a treat, so that inspired me to add some granulated maple sugar to my orange butter. I opted for the maple sugar since it's unrefined, but regular cane sugar will work, as I imagine pure maple syrup would be just fine, too. You can even add in some fragrant, warm spices—cinnamon, allspice, or even cloves would be nice. Wait a minute, folks. I missed an opportunity to make Gingerbread Orange Butter. Going to make a mental note for next year, before you all jump ship from my gingerbread insanity.
But, speaking of gingerbread, this butter would be lovely on those scones I mentioned. The recipe will be up on Friday, just in time if you're hosting a holiday brunch this weekend. As for me, I'm off to NYC early Friday morning. I.Can't.Wait. I miss my city more than words can ever convey. First stop, the Rockefeller Center Christmas Tree. Okay, the first stop might be here, but the tree is definitely on my Must Do list, along with a stop at the main post office to pick up Dear Santa letters to fulfill some wishes for kids Santa can't get to (this is what I tell my girls, as to not ruin any surprises about the jolly old fella).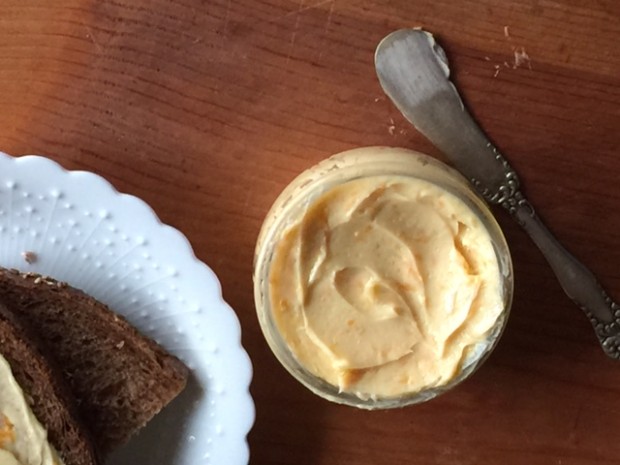 Six Years Ago: Star Anise-Spiced Apple Cider
Five Years Ago: Peanut Butter Bon Bons
Four Years Ago: Christmas, Past and Present
Three Years Ago: Homemade Eggnog
Two Years Ago: The Great Unknown
One Year Ago: Gingerbread Chess Pie
Maple Orange Butter
makes 4 ounces /112 grams
Music Pairing: Must Be Santa by Bob Dylan
1 stick (8 tablespoons / 112 grams) salted butter, softened
Freshly grated zest of 1 orange
2 teaspoons (10 grams) granulated maple sugar
Combine all of the ingredients in a small bowl. Stir with a fork or spoon, until well blended. Transfer to a jar, cover, and store in the fridge until ready to use.