chocolate clementine spice cake
We made a grand entrance into Paris, as you can see from the photo below. Honestly, my breathe was taken away as our driver pulled up to our hotel and I saw the decorations reminiscent of a winter wonderland. It's as though someone knew we needed to be showered with lightness and love as 2012 draws to a close.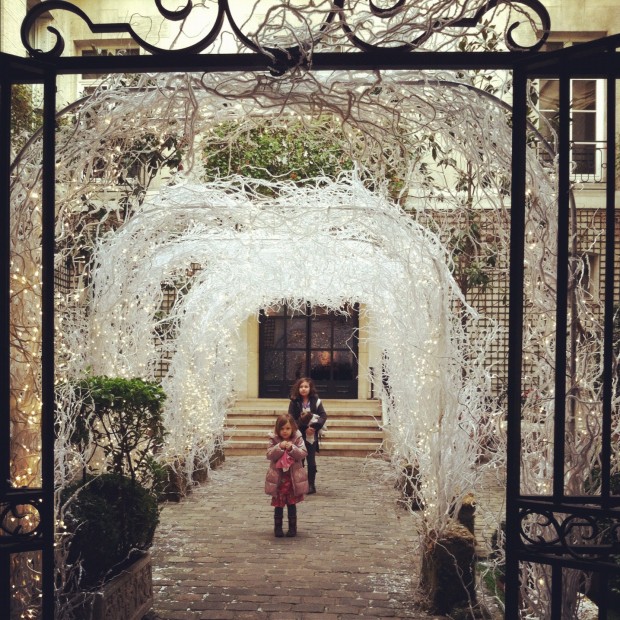 I'm not sure I can capture all that has transpired this year in an eloquent fashion. A lot of it you already know. Frankly, as I read through posts from this past year in preparation for writing the second book, I wonder if I shared too much. Did I give away parts of myself that should've been kept private? Did I bare too much, and leave myself vulnerable?
Did I grieve the wrong way?
A rhetorical question really, but one worth asking myself as I continue to figure out the next chapter in my life. I can undoubtedly say I wouldn't have come this far had I not spilled my raw emotions in such an honest way. Releasing the words from my heart to the page was like bleeding water from the pipes of a house you're closing up for the winter. The only way for me to move forward was to purge the thoughts from my mind, and prepare my mental house for the next season, so to speak.
One thing that has proven to be true is time does have a way of softening the harsh reality. I know this seems logical and sensible, and heaven knows people, those I love and strangers alike, doled out those very words in the days and months after Mikey died. You don't really discover the magic of time and its rejuvenating powers until you step back and reflect on it all. This is not to say time is a solvent, capable of erasing the hurt and pain. Instead time forms a scab. Unfortunately, grief's journey compels you to pick that scab over and over again, as you relive memories of your life before. And we all know what happens to a scab picked too much—it leaves a scar.
It is all necessary, though, and provided you learn to leave the scab alone it eventually begins to heal. The scar it leaves is simply a reminder…a reminder of what you went through, and a reminder that you survived. A reminder that you continue to survive everyday you wake and decide to keep on going.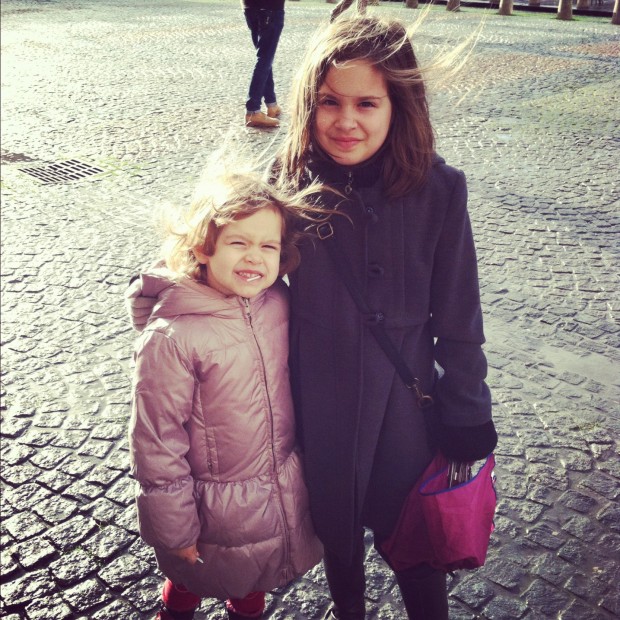 I'm eager to flip my calendar from 2012 to 2013. That's not say 2012 was completely horrible. There were some incredible moments of happiness, as crazy as that may sound. It's just that it was mostly a year of firsts, and those moments were beyond difficult. There will always be a first, that is the blunt reality. But the big firsts—they're ice breakers, and pave the way to start finding enjoyment as more birthdays, holidays, school recitals, etc. come about.
Paris seemed a perfect place to usher out 2012. Our trip in July awakened so many parts of my soul. The weather today was much like my journey these last 16 months. The day started with a storm, winds kicking up so badly we needed to seek shelter during our walk. Then the rain slowly subsided, and by time we stepped outside of Saint Suplice the sun was shining so brightly I had to squint. Suddenly there were blue skies, with picture-perfect puffs of clouds.
There will be more storms, no doubt, but blue skies are always waiting in the wings, no matter how long the grey days persist.
Chocolate Clementine Spice Cake
Makes one 9-inch layer cake
Music Pairing: Blue Skies by Ella Fitzgerald
First note—I didn't realize my metric measurement for the ginger was in my noteboook at home until I was already in Paris. I want to say it was 9 grams but will double check and add it into the recipe once we return.
Now that we have that technical business out of the way, this is seriously one of the easiest and fastest homemade cakes you'll ever bake. It quickly became my favorite cake this holiday season, and honestly I intend to make it way beyond the month of December. The ingredient list is lengthy, but that's about as complicated as this recipe gets. This is where I highly recommend baking by weight—in addition to producing exact results each time, weighing is much quicker than measuring out with cups and spoons.
Another bonus is that it's dairy-free. The cake is based on this recipe I created three years ago. I must confess I like this version even more than the original. The shortening lends an incredibly light touch to the cake. When served warm, it really needs no further adornment. If you decide to make it in advance, a dusting of confectioners' sugar is lovely, and a dollop of fresh whipped cream is brilliant.
1 1/2 cups (220 grams) all-purpose flour
1/4 cup (25 grams) cocoa powder, plus more for coating pan
2 teaspoons (11 grams) baking powder
1/2 teaspoon (3 grams) fine sea salt
2 1/4 teaspoons ground ginger
1/2 teaspoon cloves
Pinch freshly grated nutmeg
Freshly grated zest of two clementines (or the zest of 1 orange)
8 tablespoons (112 grams) vegetable shortening, softened (I use this one)
1 cup (200 grams) granulated natural cane sugar
2 large eggs, room temperature
1/4 cup (87 grams) dark molasses (I love Steen's)
1/4 teaspoon pure almond extract
1/2 cup (125 ml) almond milk
Confectioners' sugar for dusting, optional
Preheat oven to 350°F. Grease the sides and bottom of a 9-inch springform pan. Sprinkle some cocoa powder in the pan and swirl around until the sides and bottom are coated (tapping out the pan over the sink to remove any excess cocoa); set aside.
In a medium bowl, combine the flour, cocoa powder, baking powder, salt, spices and zest. Whisk to mix well; set aside.
Combine the sugar and shortening in a deep bowl and beat until fluffy, 2 to 3 minutes. Add the eggs and beat until it forms a thick batter, about 2 minutes. Add the molasses and extract, and beat until well mixed, about 1 minute. Add the flour mixture and almond milk. Mix on low speed until just incorporated. Scrape down sides of bowl and mix on medium-high speed for 30 seconds more.
Pour the batter into the prepared pan. Bake 30 minutes, until a skewer inserted comes out clean. Let cool two minutes in pan, then loosen the springform ring. Let cool at least 30 minutes before serving. Sprinkle with confectioners' sugar when completely cooled, if desired.