Pulled Pork & Cabbage Salad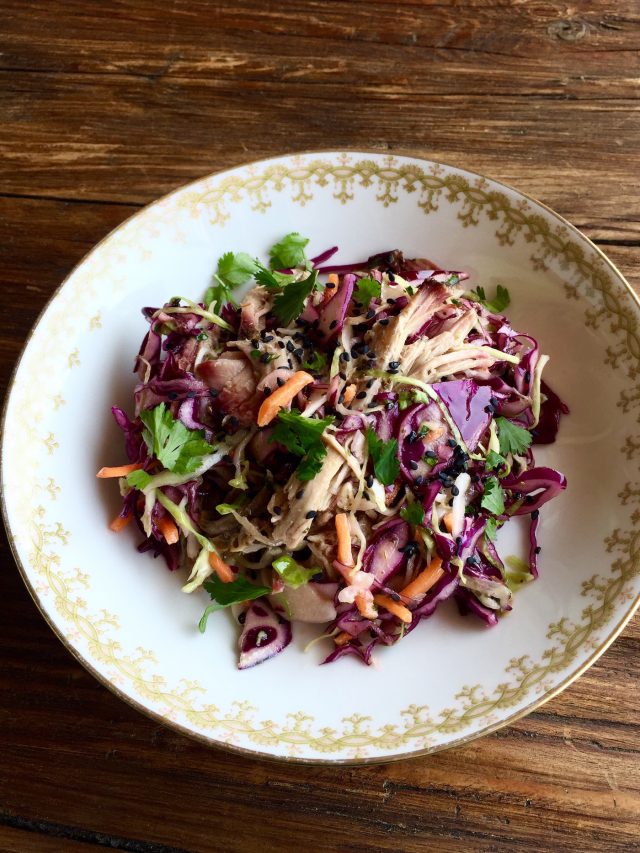 It was only after I made this Pulled Pork & Cabbage Salad that I realized the inspiration to do so had been sitting dormant in the back of my mind for more than 10 years. Let's call it an unconscious coupling. Back when Tom Colicchio's sandwich shop, 'wichcraft, was born, it was in a little space on West 19th street. In those early months of its opening, I was part of the team, working as a manager. It was there that I fell hard for a sandwich layered with meltingly tender chunks of slow roasted pork and purple cabbage that had been cook down, surrendering all will, but to be a servant to the sandwich. It was all nestled between a crusty ciabatta roll.
When it came to time to figure out what to bring to Virginia's end of year potluck, my thoughts wandered to salad. Something I didn't have to cook, and involving little prep was a necessity since most of the kitchen is already packed up and my time seems to be quite limited these days. I flirted with the idea of a roasted potato salad, and then settled on coleslaw. I know, coleslaw on its own sounds rather boring, but I was going to jazz mine up with an Asian-inspired vinaigrette dressing.
I had a pulled pork sandwich recently from Mighty Quinn's in NYC. I love that they offer coleslaw two ways—with a vinaigrette dressing or mayo based dressing. I mean, how has it taken this long for people to realize the camps are so divided when it comes to coleslaw? Unless I'm using homemade mayo, then I'm on Team Vinaigrette.
As I was shopping at Whole Foods, gathering ingredients to make my coleslaw, memories of my recent sandwich popped into my head. I could bulk up my coleslaw, and turn it into a main course salad by adding  some pulled pork. I wondered for a moment how many vegetarians would be at the potluck. I'm always fretting about people having options. I toyed with only adding pulled pork to half of the slaw, but in the end went whole hog, and added it to the entire batch.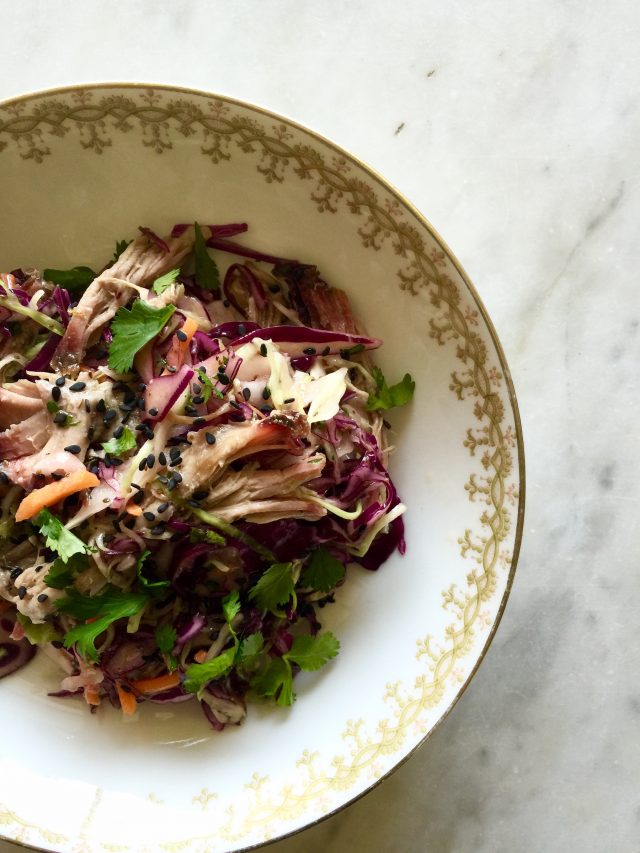 Now, if you have plans for making pulled pork in your future, then use up those leftovers to make this salad. You won't be disappointed, trust me. If like myself, however, you want this salad without the wait of cooking your own pulled pork, then do what I did, and buy some already cooked. I was *this* close to going to a pretty good BBQ place not far from Whole Foods, but it being a time crunch and all, I picked up some from the Whole Foods hot food bar. On its own, their pulled pork is a little lackluster, with not enough seasoning. Mixed into this salad, though, the pork soaks up all the flavors from the dressing, taking it from "eh" to amazing.
It was only as I was en route to the potluck that I realized this Pulled Pork & Cabbage Salad reminded me of that sandwich from 'wichcraft all those years ago. That sandwich also had fresh sliced jalapenos. Go ahead and throw a few in your salad if you like a kick of heat. You can also just add some hot sauce to the dressing to evenly distribute the flavors, and avoid biting into a chunk of jalapeno. The sandwich is no longer on the menu at 'wichcraft, but thanks to this salad, I can revisit the memories any time I want now.
Seven Years Ago: Pistachio Cupcakes
Six Years Ago: Grilled Pizza
Five Years Ago: Strawberry Rhubarb Crumble
Four Years Ago: Lemon Olive Oil Cake
Three Years Ago: The Sunny Side of Life
Two Years Ago: Strawberry Pie
One Year Ago: Perfect Chocolate Chip Cookies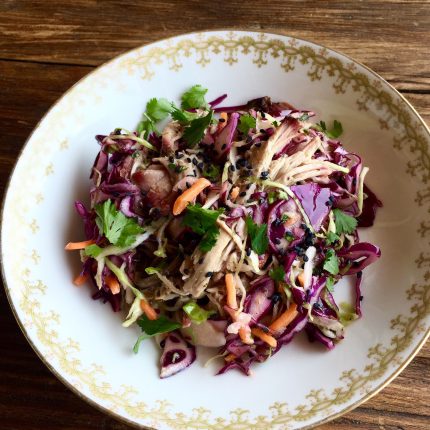 Pulled Pork & Cabbage Salad
Packaged coleslaw mix, found in the produce aisle, makes pulling this salad together super fast. I like to buy a mix that has been freshly prepared, as the one sold in Whole Foods. I find the cabbage to be fresher, with a good mix of green and purple for a lovely color. You can also buy heads of cabbage and thinly slice them by hand or with a food processor, if you prefer. As for the pulled pork, I went the shortcut route, and bought some already prepared. If you have leftovers from homemade pulled pork, though, this is an excellent (and delicious) way to use them up!
Ingredients
2

tablespoons

apple cider vinegar

¼

cup

freshly squeezed lime juice

3/4

cup

olive oil

1 1/2

tablespoons

30 grams honey

1

tablespoon

15 grams Dijon mustard

2

teaspoons

4 grams celery seed

Handful of fresh cilantro

chopped

Sea salt and freshly ground black pepper

to taste

9

cups

491 grams coleslaw mix

Black sesame seeds

as much as you like (optional)

Pulled pork

optional (250 grams)
Instructions
In a large, deep bowl add the vinegar, lime juice, oil, honey, mustard, celery seed and cilantro. Whisk until well combined, and slightly thickened from the oil emulsifying. Season with the salt and pepper.

Add the coleslaw mix and sesame seeds, if using. Stir until the cabbage is well coated with the dressing. Stir in the pork, if using. Let sit for at least 20 minutes so the flavors can meld together. The salad can be made up to 4 hours in advance, and stored in the fridge until ready to serve.
Some more Memorial Day cookout inspiration from friends at Food Network:
The Lemon Bowl: Greek Pasta Salad
Creative Culinary: French Potato Salad with Mustard and Fines Herbes
Napa Farmhouse 1885: Three Spring Vegetable Bruschetta Recipes For A Memorial Day Feast
In Jennie's Kitchen: Pulled Pork & Cabbage Salad
Feed Me Phoebe: Herb Marinated Steak Gyros Plates with Tomato-Onion Salad and Green Tahini Sauce
Devour: Red, White and Blue Sides for a Patriotic Memorial Day Picnic
Healthy Eats: 6 Veggie-Packed Sides for a Lighter Memorial Day Feast
Elephants and the Coconut Trees: Pineapple and Shrimp Fried Rice
Taste with the Eyes: Holiday Weekend Brunch: Shakshuka with Avocado, Epazote, Pinot Beans
The Wimpy Vegetarian: Healthy Mexican Casserole
FN Dish: 6 Memorial Day Sides That'll Get More Attention Than the Mains