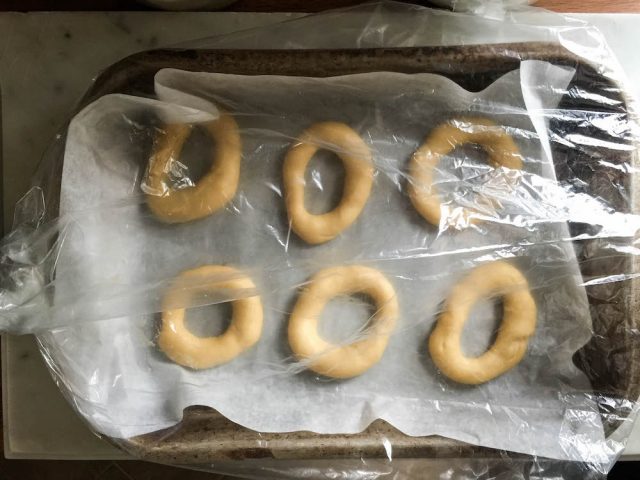 I sat in services feeling empty and lonely amidst a room full of people, my own person now gone more than eight years. I wondered what services would feel like had we ever attended them together. Would he have ever come around to it? Would the pull towards Judaism be as strong for me were he still alive?
There are so many questions left lingering in perpetuity, the proverbial branches of my mind heavily weighed down these last couple of weeks. Maybe it's knowing the start of my 46th year is nearby, the creeping towards 50 feeling a reality, with my youth clearly in the backseat of my life.
Next week would be our 15th wedding anniversary. We celebrated only six of them together. I had this realization while sitting at Yom Kippur services, staring at his name in the Book of Remembrance—I will always be a widow, his widow. Even were I to marry again, wherein the law would no longer recognize me as one, my heart would always be that of a widow.
Time may make it possible to put one foot in front of the other, even find new love, a true love, perhaps even one lasting in a way I never quite imagined. But this heart of mine is forever changed, and to love me is to understand that, to be patient when I lose patience with myself.
How can anyone ever be up to that challenge, truly? It sounds exhausting just writing about it. A tall order, indeed.
I laughed when How Can You Mend a Broken Heart came on the radio a few weeks ago, finding solace in the lyrics, knowing that Michael detested disco and the Bee Gees in his teen punk years. Although I did find a Saturday Night Fever album amongst his collection after he died. So many questions, too few answers.
Midway through the morning Yom Kippur services, the first of three blessings were given. Usually a member from the congregation reads the Torah passage, and then another gives a blessing to those who want to receive it, each blessing having a specific purpose.
This first blessing was for anyone who wanted to embrace a deeper commitment to peace, love and nurturing each other in the coming year. It was our rabbi's way of acknowledging the 50th anniversary of Woodstock, the music festival. This may sound odd to anyone who hasn't attended services at our congregation, but we are the Woodstock Jewish Congregation, after all.
As Rabbi Jonathan began reciting his sentiments, people in the crowd caught on to what was happening, while I was still wrapped in a heavy shawl of grief and loneliness.
Then I realized what was happening, too. And with every word, I felt less lonely, and more connected to him, to his spirit. Suddenly Rabbi Jonathan's blessing began to take the shape of a familiar song…
Harmony and understanding
Sympathy and trust abounding
No more falsehoods or derisions
Golden living dreams of visions
Mystic crystal revelation
There we were, the entire congregation singing the song that happened to be the very first 45 Michael ever owned.
Michael was also an Aquarius.
Maybe some things just are. But some times, some things are signs, and I do believe he pulled out all stops to send me one loud and clear.
I can no longer see him.
And yet, I do.
With every cardinal that passes my path.
When I close my eyes to feel the sun shine on my face,
he whispers "I know how much you love this".
And when I cannot hear what he's trying to say, he brings together an entire congregation to give life to his voice to make sure I know he is here, even when I cannot hear him.
Arms clasped, swaying back and forth, belting out Age of Aquarius may be a very unorthodox addition to any Yom Kippur service, but when you think about the chorus—
Let the sun shine, let the sun shine, let the sun shine in
For me, that encapsulates the meaning of Atonement, or at-one-ment. To find a peace with each other, but also with ourselves. To accept that in this moment we are good enough, even if we can work at doing better, being better. Let the sun shine in—right now, lest we wait for perfection and find ourselves in darkness forever.
Harmony and understanding. Sympathy and trust abounding. These are gifts we can also give ourselves. To find a balance within is daily work, something we can only do if we are understanding of the task, can be sympathetic to ourselves in challenging times, and trust that if we fail or fall, it is a sign of our humanness not an irrevocable flaw.