Backyard Basil Pesto + Taste This! Cookbook Giveaway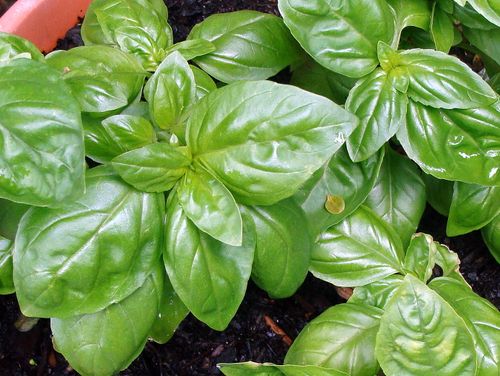 Pesto's been part of my life since an early age. My aunt's amazing green thumb yielded more basil than you can imagine on her Brooklyn roof deck. I didn't fall in love with it though until I was in my early twenties. What really inspired me to get to my Italian roots was a co-worker's Italian husband. I'm talking born and bred in Northern Italy, so eating there was always a treat and very eye-opening compared to my Italian-American upbringing. For the first time I experienced pesto that was creamy and delicately coated each strand of spaghetti. It was saturated in oil and didn't have enough garlic capable of warding off vampires.
Perhaps my journalistic skills weren't honed then, or I was just too busy enjoying the food, but for whatever reason I didn't ask Diego for his recipe. About two months later, I did find a book that would unlock the answers for me. I was roaming through a used bookstore in the North Beach section of San Francisco and came across a copy of Northern Italian Cooking by Francesco Ghedini. Turns out the book was published the year I was born, so 1973 had a couple of good things cooking back then.
The secret had been revealed. I'm convinced butter makes everything better, and it's certainly the case in this pesto. It lends a creamy texture and flavor. While this recipe was inspired by Ghedini's it is my own unique blend. I used parsley instead of spinach because that's what I had in the garden, and cut back a lot on the garlic—my tummy likes it better that way. Feel free to let loose and and more if you really like a garlicky bite. Ghedini also included Fiore Sardo in his recipe, an Italian cheese with a wonderfully nutty taste that I'm sure would be a good compliment to the pignoli nuts. I used the Parmesan I had in the fridge. And remember, a little goes a long way, so add just enough to coat your pasta.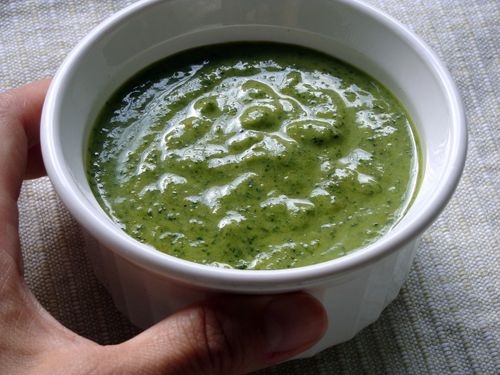 Basil Pesto
Makes 2/3 cup (enough for two adults and two kids)
This classic Italian sauce is delicious served over pasta or drizzled over fresh mozzarella cheese and sliced tomatoes. Serve it slightly heated or at room temperature. I find adding the garlic in slices, rather than the whole cloves, ensures it blends into the final sauce better.

¾ cup packed fresh basil leaves
1 tablespoon fresh parsley
1 clove garlic, thinly sliced
4 tablespoons butter, softened
¼ cup pignoli nuts (also called pine nuts)
¼ cup freshly grated Parmesan cheese
Salt and freshly ground pepper, to taste
¼ cup extra-virgin olive oil
Add the basil and parsley to the workbowl of a food processor. Pulse until roughly chopped. Add the garlic, butter, nuts, cheese and salt and pepper. Process until it forms a paste, then slowly drizzle olive oil in through feed tube, continuing to process the mixture until it begins to emulsify and becomes a creamy sauce-like consistency.
TIP: At the end of summer, I make a batch of pesto using any surplus basil and freeze it in ice cube trays. This way I have "fresh" basil to add to my marinara sauce throughout the long, sometimes cold, winters here in NYC. You can leave out the pignoli nuts, as I do, for this purpose.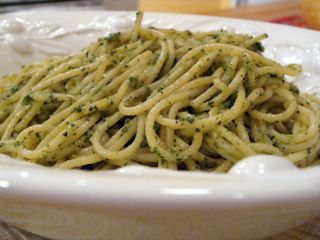 There's always room for one more at any Italian table. I know my Twitter pal Gina von Esmarch would agree (and one day I will make it to hers' in San Francisco). Gina has a wonderful cookbook of friend and family favorites she's collected over the years, and she's giving one away a copy of Taste This! to a lucky reader of In Jennie's Kitchen. Whadya have to do to win? Good question, and thanks for asking. Take a trip to Gina's cyber kitchen over at Bowl Licker and leave a comment here telling me the star ingredient of her dessert, which is perfect for the upcoming July 4th holiday. Contest ends 11:59pm Friday, July 3rd and the winner will be chosen using random.org. Good luck!
RELATED LINKS
Perfect Pesto – The Naptime Chef