If you were on Twitter last night, you likely read my tweets about testing out brownies using whole wheat flour. Well, thankfully the flour was bad. Not as in naughty—I made the cardinal mistake of not storing it in the fridge. Whole grain flours, once opened, go stale easily if not stored in a very cool place. Truth be told, I'm glad it wasn't usable. I just don't see the point of whole wheat flour in brownies. Added fiber? Neglible. Healthier? Sure, but the chocolate and butter negate that right away. So why was I going to even use it in the first place? Baker's confession: I had a mere half cup of all-purpose flour in the pantry! I trekked to Trader Joe's at the beginning of the week only to find they were all out of flour. I've been so busy with writing assignments and other recipe testing that didn't call for flour that I haven't yet re-stocked this most necessary item.
Back to the brownies. Faced with just one half cup of flour, I had one last trick up my sleeve. I used cake flour to make up the difference. I wasn't too worried since it's lighter and would likely just make a more delicate brownie, and I wasn't dissappointed. These brownies are like a young wine. A little "decanting" helps them take on a more developed taste. Warm from the oven they were very light in texture with a subtle milk chocolate flavor. Two hours later (yes, I was really eating brownies that late at night), and they became a bit more dense in both body and taste. I guess you can say they matured a bit. And in the morning when I wake up, I expect they'll taste yet even better. And you all have Erin at Smallbites to thank for these tasty treats. She gave me a huge chunk of Lexington-Blommer chocolate that inspired my brownie state of mind in the first place.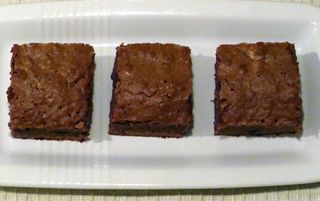 Milk Chocolate Brownies
makes one dozen
8 ounces milk chocolate, chopped
8 Tablespoons butter, cut into pieces
1/2 cup sugar
2 teaspoons vanilla extract
3 large eggs, at room temperature
1/2 cup all-purpose flour
1/2 cup cake flour
1. Heat oven to 350ºF. Grease a glass or ceramic 8-inch by 8-inch baking dish; set aside.
2. Add chocolate and butter to a large microwave-safe bowl. Cook on high for 2 minutes*, or until chocolate and butter are melted. Stir to combine.
3. Using a rubber spatula, stir in the sugar. Add eggs and vanilla; stir until mixed well. Sprinkle flours over chocolate mixture and fold in using spatula. Pour into prepared baking dish and use spatula to spread batter to edges if necessary. Bake for 35 minutes or until center is set. Let cool in pan for 5 to 10 minutes. Cut into 12 even squares using a very sharp knife.
*based on a 1000 watt microwave.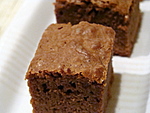 Related Links
Milky Way Brownies – Recipe Girl
Negative Calorie Chocolate Cake – Steamy Kitchen
Old Fashioned Chocolate Chip Cookies