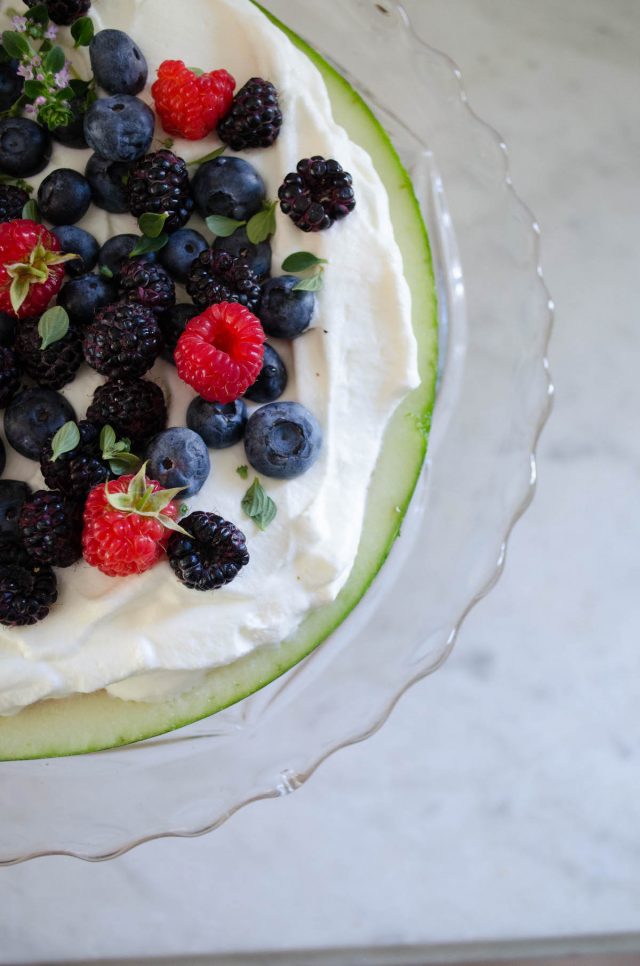 I'm not one to jump on bandwagons, especially when it comes to food trends. Being a pizza maven myself, if I may boldly use that term, I was intrigued about the idea of watermelon pizza. Okay, truthfully—I may have muttered something about it being hogwash. Pizza is something I take very, very seriously.
Dessert pizzas especially ruffle my feathers. My brain thinks savory when I hear the word pizza, call it some crazy Pavlovian effect. I'm also not a fan of nutella (gasp!), which every dessert pizza I've ever seen deems an essential ingredient.
So, why now? Why the change of heart? My curiosity got the better of me this time, and much as I tried to shake the notion of watermelon pizza, it stuck in my head like Costanza.
Before we go any further, I should confess watermelon is my least favorite fruit. The girls love it. Mikey loved it. I love the rinds to make pickles (and this watermelon gazpacho is awesome, too). Watermelon on its own, not so much. That's where the key lies in the genius behind watermelon pizza, at least for a lukewarm watermelon fan like myself.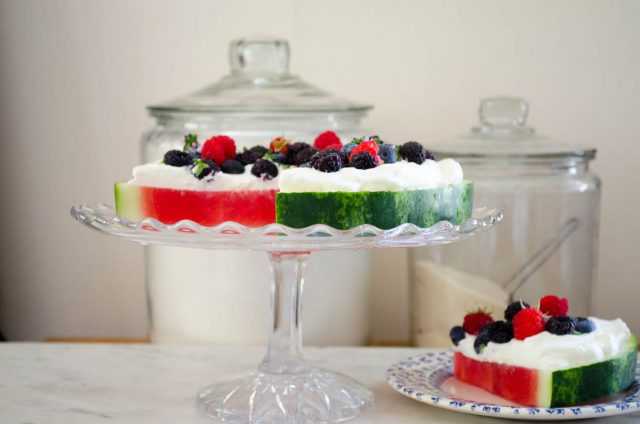 A plain ol' piece of water does nothing for me. One bite into a slice smeared with whipped cream, and topped with fresh berries? Oh. My. Gosh. Within seconds I was a watermelon pizza loving convert. Conversely, the kids took one bite, and wondered why I ruined a perfectly fine piece of fruit, so to each her own.
Now that I've embraced the ways of watermelon pizza, I'm wondering how a savory version would taste. Something along the lines of sprinkled feta and fresh chopped mint. So, what do you think? Are you willing to go out on a limb, and try watermelon pizza? Are you already a convert to this food trend? Or have I lost my mind, and really ready to take a break from work and chill on the beaches of Cape Cod (17 more days until we leave!!!).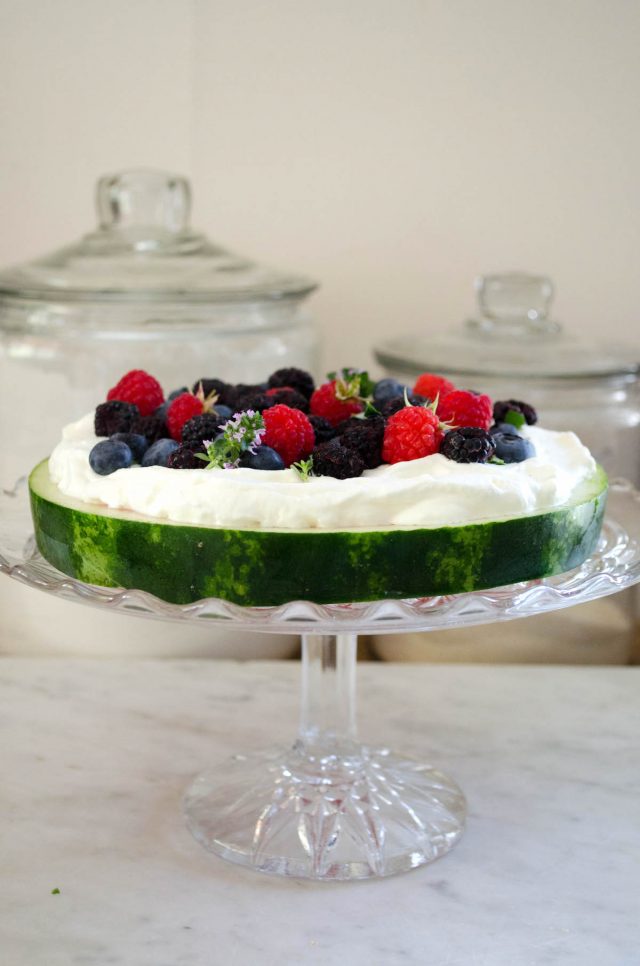 Watermelon Pizza
Instructions
Slice the watermelon into 11/2-inch (4-cm) thick rounds. Pat the top of each round with a towel to soak up some of the juices.

Spread a layer of whipped cream on top.

Arrange berries on top of the whipped cream. Sprinkle thyme on top, if using.

Cut into wedges, and enjoy!
Here are some more watermelon inspired recipes from my friends at Food Network's Summer Soiree:
Creative Culinary: Watermelon Mint Cooler
Devour: 6 Sweet Ways to Booze Up Your Watermelon
Healthy Eats: How Do We Love Watermelon? Let Us Count the Ways
Taste with the Eyes: Watermelon Gazpacho – Impossibly Pretty, Mighty Tasty Too
Swing Eats: Watermelon with Feta, Mint, Olive Oil, and Sea Salt
FN Dish: All the Ways You Can Spike Fresh Watermelon
SaveSave