tangerine tea cakes | the weekend baker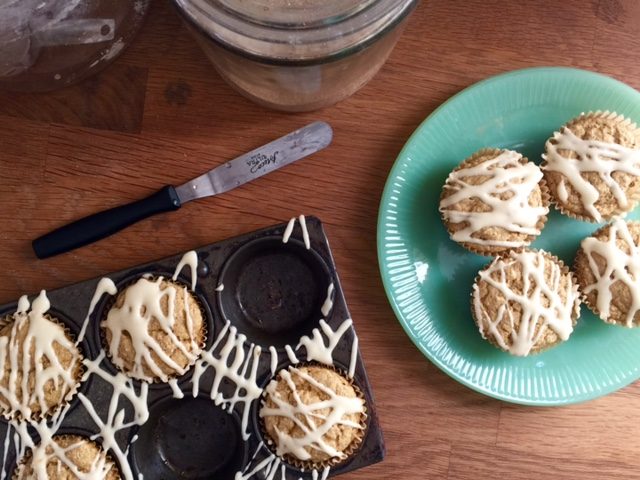 I've got to keep reminding myself it's only Tuesday. After 10 days home with the kids, yesterday felt like the longest Monday on record. The snowpocalypse here resulted in school being cancelled for an entire week. There's much speculation about the ineptitude of the D.C. area to handle snow removal, and as a lifelong New Yorker who's weathered many storms, I can't help but let out a few harrumphs myself. In my 20s I believed a native New Yorker could survive anywhere. I mean, growing up in a rough, rugged city (or at least it used to be), any place else would be a cake walk. I've been proven wrong. It's harder because the bar is set so high, but I'm going off on a tangent here. Let's get back to the real reason I'm popping in today.
Tangerine tea cakes are the true star of today's post. Sometimes my baking projects are like my writing. I often start one place, and wander, letting my words (and in this case ingredients) take me where they wish.
By last Thursday morning, I gambled on school being closed the rest of the week, packed up the kiddos, and made our way up to Woodstock. It was a much needed change of scenery, but also the most relaxed we've been up there in a while. Since the trip was so last minute, there was no time to plan a myriad of playdates. Isabella did a quick stint at her old school, and I couldn't help but wonder if it would be helpful or harmful since come yesterday she was back in the clinker, as we fondly refer to her current school.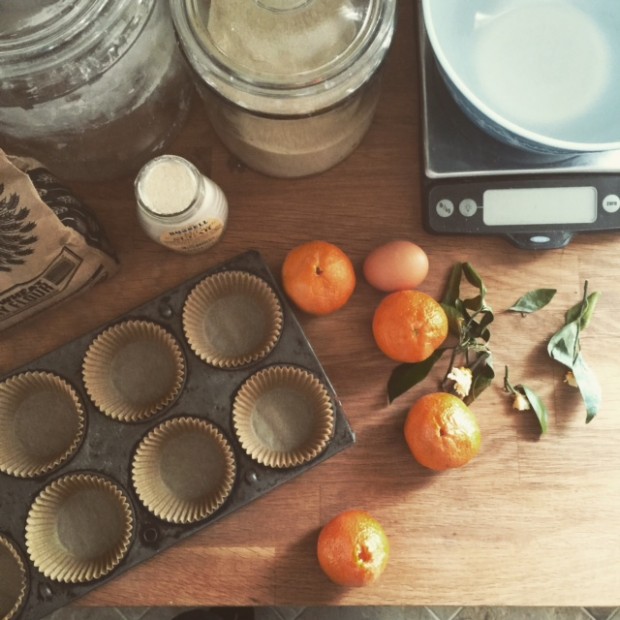 While she spent the day at Woodstock Day School, Virginia and I had some mommy and me time. We putzed around New Paltz, scored a few new antiques, found a cozy little cafe, somewhat new doughnut stand, and candy shop. And then a few big flakes began to scatter from the sky, so big and perfect in shape, they reminded me of mashed potato flakes being sprinkled from above.
Come Saturday morning, I woke rather early, at least early for me on a weekend. That baking mojo I thought I lost? Turns out it was here all along. The sunshine streaming into my tiny kitchen beckoned me to the stove. My thoughts wandered to the mandarins I bought, mistaking them for satsumas. I decided to turn them into muffins. I set out baking as I generally do when approaching it from a recreational perspective. It was all loosy goosy, and all by weight. I loathe measuring cups at this point, and only use them for my professional work.
This more casual, weekend baking also meant I could use the pullet eggs I bought from the health food store. They're a bit less in volume than large eggs, more akin to medium ones. Pullets are eggs from young hens, in the early stages of their egg production, hence the smaller size.
I also used maple sugar and kept them dairy-free because, well, I just felt like it. The kids would be none the wiser, not that I was intentionally trying to trick them. And I added this lovely glaze that I knew Virginia would probably say they didn't need, but I like glaze.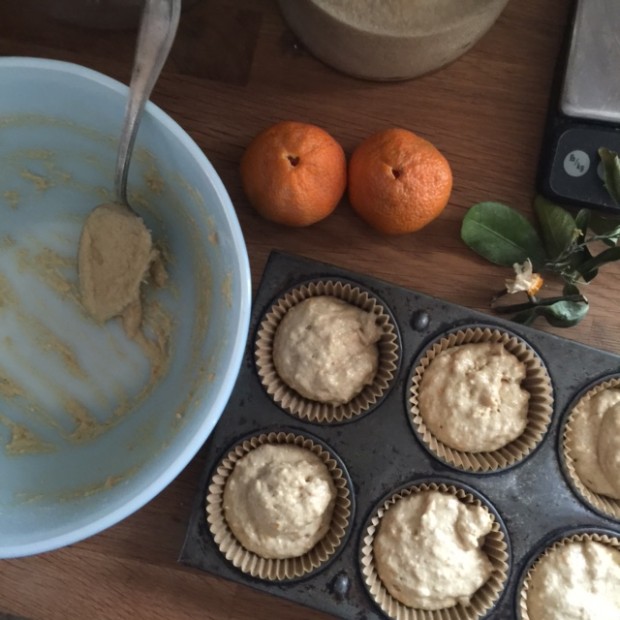 After tasting them, I decided it would be unfair to call these muffins. They felt a bit more special than something to just scarf down for breakfast. The flavor and tender crumb are so delicate, they deserve their own meal period. Afternoon tea. These would be the kind of cakes you serve midday, just sweet enough to satisfy a craving, but not so much so that it counts as a decadent treat. Oh, I just remembered I also used locally milled flour. It tends to drink up more liquid than commercially available whole wheat pastry flour, so maybe hold back a tablespoon or two of whatever milk you use (I used cashew, but cow's or almond would be fine; soy, too, I suppose). The batter should be kind of thick, almost like a pancake batter.
It seems every food blogger is promoting Super Bowl Sunday, and well, that makes sense considering it's this coming weekend. I've got some thoughts to share about that, but I think it's brewing into this week's Thankful Thursdays post. In the meantime, if you're hosting get together, or going someplace for the big game, I put together a Pinterest board with some of my favorites for all of you. Hope the week is going well, and life in general is being gentle to you all. —JP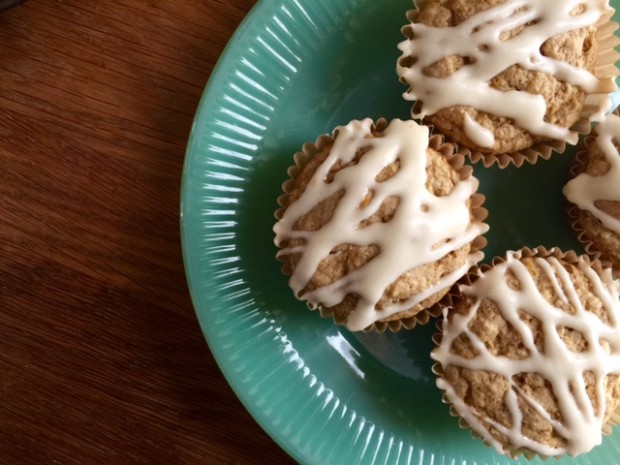 Tangerine Tea Cakes
Makes 8
150 grams whole wheat pastry flour
10 grams baking powder
1 gram baking soda
1 gram sea salt flakes
Zest & juice from 1 lemon wedge
Zest & juice from 1 tangerine
25 grams granulated maple sugar
1 medium egg (42 grams; I used a pullet)
2 tablespoons (30 ml) mild flavored extra virgin olive oil
1/2 cup (120 ml) cashew milk
Preheat your oven to 350Fº (180Cº). Line an 8 cup muffin tin with parchment liners.
Add the flour, baking powder, baking soda, salt, lemon & tangerine zests to a medium bowl. Whisk to blend.
Add the sugar, egg, oil, and juices to a small bowl. Whisk vigorously until well mixed. Add the flour mixture and milk to the bowl. Using a wooden spoon, stir just until blended, and there are no visible signs of flour. Spoon the batter into the prepared muffin tins.
Bake for 15 minutes, until a toothpick inserted comes out clean. Let cool completely before adding the glaze, if using.
Tangerine Glaze
59 grams Confectioners' sugar
4 teaspoons tangerine juice
Fresh squirt of lemon juice
1 teaspoon butter, melted & slightly cooled (swap in shortening for a dairy-free alternative)
Add the sugar, juices, and butter to a small bowl. Whisk until smooth, and the sugar and dissolved. Drizzle over the tea cakes. Let the glaze set for 10 to 15 minutes before serving.