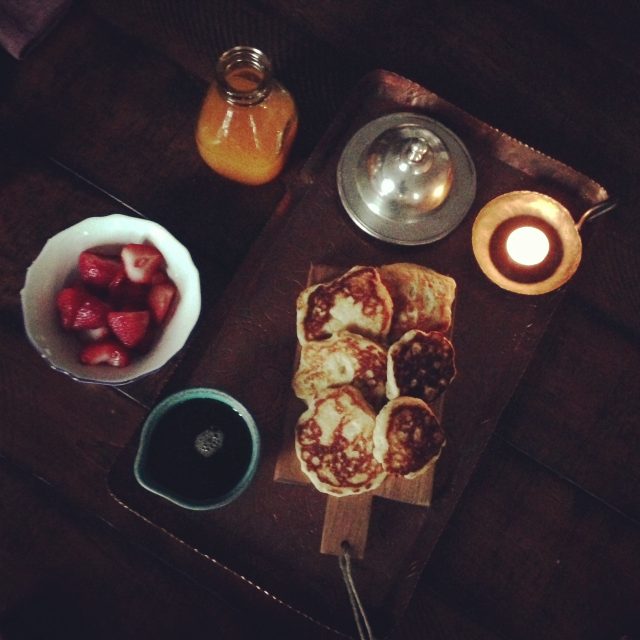 My eyelids are refusing to cooperate this morning, as I find myself fighting to keep them open. Changing the clocks ahead one little hour this weekend is proving to be more challenging than the six hour time difference I so often encounter when I go to France. I figure you're all feeling sort of sluggish and sleepy today too, and what better way to jolt you than with some fun news surrounding the release of Homemade with Love. If you've preordered the book, then you likely got the same email I did on Sunday—it's shipping earlier than expected. As in you may have it as soon as the weekend depending on the shipping method you chose!
The love, security and sense of self I derive from being in the kitchen are feelings I hope to spark in all of you once Homemade with Love becomes a part of your lives. My reason for wanting to write a cookbook four years ago was simple. It wasn't about vanity or dreams of fame. I wanted all of my positive experiences in the kitchen to become contagious. I wanted to show people in a very genuine way that cooking is about so much more than just eating. It is about feeding your soul, and enriching the lives of the people you love.
Creating a sense of home is more than just the objects filling the walls and rooms. For me, it's about a sense of warmth, love and feeling safe and secure. My home is my sanctuary, and one I've been working to rebuild little by little since things started to go awry in my own family when I little kid. In many ways, I lost my sense of home after my nana passed away the summer of 1981. My parents moved around a lot during the six years following her death. It wasn't until I met Mikey that I felt like I was finally making my way back home.
Now I live just a few blocks from where my nana, a single mother herself, raised four children in the 1940's in a railroad-style one bedroom apartment. Her name was Jennie, and she worked in a factory on Hicks Street, on the other side of the BQE. She is the person who this blog is really named for—the original Jennie, as I often refer to her when showing people a photo. My memories of her are amazingly vibrant and strong, considering our time together was so short, and so long ago.  She made hair notions, terry cloth robes and the like. My mom still has a bag of the elastics she made, which I cherish more than the air I breath. In my purse, I carry a cloth handkerchief with a delicate pink "J" embroidered in script. I forget if my mother or auntie gave it to me, but I remember them telling me it was Jennie's. When I'm having a tough day, a quick dab with that handkerchief is like getting a gentle hug from her.
I often daydream about what it would've been like to cook side-by-side with her. It would've been close quarters, no doubt, since she had a very narrow galley kitchen in her apartment on Union Street. My only food memories of her are watching her fry up meatballs in a pink and white speckled skillet, and a funny story about oatmeal. Apple cinnamon instant oatmeal was my older sister's favorite, and whenever we spent the night at my nana's, I would beg for it too the next day. Nana would always ask "Are you going to eat it this time?", to which I would reply, "yes, this time I promise!". I loved watching the flakes pour from the packet, and the warm smell of cinnamon and sweet apples when the packet's contents made contact with boiling water. I would stir it all together, then look at the mushy mess in my bowl and realize I just couldn't do it. She continued this dance the morning after each sleepover.
For years, I tried to like instant oatmeal as a way to connect back to her, and that memory. A few months ago, intrigued by this recipe from Martha Stewart, I made my own instant oatmeal, convinced that it would be better than the prepackaged stuff, and make me a convert. No such luck, and as I wrinkled my nose during my taste test, I imagined nana laughing somewhere.
See folks, this is the real power of food. It can heal our hearts with the memories it creates. Every meal we share with someone we love nourishes our souls. Sure, Homemade with Love is about cooking from scratch, but the premise is rooted deeper than that. Every clove of garlic you saute, or onion you chop is a layer of memories that seep into your consciousness. As time passes, those memories simmer and sustain you when you need it most. This is why I venture into the kitchen every day. The meals I cook today will become the moments that keep me alive in my daughters' minds long after I'm gone. They are an everlasting gift you give to your family and friends.
This is why I'm especially excited about a kids' cooking event I'm hosting with my friends Rebecca and Nancy, the founders of KidzVuz. Our kids really are the future, and it thrills me beyond words when I hear a friend say their son or daughter loves searching my blog for recipes. Soon they will be able to curl up with my book, and mark up the pages as I do in my favorite cookbooks.
I'd like to invite one lucky kiddo to join me, Rebecca, Nancy and a few of our friends on Saturday, April 6th in NYC. All you need to do to enter the contest is submit a video at KidzVuz about your favorite cooking or food memory. The contest is open to children ages 7 to 13—sorry adults! I thought it would be fun to turn this into a parent-kid bonding experience, so I'm throwing in a one-night stay on Friday, April 5th, at a 3-star NYC hotel (more details on that soon). Parents/guardians will be responsible for transportation to and from NYC and the event (and be present at the event too), which will be on the Upper Westside—a huge thank you to Chef Toni for donating the space for our event.
So, kids get your cameras ready. Of course make sure mom and/or dad are cool with it, and hop on over to KidzVuz to upload your video. The contest will close at 11:59pm on Friday, March 22nd. The winner will be chosen at random, and notified by Wednesday, March 27th. The official rules for the contest can be found here.
Music Pairing: Our House by Crosby, Stills, Nash & Young
About Kidzvuz
KidzVuz is a totally safe video review sharing site for kids age 7-12.  It's the ONLY online destination exclusively dedicated to letting tweens have their say and share their views about the stuff they love.  Kids make reviews about food, travel, books, movies, TV, fashion and more!  All videos are watched before they go up, and all comments are read – so there is no bullying, and kids learn how to make and share videos responsibly and safely.  KidzVuz is the site for kids to have their say!
About Chef Toni's Cooking Adventures
As a uniquely designed cooking "adventure" for children ages 2-16 that focuses on "farm-to-table" cooking, C.T.C.A's vision is for each child to experience the pleasure of socializing around healthy cooking while learning to grow into a top "junior chef". Chef Toni's Cooking Adventures teaches the fundamentals of: Farm-to-Table Cooking, Healthy Food Choices, Smart Shopping Skills, Culinary Techniques, and Basic Manners & Etiquette.​