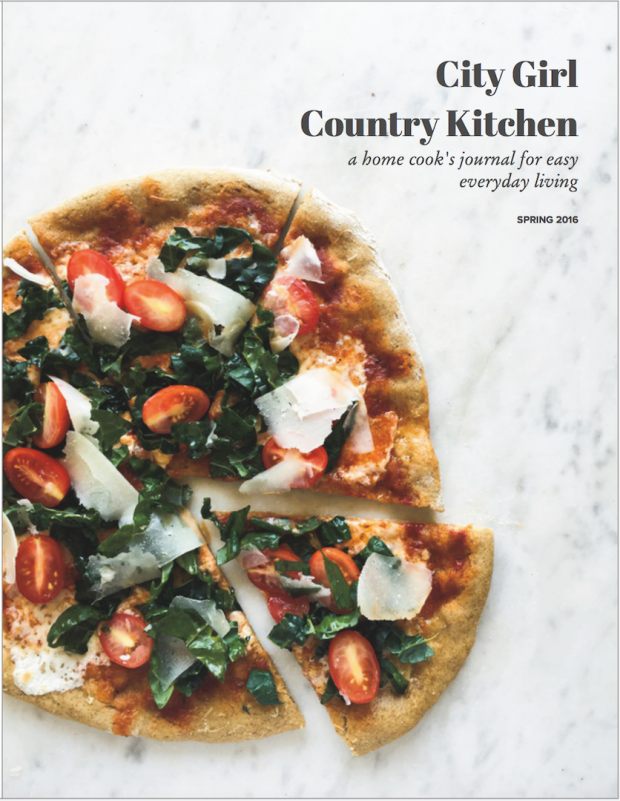 I've had a blast creating the content for the spring issue of City Girl, Country Kitchen. I just know you'll all love it, too, as you flip through the drool-worthy pages. People often ask which recipes are my favorite, so I imagine that's a question you may all have on your mind with this next issue. It's hard to decide, like choosing between your children.
And speaking of kids, all of these recipes are 100% kid-tested and approved (well, except for the Margarita Truffles—they're only mama approved since they have booze in them). I wasn't quite sure how the whole grain pizza would go over with my girls. They have high standards when it comes to pizza, but it was a big hit (yay for me!). As Isabella said, "it's different from your regular pizza, but still really good" (she went on to tell me three more times that day how much she enjoyed it).
This spring 2016 issue of City Girl, Country Kitchen is the biggest ever, too. It's almost 30 pages—that's 30 advertising-free pages. Ha, now I sound like an informercial! If you order in the next 10 minutes…just kidding. I do have a special offer, though, this being tax day in the U.S. Use the code TAXREFUND2016 through Sunday, April 17th, and get 50% off of past digital issues of Simple Scratch Cooking and City Girl, Country Kitchen.
That means you can get each issue for only $4. Use this link to order digital back issues.
Seriously, though, you'll find 10 brand new, never before published recipes, along with features on the children taking the lead helping their peers as part of Interfaith Food Shuttle's Back Pack Buddies, a 100%-volunteer supported program bringing much needed nourishment to food-insecure children in Raleigh, NC; tips for hosting a DIY Grilled Cheese Bar—perfect for entertaining; Bedside Manners—where I share what I'm reading these days, and the new Amuse Bouche column, highlighting entrepreneurs, products, and tips relating to my world inside and outside of the kitchen.
Click here to order the spring issue of City Girl,Country Kitchen.
On that note, I shall return to the final editing and proofreading stages, so we can get this baby off to the printer. The print issue, as usual, will be a limited edition run. Pop on over here to get your pre-order in before they sell out. Digital issues will be available in the coming weeks—stay tuned! And, thank you for all of your continued support. It means the world to have you all take this journey with me. I wish you all a wonderful weekend.—xo Jennie