Oat & Apricot Dutch Baby with Rose-Scented Whipped Cream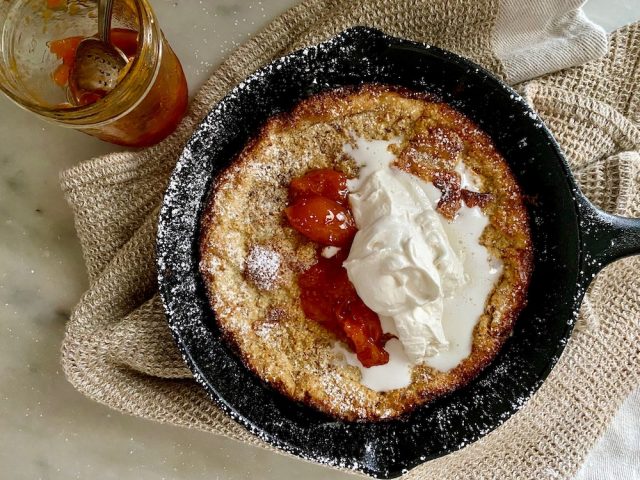 It's been a while since I've written here, and thought this would be a good moment to reintroduce readers to my new site launched almost a year ago, called Simmering. The recipe above for my Oat & Apricot Dutch Baby with Rose Scented Whipped Cream is a new recipe, published there earlier this week. Simmering is where all of my new recipes will now be published.
What is a Simmering? Well, in short, think about when you make a pot of soup. In goes a lot of ingredients, and then a long, slow cook on low heat all the ingredients come together in a harmonious, nourishing way. That's why I decided to call my newsletter Simmering–it's reminiscent of life. I publish a newsletter there twice a week, generally Sundays and Thursdays, but the days sometimes vary based on how busy life is at the moment.
(psst: there's a special discount offer for readers of In Jennie's Kitchen at the end of this post!)
The first newsletter of the week is always Field Notes. In it you'll find things I'm enjoying currently, a favorites list of sort with new shows I'm watching, books and articles of interest, and other random and not so random things I come across during the week. Field Notes are free for all subscribers to read.
As for recipes on Simmering, posts are currently free for everyone to read with a paywall for the recipes, since recipes are accessible to paid subscribers only. Why do you have to pay for recipes when they used to be free for 10+ years? This a question many have wondered, and some even been not so polite about–as one reader wrote that she was outraged a recipe that used to be free now lives behind a paywall. So, to answer the why–it takes time, energy and money to create recipes. What is free to readers is not free for me, or anyone else, to create. And when you think about it, the supposed free recipes aren't really free when you have to spend time dodging the landmine of annoying ads that play (much like the ones you're experiencing on this site right now).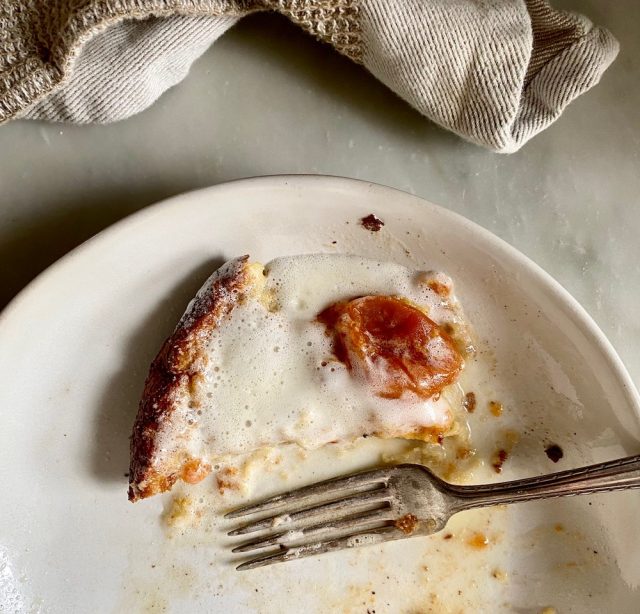 Subscriptions to Simmering start at $5 per month, and annual subscriptions are priced at $30 for 12 months, which is like getting 6 months for free. This Dutch baby recipe, while it sounds quite fancy is super easy, gluten-free and includes options for making it with regular flour and a less fancy topping since I know full-well that not everyone has rose syrup in their fridge! The kind of flexibility you come to expect in all of my recipes still exists over at Simmering. I hope to see you there soon!
Special offer exclusively for readers of In Jennie's Kitchen–use this link and save 15% on annual subscriptions. This discount will be valid for the life of your subscription, aka FOREVER!
Other new recipes at Simmering include: Skillet Crumb Cake, Salted Peanut Butter Frosting, Lemon-Ginger Skillet Granola, Mushroom Bourguignon.