Chaos Control |How to Organize Craft Supplies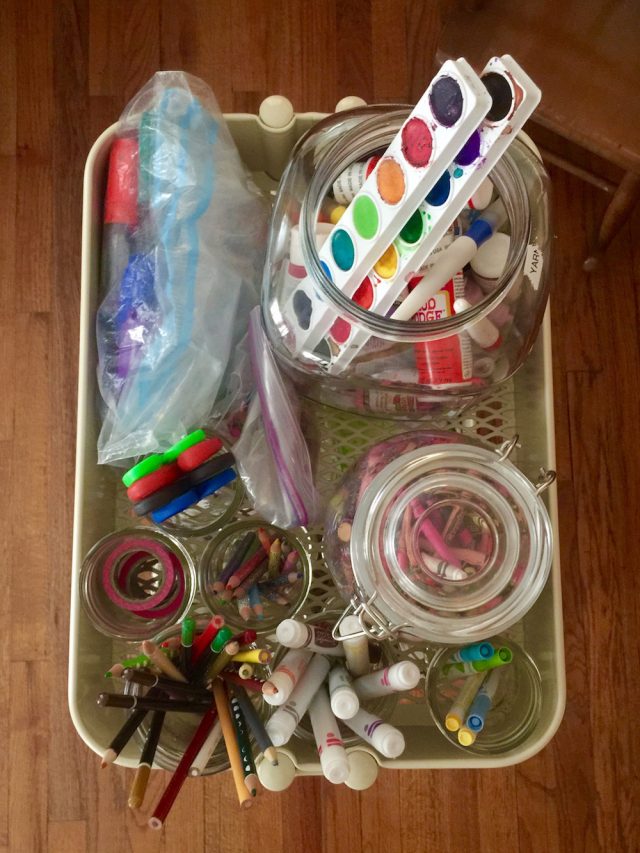 I'm in awe of my daughters' imaginations. An empty tissue box, destined for the recycling bin if left in my hands, becomes a fairy house. Old Amazon boxes are transformed into American Girl dressers, complete with tin foil mirrors, and storage drawers for shoes. Managing where to store all these projects is a daily challenge. Much as I try to convince Virginia that we should appreciate them for a few weeks, then say goodbye to make room for new projects (read: throw them away), it doesn't work. My next step is to rent storage space to contain them all. While I haven't figured out the solution to storing finished projects yet, I have made progress in how to organize craft supplies.
Before a visit to Ikea, the craft box had run amok, too. It was impossible to keep things organized, or better said—it was impossible to get Virginia to put away crafting supplies. I get it to some degree. She's 8 years old, and playing is way more fun than cleaning up, though the latter is an important life skill. I also crave a somewhat orderly house. I solved the dilemma of how to best organize our crafts with a quick trip to Ikea, and some inspiration from a crafting store we frequent upstate.
Fiber Flame is a craft lover's dream, even an adult like myself. I've never come across a store like it anywhere else. The main location in Saugerties is incredible, so if you're ever upstate, and looking for something to do with the kids, you must check it out. It's especially a lifesaver on rainy days.
Fiber Flame uses mason jars to organize everything. Like items are bundled together, and shelved without the lids. The clear glass jars make it super easy to find what you need. I took this idea and ran with it when it came time to finally contain the chaos of our own craft supplies at home.
Now that I had a strategy for organizing craft supplies, I needed to tackle how to store them.
Obviously, pulling things in and out of shelves and cabinets was not working. There was too much of me nagging and, yes, I'll even confess screaming, to clean up everything. This immediately made crafting feel like a chore to Virginia. In trying to balance teaching her independence and the importance of cleaning up after herself, I realized a rolling cart was the solution. 360º access makes it easier to put items away, plus she can take the cart from room to room. We now have a happy crafter, and a sane mommy. Jennie: 1. Universe: 23,567. I still have some catching up to do, but this little victory feels nothing short of amazing to my OCD organization tendencies. Now, if only we can find an easy way to clean up glitter…