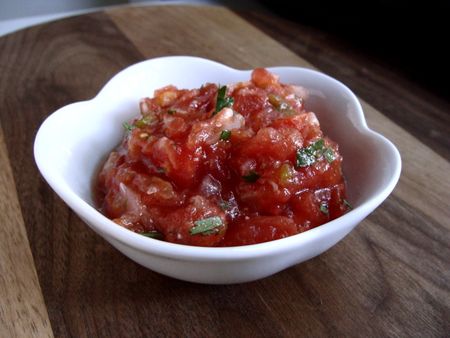 I first made this salsa six weeks ago, just before my carousel of road trips began. I figured surely there'd be no tomatoes left by my next visit to the farmers' market mid-October. If memory serves right, this is normally way late to see tomatoes happily sitting next to pumpkins at the farmers' market.
Alas, every week, I buy some thinking this will be the last batch of tomato jam or marinara sauce. Is it possible this is the upside to global warming? Are my wishes for a never-ending growing season in the northeast coming true?
But back to the salsa. I was actually watching Lucinda Scala Quinn's new show Mad Hungry and she used a broiler technique to add a fire-roasted flavor to her tomatillo salsa. The show itself is nothing to write home about. It's actually a little bland. The complete opposite of this salsa. But I'm glad I tuned in long enough to be inspired.
I promptly went into the kitchen and realized I had all the ingredients I needed for my regular recipe. Except limes, that is. Not one to ever let a missing ingredient stop me, I decided to use red wine vinegar—just a splash, for an acidic balance. While a squeeze of fresh lime would remind me of summer, this version is perfect for fall.
Think of it as a transitional salsa. One last kiss of summer before the ruby-red leaves fall from the trees and leave us with nothing but root vegetables, potatoes and cabbage for months to come.
Fire Roasted Salsa
makes 1 1/2 cups
1 1/2 pounds plum tomatoes
1 jalapeno pepper
1 clove garlic, leave husk on
1/2 medium onion, skin removed
1 tablespoon freshly chopped cilantro
1/2 teaspoon red wine vinegar
1 tablespoon olive oil
Salt and freshy ground pepper, to taste
Preheat the broiler on your oven. Place tomatoes, jalapeno, garlic and onion on a foil-lined rimmed baking sheet. Place pan under the broiler, and cook until vegetables begin to blister, 1 to 2 minutes.
Remove tray from oven and let stand until tomatoes are cool enough to handle, about 5 minutes. Cut tomatoes into quarters, remove seeds from jalapeno if you prefer a more mild salsa, and remove and discard husk from garlic. Add to the bowl of a food processor along with the onion. Pulse 2 or 3 time until roughly chopped, or once more for a finer-textured salsa. Stir in the cilantro, vinegar and oil; season with salt and pepper. Let sit for 30 minutes so flavors can marinate before serving. May also be made one day in advance.