butternut squash, ricotta & bacon streusel topped muffins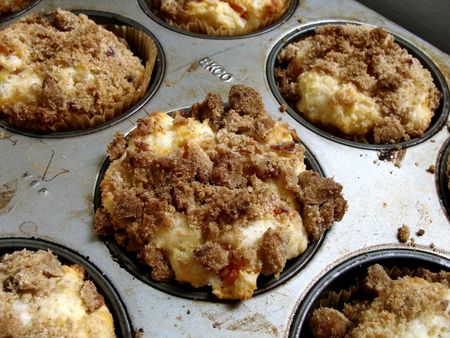 I know what you're thinking.
Three posts in one week? Rest assured I haven't quit my day job. Nor have I won lotto, allowing me time to exclusively maintain this blog, though that'd be a dream gig. Remember last week I mentioned combining butternut squash, ricotta and bacon all in one little muffin?
Yep, it's intense. In a good way, I promise.
I hadn't planned on sharing it so soon. Not that there's there anything wrong with this recipe. It was one of those homeruns out of the oven. As I rubbed the butter and flour mixture between my fingers, I knew something good would be ready to devour in less than 30 minutes.
Really, you have Amanda and Merrill to thank for prying this recipe from my greedy paws. This week's theme at Food 52 is butternut squash, and I figure with my birthday 21 days away and Christmas soon after, a winning recipe and nifty prize would be a fun gift. Since it's already out there for the world to start baking, I could hardly neglect you all and keep it under wraps here anymore.
I must admit, I had a little hesitation in posting this recipe because it has more steps and prep than normal. My goal is to motivate you into the kitchen, but sometimes the extra time and effort is well worth it.
Such is the case with these muffins, and since the weekend is finally upon us, there's no excuse not to make them. In fact, my little trick or treaters asked for seconds when I did.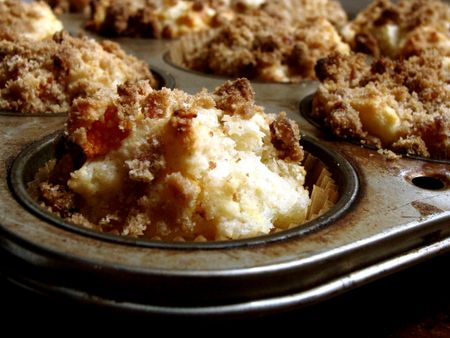 Butternut Squash, Ricotta & Bacon Streusel Topped Muffins
makes one dozen
2 cups (7.25 ounces) 1/2-inch cubed butternut squash
Extra virgin olive oil
Sea salt and freshly ground pepper, to taste
2 thick slices (2.25 ounces) smoked bacon, diced
For the batter:
1 3/4 cups (8.5 ounces) flour
1 tablespoon (11 grams) baking powder
1/4 teaspoon (1 gram) baking soda
1 tablespoon (15 grams) sugar
1/4 teaspoon (1 gram) sea salt
6 tablespoons (3 ounces) very cold butter, cut into 12 pieces
1 cup (225ml) buttermilk
1/2 cup (120 grams) fresh ricotta cheese
For streusel topping:
4 tablespoons (2 ounces) butter, melted
1/4 cup (2 ounces) dark brown sugar
1/4 teaspoon (1 gram) sea salt
1/2 cup (2.5 ounces) flour
Preheat oven to 400ºF. Grease a 12-cup muffin tin or line with paper liners; set aside.
Add butternut squash to a small roasting pan, drizzle with a bit of olive oil and season with salt and pepper. Roast for 15 minutes, until tender and lightly golden. Transfer to a dish to cool.
Add bacon to the pan used for the squash, and bake for 15 minutes, until crisp. Using a slotted spoon, transfer to a paper towel-lined dish to drain.
To prepare the streusel, combine the topping ingredients in a small bowl. Use a fork to mix well. Add the drained bacon and stir to mix well; set aside.
In a medium bowl, whisk together the flour, baking powder, baking soda, sugar, and salt. Add the butter pieces and rub together with fingers until pea-sized bits form. Stir in the buttermilk until just combined with the dry ingredients. Gently stir in the butternut squash and ricotta, leaving some "lumps" of cheese. It will be a rather stiff dough-like batter.
Evenly spoon the batter into the prepared muffin tins. Sprinkle tops with an equal amount of streusel. Bake for 20 minutes, or until the tops are golden and a metal skewer inserted comes out clean. Let cool in pan for 2 minutes, then transfer to a wire rack to cool completely.