peanut butter blossoms + polvorones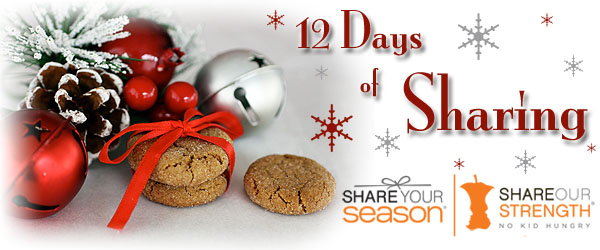 Today's co-host is a new twitter-friend Diana from A Little Bit of Spain in Iowa. She's serving up some fresh baked Polvorones, a traditional Spanish Christmas cookie for the 12 Days of Sharing cookie jar. Diana also talks about the devastating affects malnutrition has on children. So, skip your Starbucks fix for the day and put your hard earned bucks where they can make a difference. Donate now.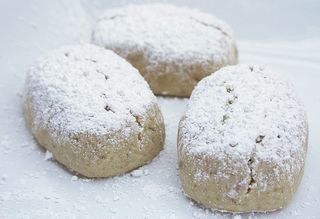 Diana's polvorone's look like an edible winter wonderland.
Creating original recipes are my thing but every now and then I come across an existing one that's love at first bite. I had the good fortune to spend my afternoon baking at a Hershey's chocolate event yesterday and finally came face to face with that synonymous peanut butter blossom cookie. You know the one I'm talking about with the sweet chocolate kiss sprouting from the center. Even though I have kids, I've never made or even tasted this cookie before yesterday…but I'd seen it in many a magazine. I don't live in a shack in the woods, and I'm not a baking snob. It just never seemed like a cookie I needed in my repertoire.
Well, that all changed on a cold Tuesday afternoon. Perhaps it was the festive holiday decorations, or the yule log looping on the huge flat screen. Or maybe it's the fact that delicious doesn't have to be complicated. We— a bunch of press peeps and food bloggers, made these cookies from scratch sans stand mixer. It was quite easy to cream the shortening and sugar with just a wire whisk since they were at room temperature, although I'd use real butter when making them at home. I'd also set the kids to peeling open the Hershey's kisses. And there'll be lots to open since the folks at Hershey's sent us home with a generous bagful of assorted milk and special dark chocolate kisses. In the spirit of giving, please take a minute to make a donation to Share Our Strength and help end childhood hunger.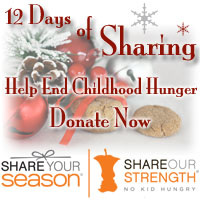 And even though the saying goes "it's better to give than receive", your donation automatically enters you for a chance to win a brand new Cuisinart Stand Mixer valued at $300, because some jobs call for the heavy duty 800 watts of power it delivers. Check out the other great giveaways you can win by just donating now. Getting ready to blog about your favorite cookie recipe? Send us the link between now and December 18th and we'll add it to the virtual cookie jar. And if you need more incentive, In Jennie's Kitchen is a featured blog at Oprah.com, so think of all the people you'll get to share it with.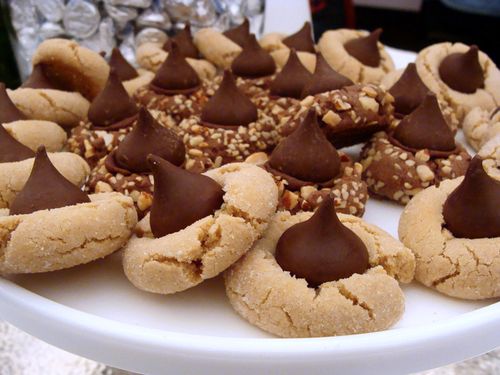 Hershey's Peanut Butter Blossoms
makes 4 dozen
adapted from Hershey's

48 Hershey's Kisses
1/2 cup butter, at room temperature
3/4 cup creamy peanut butter
1/3 cup granulated sugar, plus more for rolling cookies
1/3 brown sugar
1 large egg
2 tablespoons milk
1 teaspoon pure vanilla extract
1 1/2 cups flour
1 teaspoon baking soda
1/2 teaspoon salt
Heat oven to 375ºF. Remove the wrappers from 48 HERSHEY'S KISSES Milk Chocolates; set aside.
Beat 1/2 cup shortening and 3/4 cup peanut butter in a large bowl until well blended. Add 1/3 cup granulated sugar and 1/3 cup packed light brown sugar; beat until fluffy. Add one egg, two tablespoons of milk and one teaspoon of vanilla extract; beat well.
Stir together 1-1/2 cups of flour, one teaspoon of baking soda and 1/2 teaspoon salt, and gradually beat into peanut butter mixture. Shape dough into one-inch balls, roll in granulated sugar and place on ungreased cookie sheet (parchment or silicon liners are okay to use). Bake eight-to-10 minutes or until lightly browned. Immediately press a HERSHEY'S KISSES Milk Chocolate into the center of each cookie (cookie will crack around edges). Cool completely (if you can actually wait that long).
I fell in love with this "kissletoe" the second I saw them hanging from the ceiling.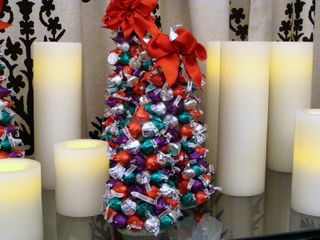 These Hershey kiss trees make for a sinfully delicious centerpiece.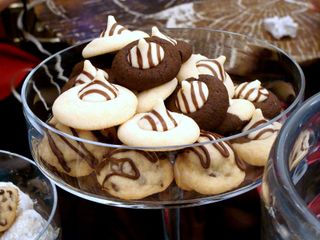 Visit Hershey's website to get the recipe for these Trio cookies…
…or take a peek in the virtual cookie jar for some more great recipes, including these cranberry palmiers pictured below from Natanya over at Fête & Feast.