Compensation was provided by Safeway, Vons, Randalls and Tom Thumb stores via Mode Media.

Growing up in an Italian-American family, Thanksgiving traditions were always a mash up of old and new—baked ziti served before the turkey is normal in every household, right? Eventually the baked ziti was weaned from our holiday table. In its place came a rich, cheese laden mashed potato pie that was a meal in itself. It was a hefty helping of buttery, whipped potatoes, seasoned with milk, mozzarella cheese, locatelli cheese, and prosciutto, all baked in a huge rectangular tray.
As I grew older, and began hosting my own Thanksgiving, many of those food traditions changed. Mikey began making a homemade stuffing, and I swapped in fresh cranberry sauce for the canned one that graced so many of our meals. One year I really went renegade and made an incredible spoonbread pudding in lieu of the potatoes. I don't suggest ever doing something that radical unless you're ready for a revolt. Most of my family tried it, and some even liked it (Mikey and I loved it, thank you very much) but my uncle was a stubborn one who refused to take a taste. He insisted he didn't like it, even though he'd never tried spoonbread in his life. My family is not very open to change when it comes to their food. As I think back to that Thanksgiving ten years ago, I realize I was the one in the wrong. I should've approached the menu much the way I do cooking for my daughters. Change works best when it's paired with something familiar.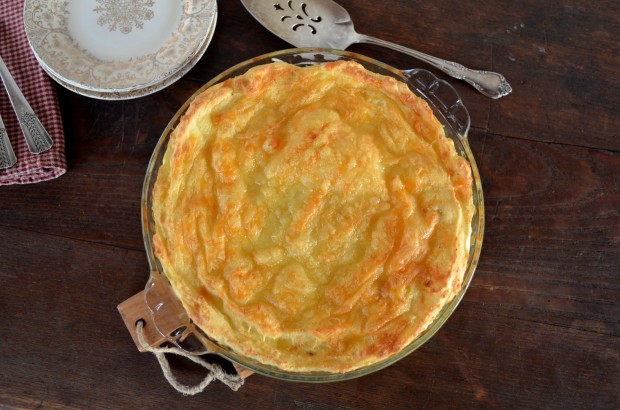 When Mode Media, my ad network, asked me to partner with them for a Thanksgiving post, I knew just what classic recipe I would put a unique twist on. The beloved mashed potato pie was on the chopping block. How could I reinvent it to satisfy both my needs for something new and their tastes?
For starters, I kept the mashed potato base simple with just a couple of pats of butter. I decided it was best to allocate the calories to the cheese and eggs I'd be adding to make this soufflé-like pie. I also swapped out the mozzarella my family usually used, and added a combination of grated Gruyere cheese and fresh ricotta. The pie puffs up slightly towards the end of cooking, and takes on a lovely golden hue. A little rest before serving ensures neat slices to serve alongside the turkey and other fixin's.
This recipe is now in my Thanksgiving E-book, and can be found my new site, Simmering. Click
here
.