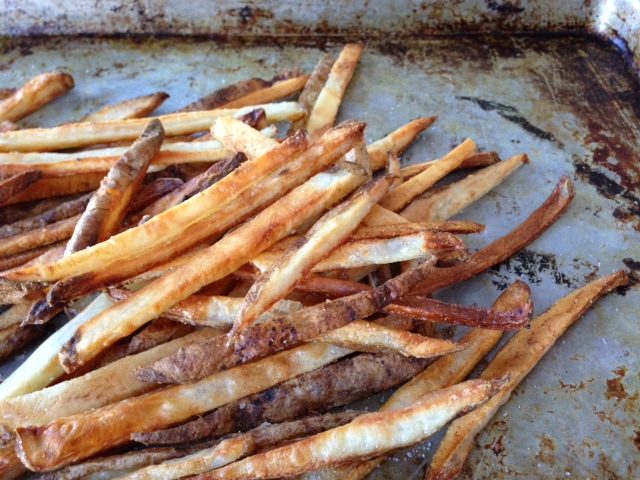 The kids are snuggled in their beds, fast asleep. Much as I should be in bed, too, I'm wide-eyed after a cat nap. It's become part of Virginia's bedtime routine. After we read books, I usually curl up with her, to help her fall into a peaceful slumber. This wasn't always our pattern; certainly not when Michael was alive. Then again, I was always firm about bedtime, knowing that a cuddle on the couch was my reward after a long day. The daytime was all about the girls. Nighttime was a standing date with my guy to catch up on our day, relax, and enjoy curling up in the corner of our L-shaped sofa together.
When we first started dating, the corner was his throne. I'd sprawl myself across the longer end, and rest my head in his lap, waiting like a cat to be stroked across the temples and forehead. Somewhere along the way, the tables turned, but not quite equitably. Michael relinquished the corner, and instead of soothing my headache of the day away, he'd scoop up my feet in his lap, and rub away the aches of standing all day long in the kitchen.
Lately, my longing for him is insatiable, but at the same time, something incredible has happened in sorting through my journals from the last 948 days. In reflecting back on our life together, I'm finding the anger is slowly slipping away, being replaced by thankfulness for having had the time we did together. It is moving at a glacial pace, and a transition I'm finally accepting will last the rest of my life. Much as I wish the mourning process was finite, it is not. It is a weight one must juggle like a hot coal, almost. I don't know if the coal gets cooler, and more manageable at times, or if one just gets better at the juggle itself. I suppose it's a bit of both.
One way I try to reconnect to him, and the happier times we shared, is by revisiting some of my older recipes. They're literary, and sometimes literally, breadcrumbs that connect what I love to do, with those I love. That's what brought me into the kitchen to make an old favorite, crispy oven fries, a couple of months ago. Sliders were on the menu for dinner. The kids are day and night when it comes to almost everything. Virginia loves mashed potatoes. Isabella only loves fries, and only real French fries. Could I possibly find a common ground?
Then I remembered these crispy oven fries I first wrote about four years ago. I should mention it's one of those "telephone" recipes, shared from blog to blog, with the steps changing a little each time. The original recipe is for garlicky baked fries. The seasoning was a definite no-go for my girls, even back then, so I went for a classic sea salted version. They were also microwaved to par-cook them before baking. Shaheen mixed things up, and par-boiled them to eliminate the microwave when she wrote about them. By time the recipe made its way to my kitchen, I decided to nix both of those methods, wondering if I could just par-cook them in the oven while it was preheating. Success!
The important thing to remember with this recipe is that is you must not skip the two-part cooking method. The par-cooking ensures the inside cooks thoroughly, while the blast of high heat crisps up the outside perfectly. On this last pass, I decided to make a shoestring version—I only wish I'd thought to make that tweak when M was here to taste them! I also cut back a bit on the cornstarch (the other secret to getting them super-crisp). Next up, I'd love to try these with sweet potatoes. If anyone gives that a shot, please let me know.
crispy oven fries
Serves 4
Music Pairing: On Some Faraway Beach by Brian Eno
2 medium russet potatoes, scrubbed clean
2 teaspoons (10 ml) grapeseed or olive oil
1 tablespoon (9 grams) corn starch
Generous pinch of fleur de sel, plus more to serve
Preheat oven to 450F (230C). Place potatoes on the center rack of the oven, and let them cook for 12 minutes while the oven is heating.
Remove the potatoes from the oven, and let them cool a few minutes. Once cooled enough to handle, cut the potatoes into 1/4-inch (6 mm) sticks. Add the potatoes to a deep bowl, along with 1 teaspoon of oil, the cornstarch and salt. Toss until well coated.
Brush a rimmed baking sheet with the remaining teaspoon of oil. Place the potatoes on it in a single layer. Bake for 15 to 20 minutes, until the underside is golden. Turn the potatoes, and bake until golden all over, about 15 more minutes. Serve hot.
For more some more spudspiration (can I coin that word?!), take a look at what my fellow food friends are sharing this week on the FN Dish Blog.
The Heritage Cook: Potato, Bacon, Green Chiles and Cheese Casserole
Feed Me Phoebe: Bangers and Spinach Mash with Cider Onions
Dishin & Dishes: Sweet and Savory Potato Stacks
Big Girls, Small Kitchen: Potato-Chickpea Masala with Cilantro Chutney
Weelicious: Potato Fans
Haute Apple Pie: Sweet Potato Shepherd's Pie
Taste With The Eyes: Truffled Poached Egg, Asparagus and Truffle Vinaigrette, Black Truffle and Potato Stack
Napa Farmhouse 1885: Warm Pan Fried Potatoes and Greens Salad
Red or Green: Smashed Sweet Potatoes with Chipotle
The Sensitive Epicure: Healthier Twice Baked Potato Skins
Elephants and the Coconut Tress: Indian Spiced Potatoes
Jeanette's Healthy Living: Healthy Bacon Egg Potato Breakfast Casserole ‎
Virtually Homemade: Bacon Parmesan Hasselback Potatoes
Devour: Mashed Potatoes, Reinvented
FN Dish: 10 Potato Picks (Recipes)