One-Bowl Skillet Chocolate Cake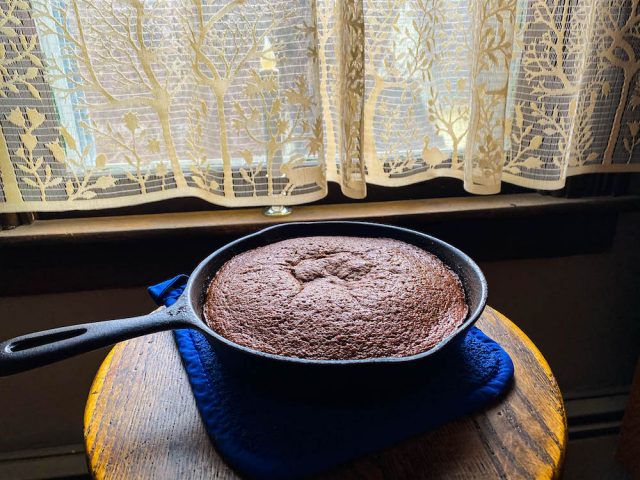 One week ago I woke up wrapped in layers of sheets and the comforter on Matthew's bed. It was his birthday morning, and he rose around 6:30am to drive his younger daughter to school. The creaking of drawers opening and closing on the antique dresser roused me from a deep sleep but not enough to pull myself from bed until after he left.
I scrambled into the bathroom, took a shower, dried my hair, got dressed and went into the kitchen to begin birthday breakfast preparations. A homemade loaf of challah from my Shabbat with the girls a few days prior awaited its metamorphosis from slightly stale bread into French toast.
I put too much cinnamon in the egg mixture. Rather than use a measuring spoon as my professional life requires, I opened the bag from the bulk section and shook it lightly to tip some in—a rush of cinnamon fell into the bowl. Oh well, I thought…it'll still be good. Nothing in life is perfect, but our breakfast together would be imperfectly perfect.
Waking up that morning was difficult because our two days together were ending. That evening I had to head back home to the girls who were with a sitter. A pre-college meeting was scheduled for Isabella's junior class. I feel this sense of sadness every time I have to leave him because a big reality of our relationship is living 68 miles apart, a 90-minute drive each way.
The day before we'd made a day trip to New Haven. CT for a pizza (Sally's Apizza all.the.way!). Matthew took me for a walk around the Yale campus, his alma mater. I shrieked when I saw the real Yale Daily News building, and insisted on a picture. Perhaps creating a photo-shopped picture of me and Rory in front of the building will be a good distraction during these crazy times we're living in right now.
I've since been joking I can say I went to Yale now, and "I don't know why people say it's so hard to get into, I just walked right in!"
Halfway through eating breakfast, maybe it was more than that—just a few bites left, Matthew asked if I did something differently. I confessed my cinnamon faux pas. He was forgiving enough, considering it was a milestone birthday but I know him well enough that next time I make French toast he'll remind of that time I ruined his 50th birthday breakfast, in jest of course because that is his playful nature, or at least the playful nature of two people who feel so utterly comfortable with each other.
An acquaintance posted this on her Facebook page today:
"And, the most important thing is, if this comes down some of the ways it might, I want to be in the same place with you. "
We didn't want to be quarantined in separate cities. Especially in case "something happens."
"That," I said, " Puts the 'us' in virus."
The sense of dread that creeps into my consciousness these last few days is akin to how I felt the day Michael died. That feeling of uncertainty, of finding a new normal, of nothing lasting forever and what it means to find meaning in a world that can feel so randomly meaningless at any given moment.
After breakfast I cleaned up the dishes while Matthew attended to a flurry of calls. He's the Production Manager at Five Colleges Dance, and one-by-one the colleges were making the tough decisions to close their campuses and finish the school year remotely. I had one last thing to do before it was time to leave in a few hours.
There was no time that weekend to make a layer cake but I did have a back up plan: skillet cake. One of my colleagues developed a recipe that ran on Marley Spoon around Valentine's Day. With a few tweaks I converted the already easy skillet chocolate cake recipe into an even easier one-bowl skillet chocolate cake recipe.
To sweeten the deal, I leaned into Matthew's love of chocolate and peanut butter, and made a no-cook peanut butter glaze to drizzle over. A few holes poked into the cake using the handle of a wooden spoon created pockets for icing to pool into. Before leaving I called him into the kitchen—no birthday is complete without making a wish on the candles. As with all wishes, his was secret if he was dreamy enough to make one (he can be quite pragmatic, so I don't know if he did or not).
My wish today is that we were closer. Distance sucks, especially when uncertainty is all we can be certain of.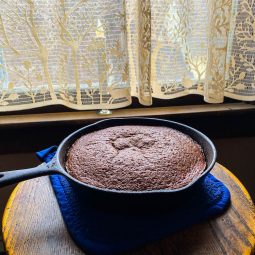 One-Bowl Skillet Chocolate Cake
Ingredients
One-Bowl Chocolate Skillet Cake with Peanut Butter Icing

Serves 6

For the cake

1

cup

200 grams sugar

4

tablespoons

safflower or sunflower oil

or melted butter

1

large egg

at room temperature

1

teaspoon

vanilla extract

¾

cup

90 grams self-rising flour (make it yourself here)

¼

cup

25 grams unsweetened cocoa powder, plus 1 tablespoon for dusting skillet

½

teaspoon

salt

½

cup

hot water

not boiling

¼

cup

60 grams sour cream

For the icing

2

tablespoons

creamy peanut butter

melted

1

tablespoon

butter

melted

1 ½

cups

confectioners' sugar

sifted
Instructions
Preheat the oven to 350ºF. Generously butter the bottom and sides of a 10-inch cast iron (or other oven-proof skillet; a cake tin will work fine, too), then dust with 1 tablespoon cocoa powder, tapping out excess.

In a medium bowl, whisk the sugar, oil, egg and vanilla until blended.

Add the flour, cocoa powder, salt and hot water; whisk until just combined and no visible traces of flour (it's okay if there's a few lumps).

Add the sour cream and whisk until just blended.

Pour into the prepared skillet. Bake on center rack until cake gently pulls away from side of the skillet and center is mostly set but still slightly jiggly, 28 to 35 minutes (start checking at 28 minutes; it's better slightly underbaked than over baked).

Set skillet on a wire rack and let cake cool slightly while you prepare the icing.

In a medium bowl, whisk peanut butter, melted butter, 3 tablespoons water and confectioners' sugar until smooth, adding 2 to 3 more teaspoons water if necessary (icing should be thick but easily drip off whisk). Pour icing over skillet cake while still slightly warm (this helps the icing stick to the cake). Serve once cake is cooled completely and icing set, about 2 hours.