Easy Funfetti Skillet Cake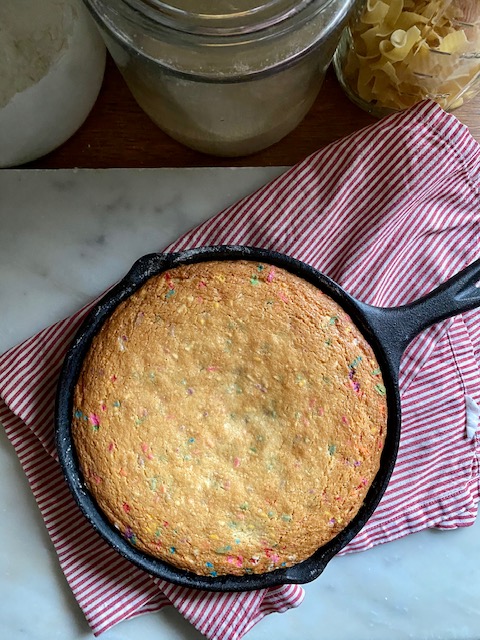 One week down, and who knows how many more to go. I had a moment last night where I forgot about our current crisis and all the sense of dread that comes with it. We had a different kind of Shabbat, settling around the table for some homemade pizza. There was still challah. Only an Italian-American could relate to this, I think. We eat bread with everything, so why not some bread to go with our cheese and tomato sauce topped bread?
I decided a game night was also in order, and set Virginia in charge of choosing a board game. She chose Clue and I think it's because she knows it's my least favorite of them all. In our family it feels like a never-ending game. I get bored with it quickly but the kids love it. And yes, I bluff ALL THE TIME when I play—perhaps that's why it lasts forever?
At some point, I got up to use the restroom and realized I'd forgotten all about the stresses and worries of the week. This is the gift that turning off our phones and turning on our listening ears around the dinner table provides. Sometimes I think about how beautiful it would be to truly observe Shabbat and abstain from all electronics from sundown Friday until sundown on Saturday. I'm not sure that's at all realistic for us weekly, but it would be an interesting experiment to try once a month.
Our first week all hunkered down under one roof without the busyness of commuting for errands, work and school was mostly smooth. I'm acutely aware it was only week one, and this means either it'll be get even better or worse, or maybe worse and then better, or more likely a rotating cycle of both.
The girls hopped right into their remote learning schedules on Tuesday thanks to a very prepared Woodstock Day School. I can't say enough about how proactive the school was to this situation, ensuring nary a moment of downtime. The routine provides my girls with a stability currently lacking in the world. They have a homeroom where they have to log in to Google classroom at 9am for attendance which is great to make sure they stay in some sort of routine. My girls are very self-directed and independent. It also helps that we homeschooled a few years ago, so working in a more isolated, self-contained environment is slightly familiar.
This past week I've read so much advice online about how to handle this new educational reality for kids of all ages. What's most important, though, is that you know what works for your child. Suggestions are great but we know life isn't one size fits all. Trust your instinct here. If your school hasn't provided a defined schedule for the day with regular teacher check-ins, then create a structure for yourself and write it down so everyone can be on the same page.
Embrace this new educational experiment as a time to also create more independent children. You're likely working from home, too, so push boundaries a little knowing if they falter you're there to help guide them or reassure that mistakes are just another kind of learning opportunity.
A few months after Michael died I realized I'd never get to sleep in if the kids always needed me to take care of breakfast. I'd gotten used to sleeping in a bit on Sundays as was my routine with Michael. Prying myself from bed was especially hard on Sundays once he was gone because not only was it always set aside as our family day—he also died on a Sunday. I still find this day of the week challenging to get through even almost nine years later.
When they turned 9 and 4, to try and find some balance, I reorganized the fridge and pantry. Milk was placed on the lower door shelf where they could easily reach it. Cereal was moved to their level as well. I got step stools they could use to reach the bowls and showed them how to work the TV remote.
I didn't sleep until noon on Sundays. In fact, I barely slept enough in those first few years to keep myself physically going. Knowing they could take care of themselves enough to get breakfast, though, was just the break I needed in what was a very difficult time.
The first day we settled into their remote learning this week the girls woke, got ready, made themselves breakfast and then when lunchtime came prepared their own food. The seeds for that independence had been sown from a young age, mostly from circumstance especially once I began working outside of the home, commuting to NYC two years ago. I simply didn't have the time to do all the things I used to do.
By Thursday, day three, we settled into a routine where I began cooking lunch. Virginia was resistant at first, used to being self sufficient. We talked about how at 11 she's had to grow up so much faster than her peers. There's a great benefit to that but also a weight to it. Childhood is so finite—a blip considered to how long we're obligated to be adults. While I'm concerned we'll fall into habits I know we can't sustain once life goes back to normal, or whatever normal looks like once we're done with the imminent threat of this virus, we'll face that together when the time comes as we do with all things. We'll talk about it, and maybe we'll have learned new ways to find a better balance.
I wish I could see the future for so many reasons. Will we as humans truly learn from this, and work to lessen the gap between those who have and those who do not in our society? Will we place greater value on emotional success and realize that is the key to professional success? Will we finally realize everything we do has a ripple effect, and embrace the "we before me" philosophy I try to instill in my daughters?
I've no answers, just questions—and an easy recipe for funfetti cake.
This cake recipe was inspired by the one-bowl chocolate skillet cake recipe I shared recently. Much as I love chocolate, vanilla cake might be my real weakness. And sprinkles? Well, life would be boring without them, so why not add them to the mix.
One last thing before I go. For those of you looking to occupy some of your children's time, I've got quite a few cooking videos in my Instagram highlights. Pop over, take a look, and feel free to use them as part of your homeschooling block. I suggest watching them yourself first to see what steps your kids might need help with and what ingredients are necessary to make them. If there's something you don't have on hand, send me a DM within instagram and I'll try to offer ideas for substitutions.
May your weekend be filled with pockets of peace and hope.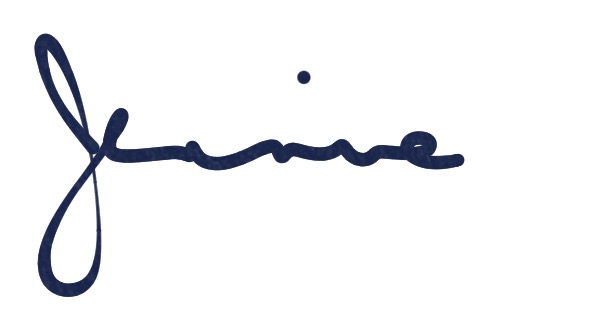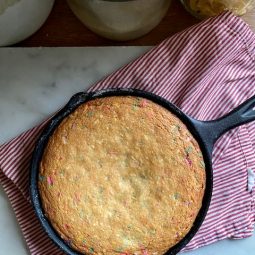 Easy Funfetti Skillet Cake
Ingredients
1

cup

200 grams sugar

4

tablespoons

butter

melted (slightly cooled)

1

large egg

1

teaspoon

vanilla extract

1

cup

120 grams self-rising flour, plus more for dusting skillet

½

teaspoon

salt

½

cup

120 ml/grams milk

¼

cup

60 grams sour cream

Rainbow sprinkles

as much as you like (but don't go too crazy)
Instructions
Preheat oven to 350ºF. Generously butter the bottom and sides of an 8-inch cast iron (or other oven-proof skillet), then dust with flour.

In a medium bowl, whisk the sugar, melted butter, egg and vanilla until blended.

Add the flour, salt, milk and sour cream; whisk until just combined and there are no visible traces of flour (it's okay if there's a few lumps).

Stir in the sprinkles.

Pour into the prepared skillet. Bake on center rack until cake gently pulls away from side of the skillet, center is firm when gently tapped with your fingers and cake is deep golden around the edges, 35 to 45 minutes (start checking at 35 minutes).

Set skillet on a wire rack and let cake cool completely before serving.