Quick & Easy Homemade Vegetable Stock + A Video Recipe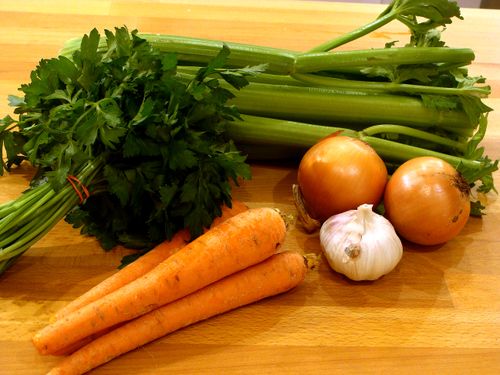 I've been enjoying the Flip video camera I got at Blogher Food '09—thanks to Bertolli for the new gadget and a nice night in Napa. So, I've had this thing-a-ma-jig (is this even how you'd spell that?) sitting on my counter, and decided to start putting it to good use. Rather than the polished, wonderfully packaged pizza and blueberry muffin videos the Mr. creates for me, I wanted a more guerilla-style for this venture. Why not bring you into my kitchen in the heat of the moment? I'll admit, I did touch up my lip gloss, but that's as Hollywood as it gets. Luckily, the kids were at the park when I started and by time I had to shoot the end, they were actually behaving for the 30 seconds I needed peace and quiet. So watch and see how easy it is to make homemade vegetable stock. You'll be hard pressed to buy the canned stuff when you're done.
The great thing about vegetable stock is you start with a base of carrots, celery, onions and garlic. The other fresh veggies, if you're adding more, are negotiable and totally based on what you have on hand. For this particular meal, I was making the stock to use in a pumpkin, sweet corn and oyster mushroom risotto, so I threw in the mushroom stems and cobs once the kernels were removed. Now, as I mention, I tend to make vegetable stock as I need it (chicken is a whole other story), but then again I do this for a living and my kitchen is my home office. While it really is quick and easy to prepare, feel free to put a big pot up on the weekend and freeze it in smaller containers to use as needed. It's all about whatever works best for you.
Easy Everyday Vegetable Stock
makes about 4 cups
While the video recipe includes mushroom stems and corn cobs, this is a more basic recipe. Feel free to add whatever vegetable scraps you have around, adding more water if necessary.
2 tablespoons extra virgin olive oil
3 ribs celery, sliced
4 carrots, peeled and sliced
1 medium onion, cut into quarters
2 cloves garlic, smashed
1 dried bay leaf
8 to 10 whole black peppercorns
1 tablespoon salt
6 cup cold water
Heat a deep stock pot over medium flame. Add oil, then toss in celery, carrots, onion, garlic and other vegetables you're using. Saute for 5 to 7 minutes, until the carrots begin to caramelize and the mixture becomes very fragrant.
Add the bay leaf, peppercorns and salt. Stir to mix well, then slowly pour in the water. Bring to a boil. Reduce heat to a simmer and cook until vegetables are extremely tender (read: they've released all their flavor). Pour through a metal sieve or strainer, discarding cooked vegetables (I always hate this step, and always intend to puree them to thicken sauces and soups, but…). You're ready to use for soup, as a consomme, or store in the refrigerator (up to one week) or the freezer (up to two months).