creamy turnip soup with croutons & fried sage leaves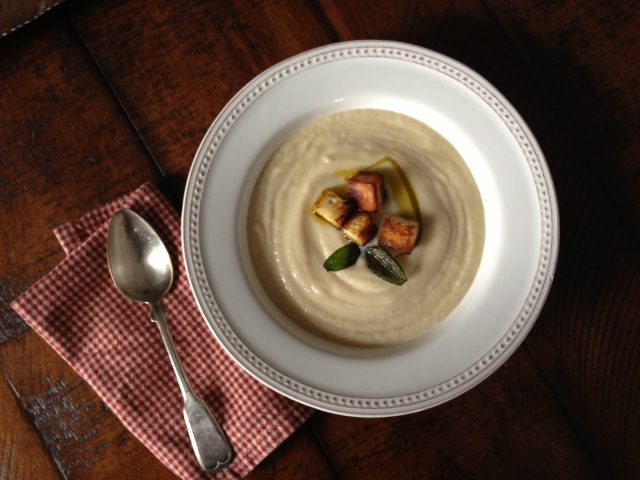 Finding some inner peace has been more challenging than usual lately. I'm so thankful I started running again before it all hit me. That time I carve out for myself every morning helps me reset my feelings a bit. Breathing in the salty, sometimes funky air rolling off the river as I run by Brooklyn Bridge Park wakes up my soul (and sense of smell!). The only other place that awakens me in such a way is the kitchen. So, lately my time has been filled with clocking miles and cooking.
A few days ago, I had turnips on my mind. They're this week's theme for Food Network's Fall Fest, and it was a welcome distraction from the other thoughts in my head. Growing up, the only time I ever remember seeing my mom use turnips was when she made chicken soup. I'll admit that they still aren't part of my every day cooking repertoire, but I've certainly branched out from just using them to make stock. Turnips pose a creative challenge because on their own the flavor is rather bland, with a hint of bitterness if that makes any sense. In one way they're a blank canvas, blending into the flavors of the ingredients you pair them with, but you have to pay attention to that aforementioned slight bitter quality. You want flavors that will tame it, not accentuate it.
In Homemade with Love, I paired turnips with yukon golds and French feta cheese, for a spin on mashed potatoes. For Fall Fest I knew I wanted to work on a turnip soup recipe, and I became smitten with the idea of a soup with pears since they're in season now, too.
By now, I should know to go with my instincts. On my first test, I had determined that one pear would add enough natural sweetness to balance out the three turnips I was going to use for the soup. Then as I glanced at the mountain of turnips in my roasting pan, I panicked, and threw in one more pear, for a total of two. The resulting soup was good, but too sweet, and the pear flavor too predominant.
I knew the soup, on its own, would be delicate in flavor, so while the vegetables were roasting I began to think of how I could dress it up a bit. After all, garnishes are akin to culinary accessories. I love croutons in soup for texture, and a swirl of good quality olive oil would hopefully balance out the floral note of the pears without fighting the bitterness of the turnips. The last thing I felt it needed was an herb of some sort for one last layer of flavor. That's when I remembered the pots of plants on my stoop.
M was the gardener in our family. Everything he touched seemed to come to life. It was he who remembered to water the yard, learned how to trim the rose bushes, and turned the soil each spring. I on the other hand, well, plants quiver when I come near. Only the hardiest of plants can survive my forgetful nature.
When I sold my apartment last year, I took two planters from our old backyard. I promised myself I'd take care of them, and preserve a few of the last remnants of my life with M. Of course, I quickly slipped back into my old habits, leaving the herbs to survive on their own. At one point this summer, upon returning from one of our vacations, the mint was struggling to survive, the leaves crisp from the sun's glare. I was sure it was past the point of no return and shrugged it off. It just wasn't meant to be, right?
The last couple of weeks, though, something incredible happened. My rosemary, mint and sage are all thriving again, almost defiantly telling me they are here for the long term. And so, as I thought about how to best finish my soup, fried sage leaves popped into my head. The more I think about it, I'm like those plants. We continue to flourish under the most unlikely circumstances, and just when you think we're out for the count, we come back stronger than ever.
Turnip & Pear Soup with Crisp Croutons & Fried Sage
Serves 4
Music Pairing: Dreaming by Blondie
My love of food, and feeding people, often compels me to think about recipes in a way that everyone can enjoy them. My first thought was to keep this soup dairy-free and vegan. Really, it wouldn't be difficult because the soup's body and creamy texture is mostly achieved by pureeing the roasted vegetables in the blender with some vegetable broth. In the end, though, I decided to add a little bit of cream to the soup as it was heating in the pot. You can most certainly skip the cream, and swap in additional broth in its place. The recipe I'm linking to for the croutons is made with Parmesan cheese, but again, simply omit the cheese if you want to keep the recipe entirely dairy-free.
A note about the size of the turnips. The ones I used were about the size of my fist, and I have small hands. Keep that in mind when selecting your turnips. If you can only find large, softball-sized turnips, then my advice would be to use only two, and keep the remaining ingredients the same as called for in the recipe.
3 turnips, scrubbed clean, or peeled, and cut into chunks
1 shallot, cut into quarters
1 pear, cut into chunks
2 tablespoons extra virgin olive oil, plus more to garnish
fine sea salt, to taste
10 fresh sage leaves
1 1/2 to 2 cups vegetable broth
1/4 cup heavy cream, optional (see headnote)
1 tablespoon grapeseed oil
Good quality extra virgin olive oil, to garnish
1/2 cup croutons, for garnish
Preheat the oven to 375F.
Add the turnips, shallot and pear to a 13-inch by 9-inch deep roasting pan. Drizzle the olive oil on top, and sprinkle with the salt. Use your fingers to tear up two of the sage leaves, and add them to the pan. Give it a good shake, or stir with a spoon, to coat the vegetables. Cook for 50 minutes, until the turnips are golden, and tender when pierced with a fork.
Remove the pan from the oven, and let the vegetables cool for 10 minutes. Do not skip this step, or the turnips will get gummy when you try to puree them.
Transfer all the vegetables from the pan into the bowl of a blender. Add 1 1/2 cups of the broth. Pulse a few times to break down the ingredients, then blend on high until the it becomes a thick, smooth soup. If you prefer your soup a little thinner, add the remaining 1/2 cup, and blend until again for 30 seconds.
Pour the soup into a deep pot. Stir in the cream, if using (see headnote).Cook over medium-low flame until heated through.
Meanwhile, heat the grapeseed oil in a small skillet over medium-high heat. Add the remaining sage leaves, being careful to stand back as the oil will pop and sizzle from the water released by the herbs. Cook the leaves until crispy, 45 to 60 seconds. Transfer to a paper-towel lined plate to drain.
To serve the soup, divide it evenly among four bowls. Swirl a little of the good quality olive oil on top (if the spout is large, then hold your pointer finger over the opening so it trickles out slowly). Top with a few croutons and fried sage leaves. Serve immediately.
Here's some more turnip inspiration from everyone sharing recipes on Food Network's Fall Fest this week. You can also follow the Fall Fest fun on Pinterest.
Feed Me Phoebe: Mashed Turnips with Miso Butter
The Lemon Bowl: Baked Turnip Chips
Purple Cook: Turnip and Tomato Curry, Recipe Reviewed
Domesticate Me: Roasted Root Vegetable Salad with Herbed Goat Cheese
Napa Farmhouse 1885: Easy Roasted Root Vegetables
Red or Green: Roasted Turnip and Parsnip Soup with Toasted Walnuts
Dishing: Roasted Turnips with Parmesan
Taste With The Eyes: Quinoa Corn Timbale, Turnip Confit, Quail Egg and Fried Sage with a Demi-Glace
The Sensitive Epicure: Mashed Turnips with Celery Root
Devour: 4 Ways to Cook Turnips
In Jennie's Kitchen: Turnip Soup
Cooking With Elise: Turnip Farmers Tell All
FN Dish: Turnip Recipes Revisited