Someone mentioned seeing rhubarb at the farmers' market this weekend. Well, actually they heard from someone else that there was a rhubarb sighting at the Grand Army Plaza market. I went to the Union Square one with the girls, and while I'm tempted to jump the gun and say there was none to be had, the truth is I wasn't looking for it, so I don't know.
Rhubarb wasn't on my radar, and my visit to the market was with laser sharp precision, hitting only the stands I needed since I was short on time. Now I know to keep an eye out for this weekend. This simple tangent led me to another thought. How much are we missing out on, in the intensity of this 24/7 world? Just because we can do something every second of the day, doens't mean we should. There's so much to be said for unplugging, and savoring life's smaller moments.
I thought I had mastered this long before Mikey died. I always prided myself on being the mommy who didn't overschedule her family. I only accepted one birthday party invite per weekend, and that was only on Saturdays. Sundays were strictly mommy, baby, bella and daddy day. We often set sail in the car on Saturdays, with no goal in mind, except to have fun together.
Being able to disconnect is something I'm working on. I want to live life in the present, and spending too much time immersed in the world of social media often means I'm not paying attention to the here and now. I don't like definitives, like "I'm taking the weekends off twitter". I think they're silly proclamations, actually. I find it much better to just go with what feels right. The last two days, I just haven't felt like putting it all out there.
This morning, though, I was reminded how things tend to come full circle, and sometimes the online distractions actually help remind me of the truly amazing things in my everyday life. I woke up and saw some shares on Facebook about a little boy who built a cardboard arcade in his dad's auto supplies garage.
As I watched the short film, I was reminded of Romeo. He came about from a little girl's imagination, with help from her daddy and the recycling bin.
Meet Romeo.
He's our official family mascot. Before Mikey passed away, I joked that we could never get rid of him. Now, it's no joke. That robot is laced with Mikey's energy, and the creativity he passed down to his oldest daughter.
Romeo was created one cold, rainy day, the winter of 2010. He's fashioned from shoeboxes (one was Isabella's, one was Mikey's), egg cartons, scraps of cardboard and cable ties. Virginia's contribution were two Elmo cupcake liners for his eyes. I don't remember where I was exactly when they made him, since this was a papa and kid project, but I remember being impressed  with their vision and bringing it to life.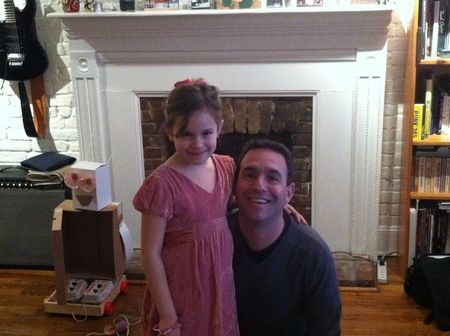 As I watched the precision and passion with which Caine created his cardboard arcade, it reminded me I need to realize it's the little things like this that will empower them to follow their dreams as they get older. Romeo is a seedling of Isabella's imagination. The same way Mikey enouraged and supported my dreams, it's up to me now to give Isabella that same gift. The next time Isabella asks for a shipping box or to dig through the recycling bin, as she often does, I will remember that day Mikey nourished her creativity. I will try not to roll my eyes and mutter something about "not needing more clutter around the house". We may have lost our real life Romeo, but we can still keep building dreams together.
As for my dreams, right now they're filled with longing for scarlet stalks of rhubarb.
Roasted Rhubarb Jam
makes one generous cup
This is seriously the easiest jam recipe you'll ever make. No pectin, no need for constant stirring, and you only need three ingredients. The recipe is one I created back in 2010, and you can read the original post here.
1 pound (16 ounces) rhubarb, tough ends removed & cut into large chunks
1/2 cup (100 grams) sugar
1/4 teaspoon cinnamon, optional
Preheat oven to 400ºF. Toss rhubarb with sugar and cinnamon, if using, in a 9-inch by 13-inch nonstick baking dish. Roast for 20 minutes until thick and bubbly. Stir to mix well, then let cool completely. Transfer to tightly sealed jar and store in refrigerator for up to two weeks. May also be processed in a hot water bath using sterilized glass jars.