I'm cheating a little here, and those of you who were hanging around this neck of the woods last year, may recognize these cookies. Maggie, Olga and I ventured into a projected called Gourmet, Unbound. Our lives have gotten pretty crazy since then, and while GU had been on hiatus for quite a while, these cookies are making a comeback in my kitchen.
This recipe for basic butter cookies was from the December 2003 issue of Gourmet magazine. While combing Epicurious online, it was listed as an ingredient in many of Gourmet's other cookie recipes. It's going back to the basics, and a reminder that ingredients do not need to be exotic—it's what you do with them that really makes the difference.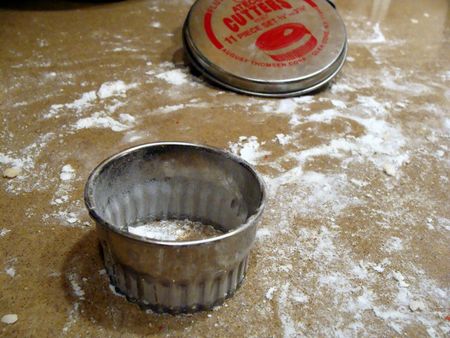 It all started with butter, sugar, flour and eggs (and a pinch of baking powder, salt and pure vanilla extract). While mixing the dough, it had the taste and feel of my auntie's spritz cookie recipe, except there would be no cookie press involved here. We made dozens upon dozens of these cookies every year, and much colorful language has been spewed between batchs. I still haven't found a cookie press that makes them a pleasurable experience.
Yet, one bite of buttery bliss and I realize if I had to pick just one cookie to bake during the holidays, then I'd be hard-pressed to choose another. The original Gourmet recipe calls for shaping the dough into a log, then slicing and baking them. I decided to roll some of the dough and use my favorite fluted cookie cutters, planning on making jam-filled sandwich cookies—some dipped in, and others drizzled with chocolate.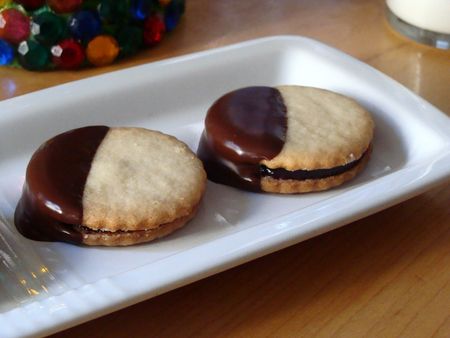 I also rolled some into balls, then pressed them into colored sprinkles—reminiscent of the same butter cookies found in many Brooklyn Italian pastry shops from my childhood. Aren't they the prettiest cookies? I feel like a kid again just looking at them.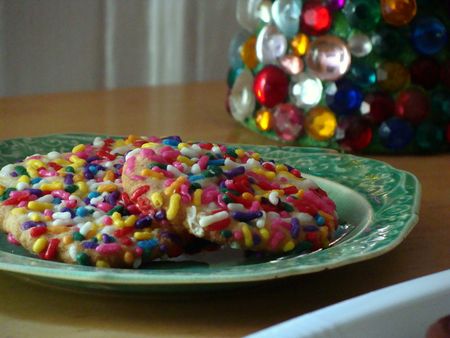 And, then I made some thumbprint cookies, filled with wild Maine blueberry jam and finished with a dusting of confectioners' sugar. You can use whatever you have on hand, and if you canned jam this summer, then they're an extra special treat to give as gifts.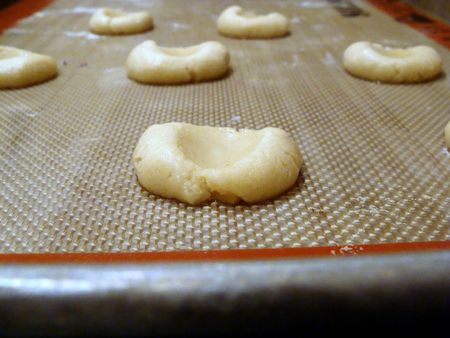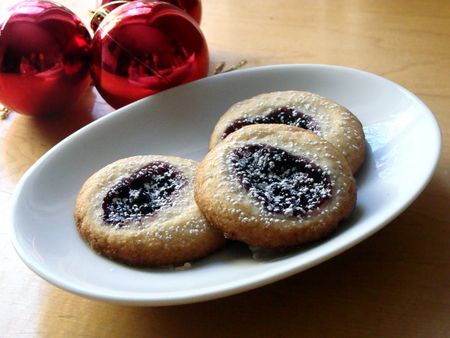 And when the baking was done, kitchen cleaned and photography finished last December…I poured a cold glass of milk and gave Santa a run for his money. Back then my scale was broken and perpetually registered a mere 25 pounds. I've since thrown it away, but haven't worked up the courage to buy a new one.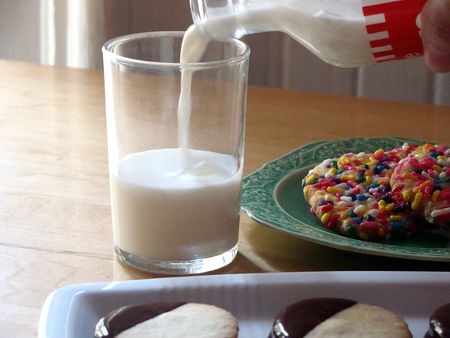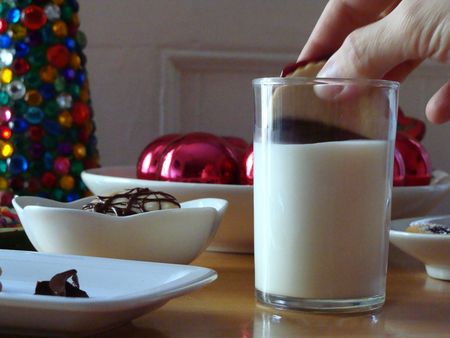 Not So Basic Butter Cookies
makes 2 to 4 dozen cookies, depending on size, shape and if you fill them into sandwiches
Unlike most of the recipes here, which are developed or adapted in my own test kitchen, I prepared this one straight from Gourmet's directions, with the minor addition of an extra 1/2 teaspoon vanilla extract. That was the purpose of Gourmet, Unbound—to honor the work of the talented staff that created one of the best food magazines to have ever been published.
2 cups all-purpose flour
1/2 teaspoon baking powder
1/2 teaspoon salt
1 1/2 sticks (6 ounces) unsalted butter, softened
1 cup sugar
1 large egg, at room temperature
1 teaspoon vanilla
jam, for filling (optional)
chocolate, for dipping or drizzling (optional)
Confectioners' sugar, for dusting (optional)
In a medium bowl, whisk together the flour, baking powder and salt; set aside.
Using a stand mixer fitted with the paddle attachment, beat the butter and sugar until light and fluffy. Add the egg and vanilla extract, and beat until creamy and well-incorporated. With the mixer turned off, pour in the flour. Turn the mixer onto low speed, gradually increasing the speed to medium-high as the flour begins to mix in.
Once the flour is completely mixed in, increase speed to high and beat for 15 seconds. Roll into logs according to the size and shape you want to bake, and wrap them in plastic wrap, or transfer dough to a bowl, cover and chill until firm but still workable, about 4 hours.
When ready to bake, preheat oven to 375ºF. Line baking sheets with parchment paper (do not use silicon liners). Slice cookies, or roll into balls and press an indent with your thumb; place on prepared trays. Bake 8 to 10 minutes, until lightly golden around the edges. Transfer to wire racks to cool completely, before filling, dipping or dusting.