Blistered Butter Beans with Tomatoes, Walnuts & Thyme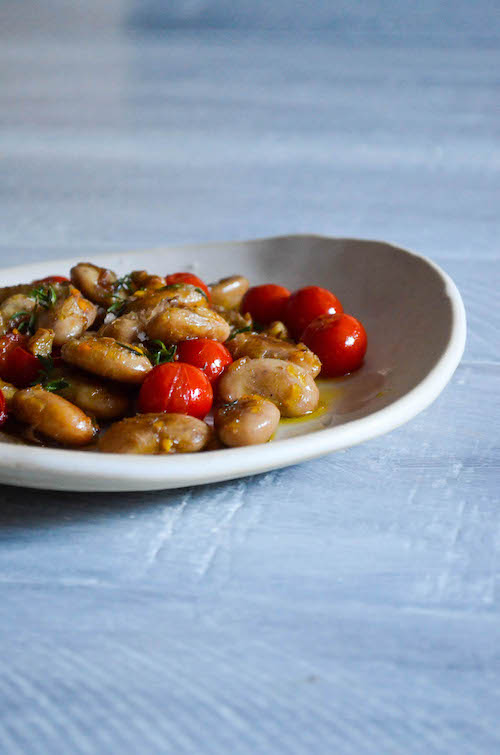 This is one of those totally accidental recipes. You know, the kind where you go into the kitchen with one idea in mind, and end up with something so far from where you began. This is my favorite kind of cooking, and if I stayed true to my plan, unafraid to change direction, this here Blistered Butter Bean with Tomatoes, Walnuts & Thyme would've never come into my life (and now your's).
It started with a grumbling tummy around 7:30am. Salad was on the menu. Lately, starting the day fulfilling my veggie intake makes me feel like a champ. I began pulling stuff from the produce bin—baby arugula, corn, and fetching fennel from the garden. There were some cherry tomatoes on the counter, too. Everything was going smoothly until I started poking around for protein options. I didn't want eggs, so beans went on my radar. If I'd put up a pot of chickpeas, they would've been a no brainer, and that would be the end of this story.
But I didn't, so this isn't. And that's a very good thing because this Blistered Butter Bean with Tomatoes, Walnuts & Thyme is my new favorite thing to eat.
A quick check of the cupboards revealed a can of butter beans. I bought them to satisfy Virginia's curiosity about lima beans—A Bad Case of the Stripes is one of her all-time favorite books. My initial thought was to just toss them in the salad with everything else. Except they looked rather sad in there. Canned beans on their own are lackluster, but they needn't be.
A little handiwork in the kitchen transforms canned beans into something amazing. I quickly abandoned the idea of my salad, and since I hadn't mixed in any dressing, it would be fine in the fridge until lunch time (yes, this was a lot of thought for the first meal of the day!).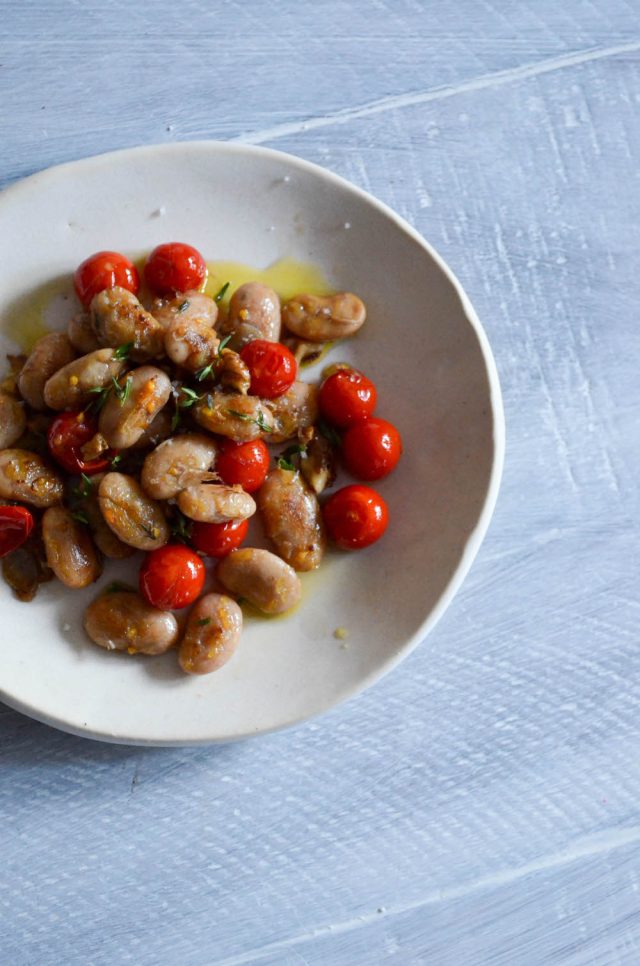 Out came the skillet. A garlic clove was chopped, and fresh thyme picked from the garden. I wanted some contrast in texture, and toasted walnuts did the job nicely.
I can't say enough how much I love this salad. It's lovely hot, but equally wonderful at room temperature. I found myself nibbling on the second half of it throughout the morning, plucking beans with my fingers from the skillet every time I passed through the kitchen.
Alone, it was a very filling breakfast. You can easily serve it as a side with roasted chicken or grilled steak. It would even be a great vegetarian main dish, with a salad, of course. I guess everything in life comes full circle with a little bit of patience.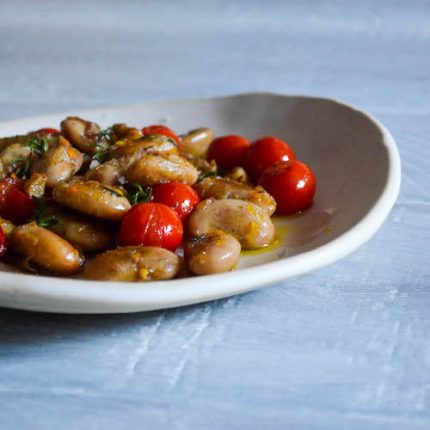 Blistered Butter Beans with Tomatoes, Walnuts & Thyme
Ingredients
Olive oil

1

can butter beans

drained & rinsed

1

garlic clove

thinly sliced

Handful of cherry tomatoes

halved if larger than the size of a marble

Fleur de sel

Few sprigs of fresh thyme

Handful of toasted walnuts

roughly chopped
Instructions
Add a swirl of oil to an 8-inch skillet over medium-high heat. Add the beans to the pan, and cook, shaking every few minutes, until the beans begin to turn golden and blistered, about 10 minutes. Add more oil as needed if the beans begin to look too dry.

Add the garlic and tomatoes. Season with salt. Cook until the tomatoes soften, and look like they're going to burst, 2 to 3 minutes.

Add the thyme, and give the pan a shake. Divide between two dishes, and sprinkle walnuts on top before serving.