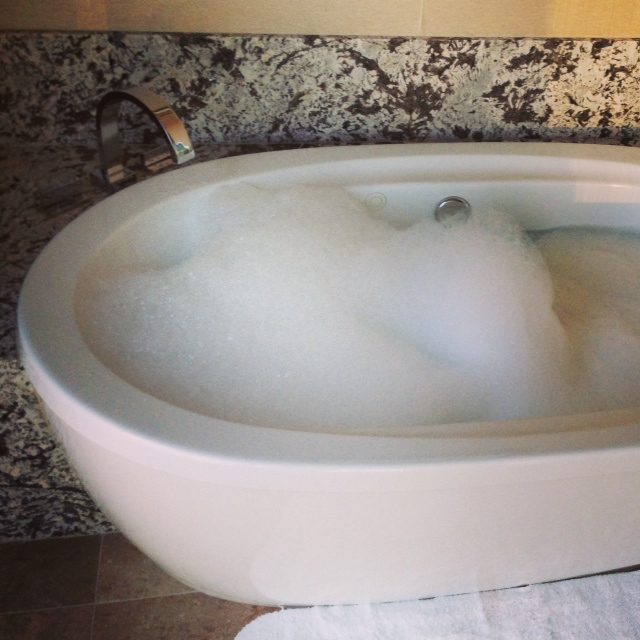 I felt like Tom Ford for 72 hours recently while in Las Vegas. This thought occurred to me, as I settled in for my second bath of the day while staying at the Aria Resort & Casino. Not quite the four baths a day Mr. Ford gets to indulge in, but for a gal who rarely has the time to enjoy a bath, it had me feeling like quite the lady of leisure.
An invitation to attend the 46th Pillsbury Bake Off brought me to Vegas. We had a pretty busy schedule the whole time, but during one chunk of downtime I managed to escape to the spa for an incredible hot stone massage; it was my reward for a very productive three hours of writing beforehand.  As I laid on the massage table, an idea popped into my head to start a weekly column called "Treat Yourself Tuesday". I felt incredibly fortunate that I was able to take those 50 minutes to unwind, and thought about how many of us look out for others, yet forget about nurturing ourselves.
My morning coffee is a big ritual. I don't have it first thing. In fact, I wait until after the kids are dropped off at school, and then go home to put on a pot. I go back and forth between French press, and stove top percolator coffee, depending on my mood. That first sip is one I make a point of enjoying, my head hanging over the cup to breath in the deep, dark bourbon notes. I thought it would be nice to treat one lucky reader to a similarly relaxing coffee experience with a $25 Starbucks gift card. Just make me one promise—don't sip it carelessly. Sit down, grab a magazine, or dare I say a book. Much as I wish every day could be filled with bubble baths and spa visits, it isn't realistic. A 10 minute coffee break, though, sounds like a great way to sneak some "me" time in our very hectic days.
Music Pairing: The Coffee Song by Cream
Fine Print: This isn't a sponsored post. It's just a little gift from me to you, and my way of saying thank you for tagging along on my journey in life through each post I write here. Just leave a comment below, and don't forget to include your email address so I can send your gift card, if you win. The winner will be chosen by random on Friday, November 15th. ***Open to residents of the U.S. and Canada only.***