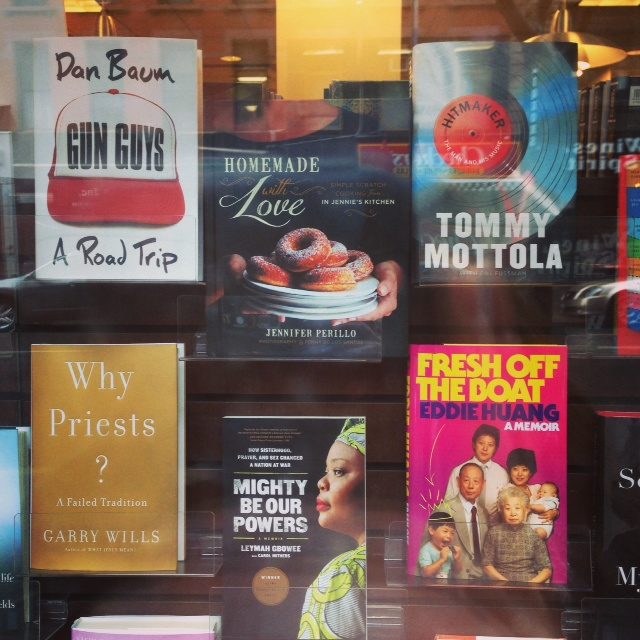 In the midst of running errands yesterday, I swung by my local Barnes & Noble, and there before my very eyes was Homemade with Love displayed in the window. Even though it shouldn't have taken me by surprise, I still had to blink a few times to believe what I saw. It sounds silly to say, considering it's been in other people's homes for two weeks now, but this was my first time seeing it displayed in person.
So many of my hopes and dreams are laced throughout the pages of Homemade with Love. It's funny how life seems to operate in both slow motion and warp speed simultaneously. It feels like just yesterday that I was a 24-year-old, reading an article Mikey gave me about becoming a personal chef in Newsweek—and yet, it was 15 years ago.
Next week begins the busyness of publicity for the book. I mentioned some book signing information in my last post, and have two more updates—Chicago and Canada, here I come! I'm working on Boston and New Jersey, just bear with me, as it's a lot trying to manage childcare these days, especially the overnights. Thankfully, my auntie is coming up from Florida to lend a hand, and we seem to have finally found a wonderful new babysitter too.
I want to thank one more sponsor who is helping make the book tour possible. KitchenAid has been a part of my cooking life for over a decade. Their stand mixer became a fixture in my mom's kitchen during the holidays when I was a teenager, after she had saved up enough money to buy her first stand mixer. She used to sell gingerbread houses as a way to make extra cash to buy our family Christmas gifts. When my auntie retired back in 2000, my whole family pitched in and bought her a stand mixer as a gift.
I was gifted with my very first stand mixer in my mid 20s. It was an early Christmas present from my Uncle Ray and Aunt Barbara, and it has since become a family heirloom. When I upgraded to a newer model, I gave that original stand mixer to my best friend from high school. It now sits on her counter, and brings a smile to my face every time I go visit her. My uncle passed away 12 years ago, yet a little bit of him lives on not just in my memories, but with every turn of the paddle when Jeanise makes a treat for her own family.
KitchenAid has been a part of my journey for 15 years now. It is such an honor to have their support in this next chapter of my story. As I add my final words to this post, the clock has turned to March 26th—the official publication date for Homemade with Love, a literary birthday, of sorts for me when you think about. Keep dreaming big, I know I will.
Homemade with Love Book Tour
Chicago
Sunday, April 7th 4:00pm—The Book Cellar 4736-38 North Lincoln Avenue in Chicago, IL.
NYC
Saturday, April 13th 7:00pm—BookCourt 163 Court Street in Carroll Gardens, Brooklyn, NY.
North Carolina
Friday, April 19th 7:30pm—Quail Ridge Books & Music 3522 Wade Avenue in Raleigh, NC.
San Francisco
Tuesday, April 30th 6:00pm—Omnivore Books 3885a Cesar Chavez Street in San Francisco, CA.
Toronto, Canada
Tuesday, May 7th—details coming soon!