Funny how after spending so much time with someone, you start to think like one being. This holds true for the partners you choose in both life and crime.
Often, I talk to Olga and find we're on the same wavelength in the kitchen. Still, I chuckled a bit when I read her blog this morning to see she posted about scones just yesterday. Orange poppy scones, to be exact.
Our worlds collide, in a delicious way, yet again.
I know the scones she's talking about too. I had the great fortune to taste them, hot from the oven in the Everyday Food test kitchens earlier this week. It was as amazing as you can imagine, and like Olga, I want to live in the prop closet, amidst the rows of cake stands. I'd also like someone to organize my life as neatly as that closet. Yes, I'm jealous of a prop closet. Go figure.
But back to the scones. I've been on my own scone kick lately. Last Friday, I found myself waking up at 4:30am to make these cream scones. Those were an homage to a more tradional scone for my English friends. A few days later, I decided to lean more towards the American side of scone making, and made these lemon poppy ones.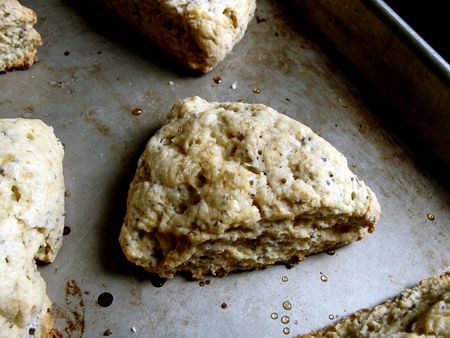 The next day, it seems the staff of Everyday Food knew the fast track to my heart, with orange poppy scones. I watched Heather, the Senior Food Editor, whip them up as we sat around the table with a few other bloggers for a very intimate peek at their Mother's Day Brunch Menu from the May issue. If I could give every mom I know one gift for Mother's Day, it would be a slice of the potato bacon cake. It was inspired by a dish Anna Last, the Editor-in-Chief, tasted when she was in Paris. Obviously I can't be in everyone's kitchen on Sunday morning, but thankfully Isabel posted a video on her blog from the Everyday Food test kitchens, so you can see how easy it is to make yourself.
As an aside, I was flanked by Olga and Isabel at the brunch. It's clear I already love Olga, and it turns out Isabel grew up in my neighborhood. Her mother still lives a few blocks from me, and she attended the same school my Isabella now goes to. A smallworld indeed. If only I'd had the chance to chat more with with Betsy from Cool Mom Picks, and Karen and Lizzy of Sunday Suppers. I fear I stared at Karen's hair way too long, but those flowing black locks were almost as captivating as the potato bacon cake.
Martha didn't come to the brunch, in case you're wondering, but our hosts couldn't have been more wonderful and gracious—can you believe they were worried about meeting us? While they don't know it, that escape in the midst of a busy work week was the best Mother's Day gift ever. A little dream come true, and I owe a big thank you to my dear, sweet friend Olga for asking me to be her plus one (I hope Andrew understands I come as part of the wedding vows).
And thank you to Anna, Danielle, Esther, Lauren, Heather, Khalil, Lesley and Sam. I spend most of my days at the stove developing recipes, only to start it all over again come dinner time. I love providing such a gift for my family, but every now and then it's a real treat to have a hot meal, so perfectly prepared without a child on my lap or hanging off my leg. I hope to find my way into your test kitchens again very soon!
lemon poppy scones
makes 12
1/2 cup (125 ml) plus 1 tablespoon buttermilk
1 large egg
1 cup (128 grams) whole wheat pastry flout
1 cup (135 grams) all purpose flour
1/4 cup (47 grams) natural cane sugar
1 tablespoon (14 grams) baking powder
1/4 teaspoon (2 grams) fine sea salt
1 tablespoon (11 grams) poppy seeds
Freshly grated zest of 1 lemon
6 tablespoons (3 ounces) very cold butter, cut into 12 pieces
Preheat the oven to 425ºF.
Using a fork, lightly beat 1/2 cup of the buttermilk and egg together in a small bowl; set aside.
Add the flours, sugar, baking powder, salt, poppy seeds and lemon zest to a deep medium-sized bowl. Whisk to combine. Add the butter and rub together quickly with your fingers, until it forms a sandy-looking texture with some pebble-sized pieces. Pour in the buttermilk-egg mixture, and use a fork to stir together until it forms a crumbly-looking dough.
Turn the dough out onto a lightly floured counter. Knead it once or twice to give the dough a smoother appearance. Divide the dough and shape into two 1/2-inch thick rounds. Use a sharp knife to cut each round into 6 triangles (as if cutting a pizza).
Place the scones on an ungreased baking sheet, and brush with the remaining tablespoon of buttermilk. Bake for 12 minutes, until bottoms are lightly browned and the tops are golden. Remove from oven and set tray on a wire rack to cool a few minutes before serving. Leftovers may be stored in an air-tight container and heated in the toaster the next day.