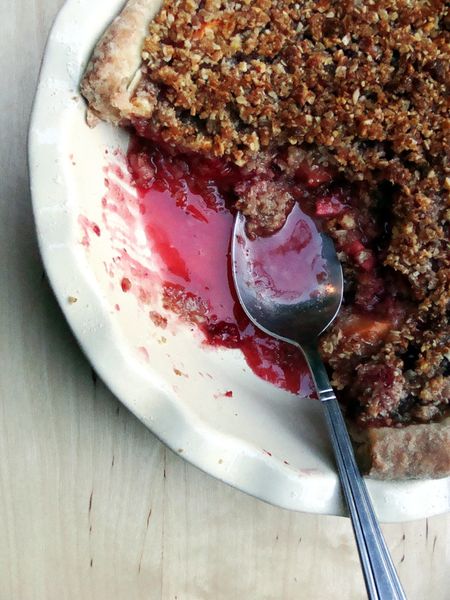 I wish I could share this pie recipe with you. I remember there were peaches. They're my favorite for pie. They were the first ripe ones of the season. And I remember peeling the skins off, knowing it would all be worth it once the first bite landed on my tongue.
And there were raspberries, the seeds crunching between my teeth.
I know there was 32 grams of flour, freshly squeezed juice of half a lemon and six ounces of sugar. Just the right balance of tart and sweet, so as to not mask the juicy fruits' natural flavors. It was a harmonious dessert, and enjoyed the leftovers gently warmed in the oven, because frankly cold pie just isn't worth eating in my book.
Speaking of books, that's exactly the reason I can't share this recipe. See, I was too busy the day I made this pie to power up my laptop. Normally, I transcribe all my recipes there since my handwriting is less legible than an ER doctor's. In the juggle of the day, though, I somehow forgot to note exactly how many peaches and raspberries I used in the filling.
I'm pretty sure it was a 1/2 pint of raspberries.
And pretty sure there were no more than 4 cups of sliced peaches.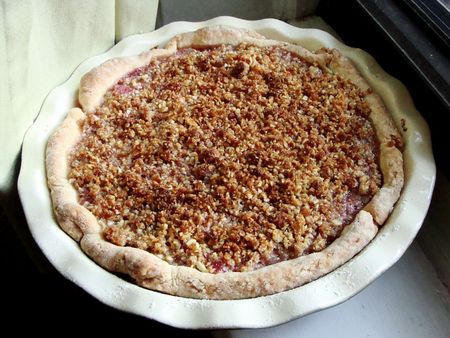 But pretty sure doesn't cut it in the world of recipe writing, so I'm going to leave the filling up to you. I'm sure you'll be able to find your way. Here's the sweet butter pastry crust recipe I used. Now all we need is that crunchy, nutty topping you see. I was too tired to fuss with a picture-perfect crust that day, so this crumb topping was my lazy way out.
I only used half the topping, and stored the rest in the freezer for another lazy day. It came in handy last week when I used up some leftover blackberries, raspberries and peaches to make a crumble. Sometimes lazy can be good, so good.
almond oat crumb topping
makes enough to top two 8-inch pies
1 1/4 cups/100 grams old fashioned oats
1 cup/140 grams whole almonds
1/2 cup/125 grams packed brown sugar
pinch of kosher salt
4 tablespoons/1 ounce butter, melted
Place the oats in the bowl of food processor. Pulse a few times until they become coarse textured. Add the almonds and continue pulsing until the oats break down into a medium-fine flour and the nuts are finely chopped. Add the brown sugar and salt; pulse 2 to 3 times until combined.
Transfer mixture into a small bowl, drizzle melted butter over top and rub together with fingers until all the oat-almond mixture is coated—it will form little pea-size clumps. Store in a covered container in the refrigerator for up to one week or in a ziptop bag in the freezer for up to one months.